Paul Thomas Anderson's 'Inherent Vice' To Premiere At New York Film Festival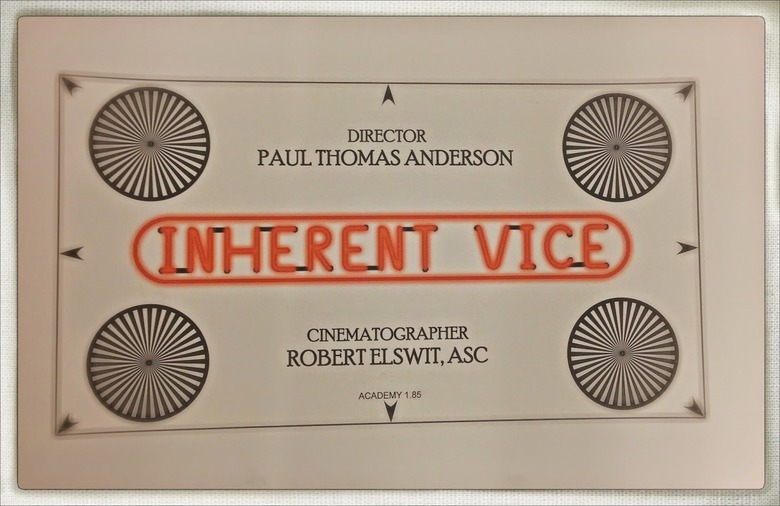 The most anticipated film of the year for me and many others, Paul Thomas Anderson's Inherent Vice, won't open in theaters until December 12. But New York audiences will get a chance to see it two months early. Over the weekend, it was revealed the film will have its World Premiere at the New York Film Festival on October 4. The festival will also feature the premiere of David Fincher's Gone Girl and Alejandro Gonzalez Inarritu's Birdman.
Read the full press release below.
Here's the press release on the New York Film Festival premiere of Inherent Vice, including info on how to get tickets and more.
The Film Society of Lincoln Center announced today that Paul Thomas Anderson'sInherent Vice will make its World Premiere as the Centerpiece selection for the upcoming 52nd New York Film Festival (September 26 – October 12) on Saturday, October 4. The first feature film adaptation of a Thomas Pynchon novel, Inherent Vice stars Oscar nominees Joaquin Phoenix and Josh Brolin; Academy Award winners Reese Witherspoon and Benicio Del Toro; Owen Wilson, Martin Short, Jena Malone, Joanna Newsom, and newcomer Katherine Waterston. This marks Anderson's third time at the festival, having previously screened Boogie Nights (1997) and Punch-Drunk Love (2002). The Warner Bros. Pictures release is slated to open in limited release on December 12, 2014 and wide on January 9, 2015.New York Film Festival Director and Selection Committee Chair, Kent Jones said: "Every new Paul Thomas Anderson movie is an event, an experience – when the lights come up, you feel like you've been somewhere, and come back with your mind altered. Inherent Vice is a journey through the past, bringing the texture of the early 70s SoCal counterculture back to full blown life. It's a wildly funny, deeply soulful, richly detailed, and altogether stunning movie."Inherent Vice is a presentation of Warner Bros. Pictures in association with IAC Films, a JoAnne Sellar/Ghoulardi Film Company Production.  Anderson directed from his own screenplay, based on the novel by Thomas Pynchon.  JoAnne Sellar, Daniel Lupi and Anderson produced the film, with Scott Rudin and Adam Somner serving as executive producers.The 17-day New York Film Festival highlights the best in world cinema, featuring top films from celebrated filmmakers as well as fresh new talent. The selection committee, chaired by Jones, also includes Dennis Lim, FSLC Director of Programming; Marian Masone, FSLC Senior Programming Advisor; Gavin Smith, Editor-in-Chief, Film Comment; and Amy Taubin, Contributing Editor, Film Comment and Sight & Sound.NYFF previously announced the Opening Night selection Gone Girl, retrospective Joseph L. Mankiewicz: The Essential Iconoclast, as well as initial selections in the Revivals section of the festival to include Burroughs: The Movie, The Color of Pomegranates, Hiroshima Mon Amour, and Once Upon a Time in America.Tickets for the 52nd New York Film Festival will go on sale to the general public at noon on Sunday, September 7. Becoming a Film Society member before July 31 provides access to a pre-sale period for single tickets to festival screenings and events ahead of the general public on-sale date.Subscription Packages and VIP Passes to NYFF52 give the buyer the earliest access to tickets and are on sale through July 31. Depending on the level purchased, packages and passes provide access to Main Slate and Special Event screenings including those on the Opening, Centerpiece and Closing nights of the festival. VIP passes also provide access to many exciting events including the invitation-only Opening Night party, "Evening With..." Dinner, Filmmaker Brunch, and VIP Lounge. For information about purchasing Subscription Packages and VIP Passes, go to filmlinc.com/NYFF. To find out how to become a Film Society member, visit filmlinc.com/support/home.