'The Imitation Game' Trailers: Benedict Cumberbatch Wins The War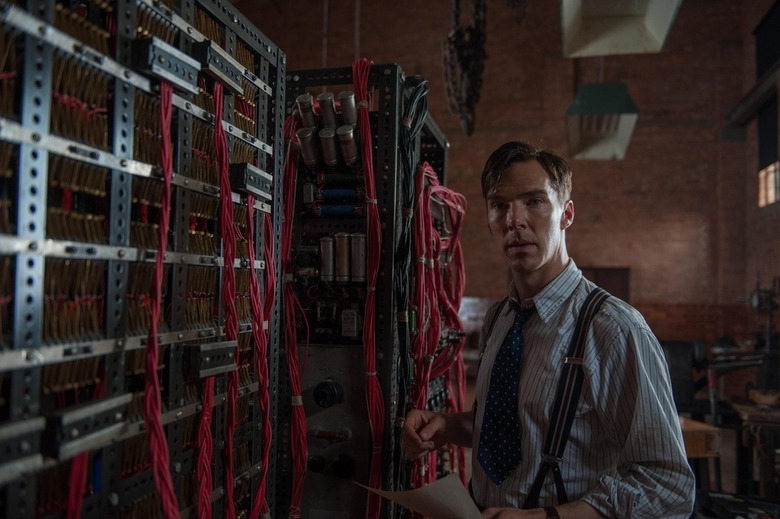 Prickly geniuses aren't the only thing Benedict Cumberbatch knows how to play, but they do kind of seem to be his specialty. The Sherlock star's latest movie is The Imitation Game, in which he plays brilliant but troubled mathematician / cryptologist / computer scientist / etc. Alan Turing.
During World War II, Turing was called upon to help Britain crack Germany's codes. He was spectacularly successful, and is credited with helping turn the tides in the Allies' favor. Hit the jump to watch the first The Imitation Game trailers. Keira Knightley, Mark Strong, and Matthew Goode also star.
And Studio Canal dropped the other.
The Imitation Game has everything you could ask for in a year-end prestige pic: acclaimed A-list actors, a World War II setting, and an incredible true story filled with drama, tragedy, triumph, and intrigue. It even ties into current hot-button topics like homosexuality — though the trailers kind of downplay that part, choosing instead to highlight his relationship with Joan Clarke (Knightley).
Speaking of which, it's kind of funny to see Knightley and Cumberbatch reunite for the first time since 2007's Atonement. That was also a World War II movie, but in that one he was a creepy rapist and she was a tragic heroine. It was also back before most people outside of the U.K. even knew who Cumberbatch was.
The Imitation Game arrives November 21.
In THE IMITATION GAME, Benedict Cumberbatch stars as Alan Turing, the genius British mathematician, logician, cryptologist and computer scientist who led the charge to crack the German Enigma Code that helped the Allies win WWII. Turing went on to assist with the development of computers at the University of Manchester after the war, but was prosecuted by the UK government in 1952 for homosexual acts which the country deemed illegal.