Beyoncé Drops First 'Fifty Shades Of Grey' Teaser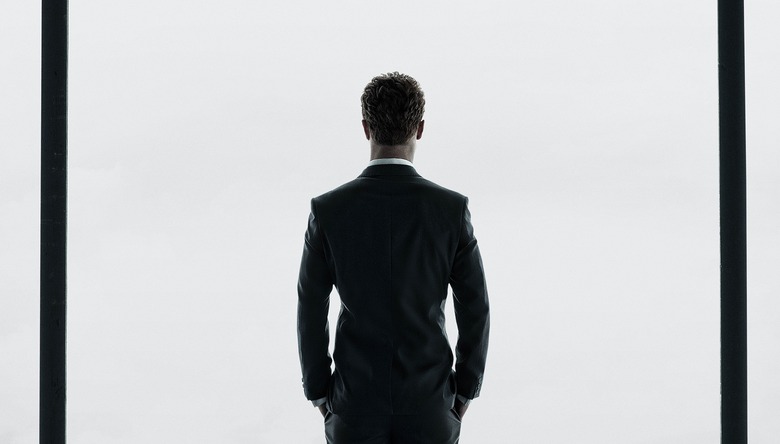 The buzz surrounding the Fifty Shades of Grey book has died down somewhat, which isn't too surprising since it's been three whole years since it was published. But the buzz surrounding the Fifty Shades of Grey movie, due out next winter, is just getting started.
The first Fifty Shades of Grey teaser has just hit the web, thanks to Beyoncé of all people. Hit the jump to check it out and get some details on the first full-length trailer.
While E.L. James' novel is famously explicit, Sam Taylor-Johnson's movie adaptation is playing hard-to-get for now. This video doesn't show much of anything, sexual or otherwise. It's not even clear those are actually Jamie Dornan's hands or Dakota Johnson's knees. But then again, Fifty Shades devotees would probably say that the tease is part of the fun.
The next step in Focus Features' slow seduction of moviegoers will be the reveal of the first full-length trailer, scheduled for this Thursday, July 24. It'll all come to a climax with the release of the movie on February 13, 2015.
Fifty Shades of Grey is the hotly anticipated film adaptation of the bestselling book that has become a global phenomenon. Since its release, the "Fifty Shades" trilogy has been translated into 51 languages worldwide and sold more than 100 million copies in e-book and print—making it one of the biggest and fastest-selling book series ever.
Stepping into the roles of Christian Grey and Anastasia Steele, who have become iconic to millions of readers, are Jamie Dornan and Dakota Johnson.
Joining Dornan and Johnson in the cast are Luke Grimes as Elliot, Christian's brother; Victor Rasuk as José, Anastasia's close friend; Eloise Mumford as Kate, Anastasia's best friend and roommate; Marcia Gay Harden as Dr. Grace Trevelyan Grey, Christian's mother; Rita Ora as Mia, Christian's sister; Max Martini as Taylor, Christian's bodyguard; Callum Keith Rennie as Ray, Anastasia's stepfather; Jennifer Ehle as Carla, Anastasia's mother; and Dylan Neal as Bob, Carla's husband.
Fifty Shades of Grey is directed by Sam Taylor-Johnson and produced by Michael De Luca and Dana Brunetti alongside E L James, the creator of the series. The screenplay for the film is by Kelly Marcel.