Angelina Jolie To Direct Brad Pitt In 'By The Sea'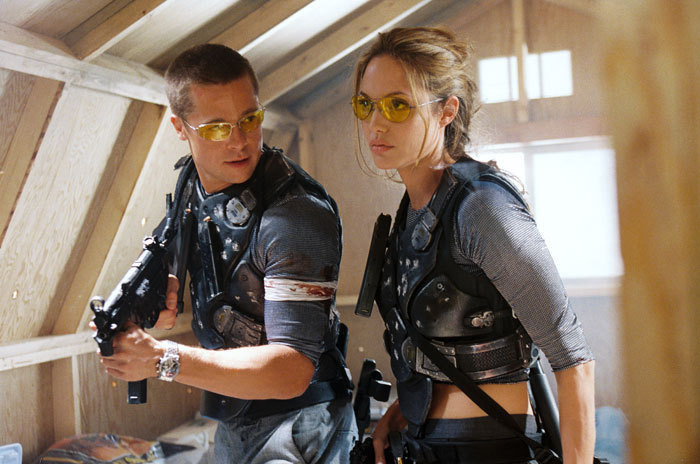 Offscreen, Angelina Jolie and Brad Pitt are one of the most famous couples in the world. Onscreen, however, they haven't co-starred since 2005's Mr. & Mrs. Smith, which was mostly notable for being the movie that brought the couple together.
But that'll change with By the Sea. Jolie is set to write and direct the Universal picture, and will also produce and star in it alongside Pitt. Hit the jump for more details.
That film, which chronicles the incredible true journey of Olympian and World War II hero Louis Zamperini, is already building some good buzz thanks to a powerful trailer and a solid cast. Some (including us, we admit) have already wondered if it's Oscar-bound.
As an actress, Jolie is coming off of the Disney hit Maleficent — her first live-action role since 2010's The Tourist. Pitt has been more active in front of the camera, with recent roles in World War Z, 12 Years a Slave, and The Counselor. He also has a meaty starring turn coming up in David Ayer's WWII tank drama Fury.
Very few details have been given about By the Sea at this time, other than that it'll be an "intimate, character-driven drama." No start date or release date has been revealed, though Universal confirms the project is currently in pre-production.
Here's the full press release, if you want to scour it for details.
UNIVERSAL CITY, CA, July 18, 2014—Universal Pictures has acquired worldwide rights to Angelina Jolie's next film project, By The Sea, written and to be directed by Jolie, it was announced today by Donna Langley, Chairman, Universal Pictures.
The intimate, character-driven drama stars Jolie and Brad Pitt. Jolie and Pitt will also produce the project.
Jolie is currently in post-production on Unbroken, an epic drama directed and produced by Jolie based on the true story of Olympian and war hero Louis Zamperini and adapted from author Laura Hillenbrand's bestseller. Universal will release Unbroken on Christmas Day, 2014.
Jolie made her feature directorial debut on In the Land of Blood and Honey, a love story set against the Bosnian War, which received a Golden Globe nomination.
Angelina Jolie commented, "I am very happy to continue my relationship with Donna and the entire Universal team as I finish Unbroken and begin work on By The Sea. They have created a very special place for storytellers, and I look forward to the continued passion and support they have provided to me as a filmmaker."
"Angelina continues to showcase her extraordinary storytelling abilities in front of and behind the camera and we are thrilled to extend our relationship with her on By the Sea," said Langley. "Angelina and Brad represent two of Hollywood's brightest talents and we are excited to be a part of their collaboration on this powerful piece."
Jolie is represented by UTA and Sloan Offer Weber and Dern. Pitt is represented by CAA.