'The Simpsons' Take The Hollywood Bowl With Live Musical Performance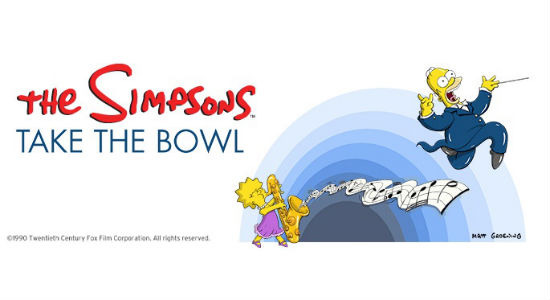 When you've done 500 plus episodes over multiple decades, the backlog of content is staggering. In the case of The Simpsons, that doesn't only mean hilarious jokes, animation cells and Emmy awards. It means music too. While most people associate the show's music only with Danny Elfman's iconic theme, every week has lots of other music and that music is finally getting spotlighted.
The Simpsons Take the Bowl is live musical performance taking place for three nights this September at the Hollywood Bowl in Los Angeles, CA. Hank Azaria will host an evening of music, cameos and never before seen footage. Read more about the Simpsons Hollywood Bowl performance below.The Verge reminded us of the gig, which takes place September 12, 13 and 14. You can get tickets here.
The guest list is as follows:
Hollywood Bowl Orchestra
Thomas Wilkins, conductor
Hank Azaria, host
Nancy Cartwright, special guest
Beverly D'Angelo, special guest
Jon Lovitz, special guest
Yeardley Smith, special guest
"Weird Al" Yankovic, special guest
Matt Groening, special guest
And here's the official description:
The Simpsons is widely considered to be one of the greatest TV shows of all time – 28 Primetime Emmys! The longest running American sitcom ever continues to thrive with its dead-on satire and razor-sharp wit. Journey from the Springfield Bowl to the Hollywood Bowl for this unprecedented event, as the orchestra accompanies your favorite scenes on the big screen. Join the celebration of a quarter century of groundbreaking creativity, with plenty of special guests and a fireworks finale.
And yes, I'm definitely going to this. I live right down the street. I'll have my iPad and Simpsons Tapped Out ready to go.