The 'Guardians Of The Galaxy' Villains Get Their Own Posters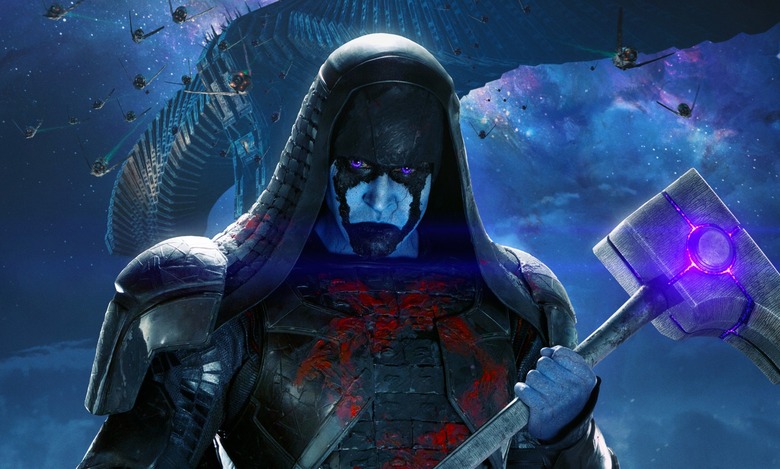 We've already seen the scruffy outlaw heroes and the rigid law enforcement types of Guardians of the Galaxy. But no outer-space superhero adventure would be complete without some baddies, so today it's time to meet the guys and gal who'll be giving the Guardians hell.
Marvel has revealed three more Guardians of the Galaxy character posters focused on the villains — specifically, Ronan the Accuser (Lee Pace), Korath the Pursuer (Djimon Hounsou), and Nebula (Karen Gillan). Flip through 'em after the jump.
The Marvel Cinematic Universe isn't really short on oddballs, but Guardians is the first one where the bizarre-looking characters outnumber the "normal"-looking ones. While Star-Lord, Nova Prime, Rhomann Dey, and Korath appear passably human (even if they're not), everyone else is blue, green, a raccoon, or a plant. Compared to this crowd, the Avengers seem downright mundane.Guardians of the Galaxy lands in theaters August 1. Chris Pratt, Zoe Saldana, Dave Bautista, Bradley Cooper, Vin Diesel, Glenn Close, John C. Reilly, and Michael Rooker also star. James Gunn directed.
An action-packed, epic space adventure, Marvel's "Guardians of the Galaxy" expands the Marvel Cinematic Universe into the cosmos, where brash adventurer Peter Quill finds himself the object of an unrelenting bounty hunt after stealing a mysterious orb coveted by Ronan, a powerful villain with ambitions that threaten the entire universe. To evade the ever-persistent Ronan, Quill is forced into an uneasy truce with a quartet of disparate misfits–Rocket, a gun-toting raccoon; Groot, a tree-like humanoid; the deadly and enigmatic Gamora; and the revenge-driven Drax the Destroyer. But when Quill discovers the true power of the orb and the menace it poses to the cosmos, he must do his best to rally his ragtag rivals for a last, desperate stand–with the galaxy's fate in the balance.