Marvel To Announce New Title For Classic Character On Tonight's 'Colbert Report'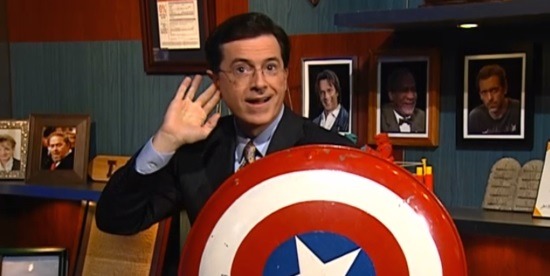 San Diego Comic-Con isn't for another few days, but Marvel's getting a head start on building buzz. Yesterday, the comic book publisher took to The View to introduce the new, female Thor, and today they're plotting to drop another big reveal on The Colbert Report.
Marvel's Joe Quesada will be stop by the Comedy Central talk show to announce "all-new comic book title and all-new era for one of Marvel's most classic Super Heroes." What could it be? Speculate with us after the jump.
While The View seemed like kind of a random place to announce a comic book bombshell, The Colbert Report makes perfect sense. Colbert has interviewed Quesada multiple times, and even appeared in the Marvel comic book universe as a U.S. presidential candidate.
Indeed, evidence of Colbert's affection for the Marvel universe can be seen on each episode of the show. His usual set decorations include a Captain America shield gifted to him by Marvel.
Which brings us to the question of which character will be at the center of tonight's announcement. Captain America is probably the best guess going right now, given the venue. There's the aforementioned shield, and the fact that Colbert's whole on-screen schtick is being the ultimate American patriot — just like Cap himself.
Plus, Marvel has already hinted that there's a new Captain America on the way. And recent events in the comics, as well as some rumors currently floating around, have pegged Sam Wilson (the Falcon) as the guy to replace him.
But of course, that's just a theory for now. If you have any of your own, feel free to chime in in the comments. Then tune into Colbert Report tonight at 11:30 to find out if your predictions are correct.