Nova Prime, Rhomann Dey And Yondu Get 'Guardians Of The Galaxy' Character Posters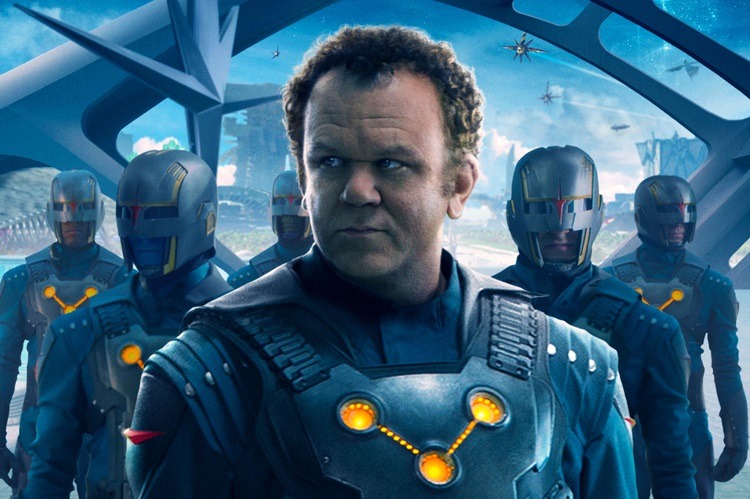 The five titular antiheroes of James Gunn's Guardians of the Galaxy got their day in the sun last month, when Marvel released a series of one-sheets highlighting each one. Today, it's time for some of the supporting players to take a turn in the spotlight.
The latest batch of Guardians of the Galaxy character posters offer a closer look at Glenn Close's Nova Prime, John C. Reilly's Corpsman Dey, and Michael Rooker's Yondu. Check 'em out after the jump.
Close makes for a great H.B.I.C., doesn't she? Her proud posture and unamused face clearly say "you don't want to mess with me." She's surrounded by Nova Corpsmen like the one played by Reilly. As Gunn says, "Even the Nova Corps need beat cops."
And then there's Yondu, who clearly doesn't belong to the same orderly government that the other two do. If anything, he looks more like one of the Guardians. If you'd like to know just how he does fit into the story, there's a simple and somewhat spoiler-y explanation right here.
Guardians of the Galaxy opens August 1. Chris Pratt, Zoe Saldana, Dave Bautista, Lee Pace, Karen Gillan, Djimon Hounsou, and Benicio del Toro will also be seen in the film, while Bradley Cooper, Vin Diesel, and Josh Brolin will be heard.
An action-packed, epic space adventure, Marvel's "Guardians of the Galaxy" expands the Marvel Cinematic Universe into the cosmos, where brash adventurer Peter Quill finds himself the object of an unrelenting bounty hunt after stealing a mysterious orb coveted by Ronan, a powerful villain with ambitions that threaten the entire universe. To evade the ever-persistent Ronan, Quill is forced into an uneasy truce with a quartet of disparate misfits–Rocket, a gun-toting raccoon; Groot, a tree-like humanoid; the deadly and enigmatic Gamora; and the revenge-driven Drax the Destroyer. But when Quill discovers the true power of the orb and the menace it poses to the cosmos, he must do his best to rally his ragtag rivals for a last, desperate stand–with the galaxy's fate in the balance.