Ron Howard To Direct Official Beatles Documentary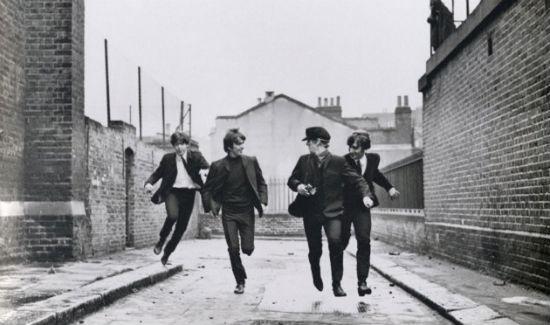 Like most of America at the time, director Ron Howard was first exposed to The Beatles when he saw them on The Ed Sullivan Show in 1964. After seeing that appearance, he told his parents he wanted a Beatles wig. Fast-forward a few decades, and Howard is relaying that story to a producer on the set of Rush. Turns out the producer knew about a Beatles documentary in development and Howard immediately became interested in working on it. Now, Howard is set to direct an official documentary on the Beatles.
The film is being made with the full support and cooperation of Paul McCartney, Ringo Starr, Yoko Ono Lennon and Olivia Harrison. It will explore the Beatles' rise to fame, and what that meant for the culture. The film will feature between 12 and 20 songs, live performance footage sent in from fans, original recordings and more. While still untitled, the hope is to have it completed and in theaters sometime in 2015.
Variety was among the outlets reporting on the film.
"I am excited and honored to be working with Apple and the White Horse team on this astounding story of these four young men who stormed the world in 1964," Howard said in a news release. "Their impact on popular culture and the human experience cannot be exaggerated."
The documentary was originally brought to Apple Corps, who control the interests of the Beatles, by a company called One Voice One World. As part of their pitch, they conduced a huge search for fans to send in unique recordings, footage and more of the Beatles from throughout the years. That will play a key part in Howard's film.
"That footage is so valuable to me as a director, being able to offer the audience an experience," Howard told Deadline. "Applying digital technology to this 8mm and Super 8 footage that has been located and continues to be found, that has never been seen before, and combining that with what has also been collected, these mixes, these tracks from these soundboards, will allow us to synch up these Super 8 and 8 millimeter images, those home movies, and create this very intimate concert experiences for audiences. We get to tell the story and offer this very visceral, exciting, emotional experience for people who go see the film."
We'll of course keep you updated on Ron Howard's Beatles documentary as it gets closer to release.