Studio Ghibli's 'Tale Of Princess Kaguya' Sets English-Language Voice Cast And Release Date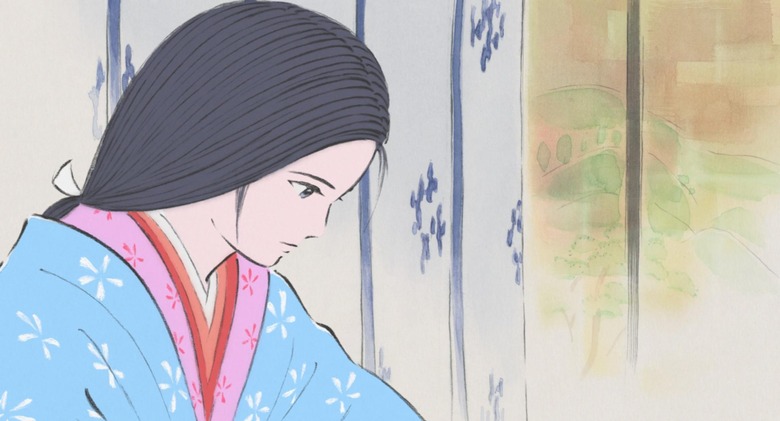 Studio Ghibli's latest movie is getting ready for its American bow. Chloë Grace Moretz has been set to lead the English-language cast of The Tale of Princess Kaguya, which GKIDS has just scheduled for a fall release in the U.S.
James Caan, Mary Steenburgen, Darren Criss, Lucy Liu, James Marsden, Beau Bridges, Oliver Platt, Daniel Dae Kim, John Cho, and Dean Cain will also lend their voices to the project. Get all the latest details after the jump.
The Princess Kaguya – Chloë Grace Moretz
The Bamboo Cutter – James Caan
The Bamboo Cutter's Wife – Mary Steenburgen
Sutemaru – Darren Criss
Lady Sagami – Lucy Liu
Me no Warawa – Hynden Walch
Inbe no Akita – George Segal
Prince Ishitsukuri – James Marsden
Prince Kuramochi – Beau Bridges
Lord Minister of the Right Abe – Oliver Platt
Great Counselor Otomo – Daniel Dae Kim
Middle Counselor Isonokami – John Cho
The Mikado – Dean Cain
Kita no Kata – Emily Bridges

Directed by Isao Takahata (Grave of the Fireflies), The Tale of Princess Kaguya is based on the old Japanese folk story The Tale of the Bamboo Cutter. An old bamboo cutter and his wife find a tiny child inside a stalk of bamboo. The girl grows into a famous beauty, and as a young woman she's courted by five noble suitors.
Moretz will voice the title character, in her first major animated film role since 2008's Bolt. She has previously done voice work for TV (Disney Channel's My Friends Tigger & Pooh) and video games (Dishonored).
GKIDS has The Tale of Princess Kaguya set for release on October 17, presumably to get it in a prime position for this year's awards race. The indie distributor has had a pretty good track record with the Oscars so far, with four Best Animated Feature nominations over the past four years: Ernest & Celestine, A Cat in Paris, Chico & Rita, and The Secret of Kells.
Studio Ghibli and Geoffrey Wexler will produce the English-language version of The Tale of Princess Kaguya, with Frank Marshall executive producing. The same team put out the English-language versions of Studio Ghibli's last two films, The Wind Rises and From Up on Poppy Hill.
[Source: GKIDS]