'Archer & Armstrong' Film In Development From Valiant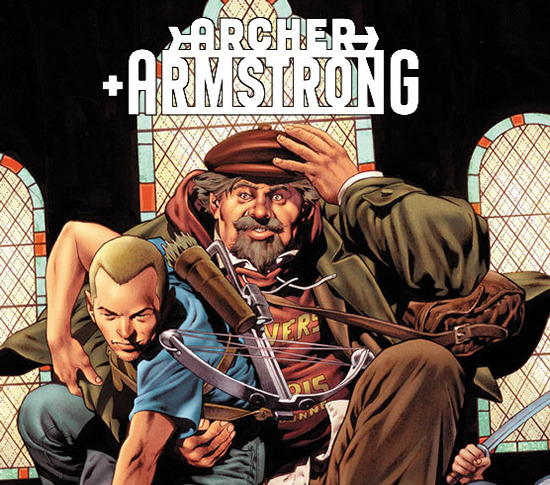 A highlight of the early '90s comics scene is moving towards the big screen, and surprisingly it isn't a Marvel or DC title. There was a time when former Marvel and DC employees created a few new comics companies, such as Image and Valiant. It's a Valiant title that is getting a film now, as an Archer & Armstrong movie is being developed by the current incarnation of Valiant Entertainment.
While Valiant published some series that revived old Gold Key Comics characters, Archer & Armstrong was an original title, a buddy action/comedy created by Jim Shooter, Barry Windsor-Smith and Bob Layton.
The series debuted in 1992, and was relaunched in 2012. One of the two heroes of the book is Archer, a monk with expert archery skills and a horrific family history. The other is Armstrong, an immortal who, after thousands of years on Earth, is pretty much over the whole experience, and is content to hang out as a drunk partier. Together, they tackle an ages-old conspiracy. 
THR and a press release announce that BenDavid Grabinski (Cost of Living, Skiptrace) is writing the film, funded by Valiant. Sean Daniel, Jason Brown, and Dinesh Shamdasani are producing.
Valiant describes the story as follows:
ARCHER & ARMSTRONG is an action-adventure/buddy comedy colliding a drunk, delinquent immortal who has given up on saving the world and the idealistic young man who needs him for a globetrotting quest to stop history's oldest conspiracy from toppling modern civilization.
For more detail, THR offers:
Archer & Armstrong is an action buddy comedy in which the young Obadiah Archer is confronted with the "Great Satan" he has been raised to combat for his entire life, only to discover that his enemy is actually a drunken immortal calling himself Armstrong who couldn't be less interested in bringing about the apocalypse Archer has been warned since childhood. His own parents and the cult they belong to, on the other hand, might have slightly less trustworthy ambitions.
BenDavid is a friend, and I'd consider him to be as tuned into the mechanics of the buddy action movie as anyone I've ever met. He could be perfect for this story. And since Valiant is backing the development, rather than going through an external production company, the result should be pretty finely tuned to the original comics stories.
(Valiant also has Shadowman in development with the Sean Daniel Company and J. Michael Straczynski scripting, and Bloodshot at Sony with Matthew Vaughn attached to direct from a script by Jeff Wadlow.)