Theme Park Bits: 'Frozen' Fireworks, 'From Dusk Till Dawn' Maze, Legends Of Frontierland, 'Alice In Wonderland' Update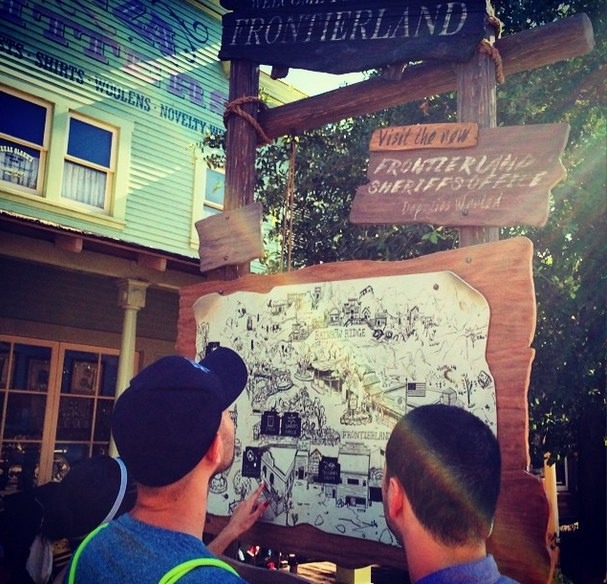 In today's edition of Theme Park Bits, I take a look at:
A Peek Inside 'Frozen Fireworks' at Disney's Hollywood Studios
Universal's Halloween Horror Nights Adds 'From Dusk till Dawn: The Series' Maze
Disneyland's new Legends of Frontierland: Gold Rush interactive game experience
Alice In Wonderland Dark Ride Updated With New Effects
Read more about all these things after the jump.
One of the new offerings just launched as a part of Frozen Summer Fun at Disney's Hollywood Studios in Walt Disney World Resort is the "Frozen Fireworks," which take place nightly at 9:45 p.m. Above you can watch a video about the new firework show.
Universal Studios has announced the addition of a From Dusk Till Dawn: the Series maze at Halloween Horror Nights this year in both Universal Studios Hollywood and Universal Orlando Resort, beginning Friday, September 19. Above you can watch a video announcement of the new maze.
This all-new maze, inspired by the critically acclaimed television series, will thrust guests into the deviant world of "From Dusk Till Dawn," where they will encounter sordid mythological creatures known as "Culebras," serpent-like vampires who have tormented the earth for centuries. Residing within the elusive and sinister nightclub, "The Twister," located just over the Mexican border and above cursed ancient ruins, the "Culebras" prove to be a band of immoral and depraved beasts with a deadly agenda. As guests navigate the maze and venture deep within the bowels of "The Twister," they will find themselves face to face with a cast of perverse characters, including exotic dancer, Santanico Pandemonium, a mysterious and irresistible "Culebras" femme fatale and Queen Vampire. Based on the film of the same name, "From Dusk Till Dawn: The Series" is a supernatural crime saga centered around bank robber, Seth Gecko and his violent, unpredictable brother, Richard "Richie" Gecko, who are wanted by the FBI after a bank heist leaves several people dead. While on the run to Mexico, Seth and Richie encounter former pastor Jacob Fuller and his family, whom they take hostage. Using the family RV to cross the border, chaos ensues when the group detours to a club populated by vampires and are forced to fight until dawn in order to get out alive. The series deepens the tone of the film, From Dusk Till Dawn, upon which it is based, adding new characters and backstories that expand the Mesoamerican mythology behind the creatures inside the club.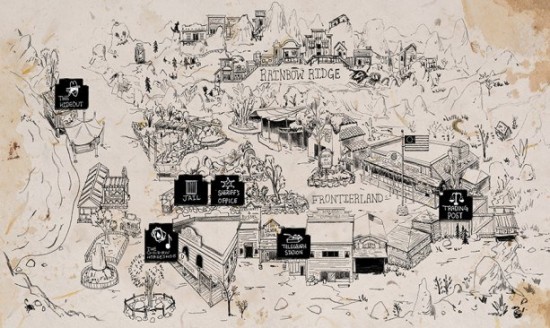 Meanwhile, back in southern California, Disneyland has launched Legends of Frontierland: Gold Rush, an interactive story game set inside the classic theme park land. This is the backstory of the experience:
Frontierland and its neighbor, Rainbow Ridge, are in the midst of a good, ol' fashioned land feud. Rainbow Ridge – a once-booming mining town – has dried up, and they have their eyes set on Frontierland. The steady, hardworking folk in Frontierland want to keep the town safe and free of rougharound-the-edges, opportunistic types. Rumors are spreading that gold has been discovered in mines belonging to Frontierland, and there is even a rumor that Frontierland itself sits on the motherlode! Whether or not the rumors are true, the folk in Rainbow Ridge have one thing on their minds: take over Frontierland! Thus, the struggle begins ...
Here is a breakdown of everything you can do at the start of the game thanks to DisneyParks:
Create Your Character: You can be whoever you want to be in the Wild West of Frontierland. You can be a peacekeeper, an outlaw, a miner ... it's all up to you! You will even be able to create a new name for your character. Whenever you enter Frontierland, that's who you will be!
Choose a Side: Rumors of gold have led to a struggle for land. Which side will you take ... joining the peaceful Frontierland citizens or the opportunistic Rainbow Ridge townsfolk?
Learn the Lay of the Land: There are new Frontierland locations in play now with "Legends of Frontierland: Gold Rush!" and each serves a unique purpose in the story.
Trading Post – This is the meeting place and first stop for new Frontierland citizens. This is also where citizens can keep up with the latest Frontierland news and swap plans for fending off those Rainbow Ridge ruffians.
Hideout – Like the Trading Post, the Hideout is the first stop and central meeting place for citizens of Rainbow Ridge.
Telegraph Station – The information hub of Frontierland, this is the place to send and receive important messages.
Sheriff's Office and Jail – This is where outlaws are brought to justice and where lawmakers work to keep the peace.
Talent Agency – Based in the Golden Horseshoe, this is where new talent is discovered and showcased in Frontierland.
Card Table – Also located in the Golden Horseshoe, this ongoing card game plays host to outlaws and heroes alike. Be careful what you say here! You never know who may be listening.
Get to Know Your Fellow Citizens: You can find your fellow citizens throughout Frontierland. Just look for your town's color to find out what's new in town.
Earn "Bits": "Bits" are the currency of the Western Territories. You can earn "bits" by participating in tasks throughout the land and spend them on land purchases, to get information and for other worthy causes.
Someone created a video of the experience here (starts about 3 minutes in):
Sounds like an interesting guest experience but too complex for casual guests of the park. I'm betting this is the first iteration of whatever they are experimenting with, it will be interesting to see how this evolves over time.
And finally, the classic Alice in Wonderland dark ride has been refurbished at Disneyland, and Disney Imagineering has updated the right with a ton of new effects (most having to do with projection). Inside The Magic has a good POV of the updated ride which you can watch above. WDI also made some safety enhancements, widening the outside track.