Cool Stuff: Charlie Brown Self Portraits By Grammy Winner Rob Jones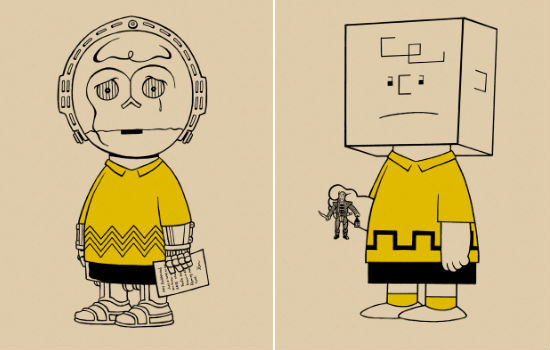 While you might not know the name Rob Jones you know his work. I guarantee it. Jones is a creative director for Mondo, which means he works with each and every artist who releases a poster and helps them achieve the best vision imaginable. While a piece by Tyler Stout or Olly Moss was done by them, Jones helped steer them in a specific direction from a very early stage. You could say every Mondo poster is born of Jones' DNA.
In addition to that, Jones is quite the accomplished artist himself. He's done dozens of famous album covers, gig posters, movie posters and in 2011 won an Grammy for designing a box set for The White Stripes. Later this week, he's presenting an ambitious new solo show called "Grief," comprised of 100 self portraits offering different takes on Charlie Brown. Yes, from the Peanuts Charlie Brown. It open July 17 at Galerie F in Chicago, Illinois.
Below, we've got several exclusive, pop culture inspired pieces from the show including detailed descriptions of the personal interpretations behind each from Jones himself. It's a funny, but sometimes frightening, window into one of the most influential eyes in pop culture art today.
Grief opens Thursday July 17th from 6 to 10 p.m. at Galerie F, 2381 N. Milwaukee Ave., Chicago Il. There's more info on the Facebook page.
Here are our exclusive images revealed from the show. Below that, a Q&A with Jones about the inspiration and finaly detailed breakdowns of each piece you see here. Mouse over each for the title but they're in order.
Why Charlie Brown?
I have the glass I crushed at my wedding sealed in an engraved block of lucite. In front of it are two figures representing my wife and myself: a vinyl "Little Enid" from Ghost World and an old Charlie Brown doll from the 60's. He's just a character I've always identified with. Constant failure paired with a naive determined belief in the possibility of success.
How personal are some of the pieces?
They're all personal, some probably too much so. Most are just variations of me coming apart, some are how I view myself presently or viewed myself in the past, and others might depict an incident from my life. I'm hoping my mother doesn't ask me to explain many of them.
How'd the idea come about?
I mainly sell concert posters for a living. I'll sell sets of a whole tour which can wind up costing a lot in shipping. To ameliorate the shipping charges for foreign customers, I'd usually take some spare handbills and draw a Peanuts inspired image quickly on the back. Anyways, a lot of folks wrote and responded well to the drawings I sent them over the years. I also drew a lot Charlie Brown C-3PO's on the backs of a Darth Vader poster I made for Mondo which seemed to make people happy.At an Austin Flatstock I was asked by Zissou from Galerie F to do a show. Outside of invitations from the Goodalls whom I adore, I usually just decline or forget to reply to show offers from other galleries due largely to my chaotic work schedule. I was in a weird mood the day Zissou asked and replied "Sure". I bandied around some bizarro impractical ideas with friends and then finally landed on this approach. It helps art wise that it's an easy character to change up but still remain identifiable despite the most severe distortions.
How long have you been working on Grief?
Off and on since March when I have free time.There will also be 8 or so collaborations featured as well. It seemed an odd thing to do for a show of self portraits, but my buddy Mitch Putnam asked a good friend of his to do one for fun. The piece wound up personally being one of the most heartbreaking images I've seen. I subsequently didn't put a cattle call out to all my artist friends as I didn't want to burden them. However, if the topic arose when discussing the show, then I welcomed their participation. Some involve me inking another artist's piece, for others I provided a penciled & "yellowed" rough for an artist to ink, and others are just weird but feel appropriate to the rest of the show. I'm not putting their names underneath (I asked them all to sign the back). If you're familiar with this or that artist's particular work, then you shouldn't have a problem recognizing their style. Or just come to the show, booze me up and I'll probably say who's who. It only applies to pieces whose cards attribute the art to "?" or "Rob Jones & ?".
Any peeks at what to expect from the show?
These are more pop-culture oriented than most of the show, but it gives you an idea.1. You Know She Doesn't Like You?: In 4th grade someone blabbed about my hopeless crush on a certain girl. I found out about the leak when two of her friends confronted me in the hallway sporting Joker sized grins. I remember the conversation exactly:Girl 1: "Is it true you like [a certain girl]?"Me: "Yeah"Girl 2: "You know she doesn't like YOU?"Me: "I guess I do now."Girl 1 & 2: "HAW HAW HAW"They cackled right past me as I trudged back to class. Anyways, I felt about like Ikar did in "Keepers of the Purple Twilight". A confused alien full of emotions but unable to express them, especially to the ladies.2. The Squarest Thing You Do: While pencilling this I asked Jenni, my wife, what obsession of mine was the most annoying. Deadpan and quick she replied, "KISS" without even taking her eyes away from her laptop. I already did a piece centered around Peter Criss, so I asked, "What's the second most annoying." Just as fast she muttered, "Watching Dune". Fair enough, so I drew the hand holding a LJN figure of Feyd.3."Someone Ahead of Me Is Always Eating a Power Pellet": One of two uses of Pac Man ghosts to express my overwhelming feeling of vulnerability. Unlike Clyde though, I rarely venture out into the maze.4. All the World's a Kill Screen: ...and here's the other one.5. You Ain't Yoda: A long time ago...I had a gang of friends over to my crappy apartment to get drunk. We made up some convoluted drinking game that involved Star Wars characters. You wrote down the character you thought you were most like from the trilogy and everyone else wrote down who they thought you were most like. If your self appraisal aligned with the consensus, then you assigned out as many drinks as matching "votes". If your shit didn't jibe with the majority, then you had to down the same number of drinks.As you can probably guess, I wrote "Yoda" as I saw myself as an eccentric sage living in a filthy hovel. There were 9 people there that night, and every single one wrote "C-3PO". It was the only time during the game everyone shared the same answer. Ironically it was a sobering realization about my personality, a fey know-it-all. We did another round with Cheers characters. I wrote "Frasier", and 8 of the nine wrote "Cliff". Anyways, I wound up pretty smashed that night.6. "...land of shadows": The title refers to Norrin Radd's description of "paradise unearned", but it's applicable to an earned paradise too in my experience. Like Norrin I kvetch a lot. Problem was making the piece true to myself. I share the Surfer's sense of bemoaning the world, but I have none of his grace or otherworldly abilities. You can see my solution here. Imagine hearing a sad trombone as the Voyager probe makes first contact with an alien.7. "When will the stream be aweary of flowing under my eye?": I saw Lynch's "Elephant Man" on television as a kid and became pretty fascinated by John (Joe) Merrick. I got bullied a lot in grade school (shit, high school too. Worst was getting punched out in science class. Shattered my fucking glasses across the room). Here was another figure I could identify with. It prompted me to try reading Treves' book (dry stuff for an 8 year old). I revisited Lynch's film quite a bit once my family got a VCR. I kept focusing on the scenes where Freddie Jones torments and beats John. When you get beat up or bullied it boggles your young mind. You know you're exhibiting nothing but complete harmlessness yet folks treat you like you're a danger, the same way they might control a rabid dog. If appearing harmless isn't working, then the next step is to try to not appear anywhere at all.8. "People may smile, but I don't mind.": There are only two pieces in the show that don't have yellow. For this one it's because it's a moment of pure happiness. No reel to reels of shame, embarrassment, insecurity or regret running in a loop. I feel that way around my animals. They're just happy you're there with them. There's not a gavel to be found in their excited brains.9. "Same Dream Every Night:" Contrary to the title, I don't experience this vision every night.  However, I've had it often enough that it feels like a dulled nightmare.  I remember confronting it for the first time in high school.  In the dream, I wandered alone around the old band room from 6th grade.  I walked around the chairs making my way to a previously unvisited back area.  It was unique to this particular dreamscape and wound up being a set of showers (like you'd see at a gym).  I was looking out of my own eyes at this point and felt my bottom teeth rapidly growing out into tusks.  I grabbed one and it started to easily fall downwards and out.  I could feel sinews snapping like it was the god's horn being ripped out from "Conan the Destroyer".  I just stared at these bloody fucked up teeth/tusks laying on top of a large drain. The main alarm you feel in this dream is the perceived permanence of the situation. The teeth are not going to go back into your head.  They're gone.
For more on Grief, visit this site. For more on Jones, here's his official site.