'Enlisted' Could Be Resurrected At Yahoo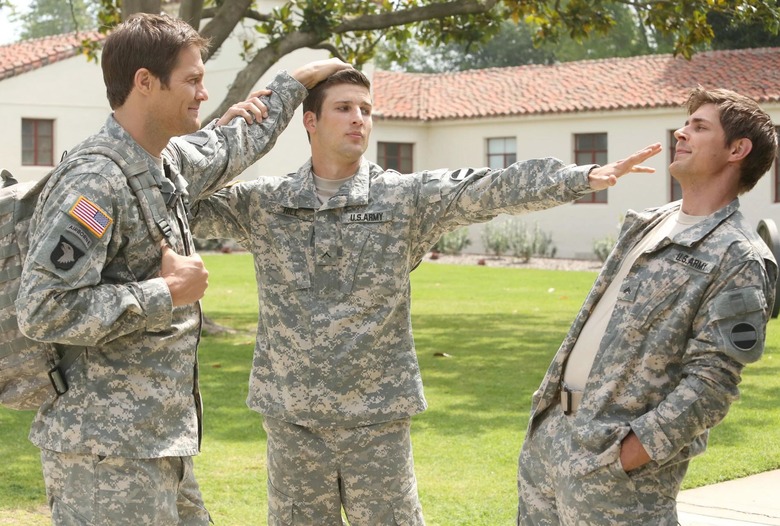 Still basking in the grateful admiration of Community fans the world over, Yahoo is now looking to save another beloved cult series. The site is reportedly considering a second season of the Fox comedy Enlisted, which was axed in May after nine highly praised but poorly rated episodes. Hit the jump for more on Enlisted's possible Yahoo revival.
Interestingly, both sides have experience with un-cancelling shows. 20th Century Fox TV successfully found new life for Arrested Development on Netflix, several years after the show had gone off air, while (as mentioned above) Yahoo recently picked up the sixth season of Community.
Though Enlisted earned excellent reviews right off the bat, it arguably never got a fair chance on its home network. It was initially slated to debut in November but was pushed back to January. When it finally did premiere, it was on low-rated Friday nights. Fox aired nine episodes before kicking Enlisted to the curb. The four remaining episodes eventually aired in June.
What Enlisted has working its favor now is a devoted, if small fan base. In fact, Deadline points out that Enlisted devotees had already been campaigning for Yahoo to save their show. It's also the kind of show that gained a lot of viewers on DVR — a potential drawback for broadcast networks like Fox, but not for streaming services like Yahoo.
Geoff Stults, Chris Lowell, and Parker Young led the Kevin Biegel-created series as three very different brothers serving in the same military unit. Since Enlisted's cancellation, they've tried to move on to other projects. Stults and Young booked roles on the pilot Cuz-Bros, which CBS turned down in May; Young has a part on DirecTV's original comedy Things You Shouldn't Say Past Midnight.