Stan Lee Has 'Avengers 2' Cameo, Jokes About 'Batman V Superman' Appearance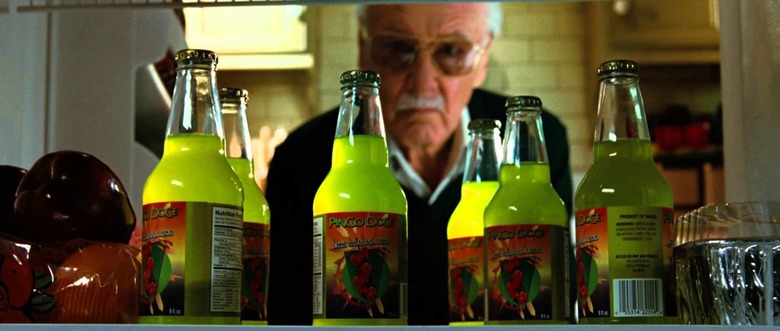 Avengers: Age of Ultron has a pretty big cast already, but of course there's always room for a certain giant. Stan Lee has confirmed that he will have a cameo in the film, as he has in all other Marvel Cinematic Universe movies to date.
However, Lee has also teased that he's ready to break from tradition a bit. The Marvel legend jokingly suggested that DC should give him a role in Batman v Superman: Dawn of Justice. Hit the jump to find out why he thinks it'd be a good idea.
The movies have been great. We have been so lucky. We've got the best directors, the best special effects people and wonderful actors. People that had not been big stars before like the fellow who plays Thor — he's wonderful! I was with him yesterday — I did my cameo of course [for Avengers: Age of Ultron]. And Chris who plays Captain America... He's excellent.
Avengers: Age of Ultron will mark Lee's eleventh appearance in the Marvel Cinematic Universe. He's also cropped up in tons of other Marvel-based movies, most of which have turned out to be huge hits. At the event, Lee commented on Marvel's big-screen success.
All it can do is make it better for Marvel if we do these movies and the movies are successful. There are people reading Marvel comic books that would have never thought to read a comic book before. It helps the comic book business. The movie business has been unbelievably incredible. The Marvel movies are about the biggest money-making movies of all.
In fact, he teased, "DC could probably make a lot more money with Superman and Batman if they announced that I'd have a cameo in it! People wouldn't believe it — they'd have to go to the theater to see it!"
Whether Warner Bros./DC will buy that reasoning remains to be seen. But wouldn't it make for a fun little Easter Egg if they did?
Avengers: Age of Ultron lands in theaters May 1, 2015. Batman v Superman: Dawn of Justice arrives May 6, 2016.