'20,000 Days On Earth' International Trailer: Nick Cave Tells The Truth, Or A Version Of It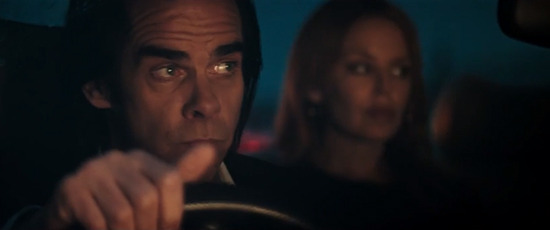 20,000 Days on Earth is a magnificent film. Mostly a documentary, the movie is a profile of Australian singer/songwriter/film composer/author Nick Cave. But the film is really about creativity, and songwriting, and memory. It's a mold-breaking doc that willfully does away with the rigors of hardcore doc filmmaking by staging scenarios in which Cave can be provoked to reveal things about himself and his work. We see Cave in a therapy session, and driving around with people such as Kylie Minogue (above), Ray Winstone, and, crucially, former bandmate Blixa Bargeld. The setups may be artificial, but what comes out of them has a ring of real truth.
For your first look at 20,000 Days on Earth, check out the Nick Cave documentary trailer below, via the Australian distributor Madman.
20,000 Days on Earth opens in the US on September 19. Trailer via Madman.
Drama and reality combine in a fictitious 24 hours in the life of musician and international cultural icon Nick Cave. With startlingly frank insights and an intimate portrayal of the artistic process, the film examines what makes us who we are, and celebrates the transformative power of the creative spirit.