Comic Con 2014 Saturday Schedule Features Marvel Studio, Warner Bros., Legendary And 'Fight Club'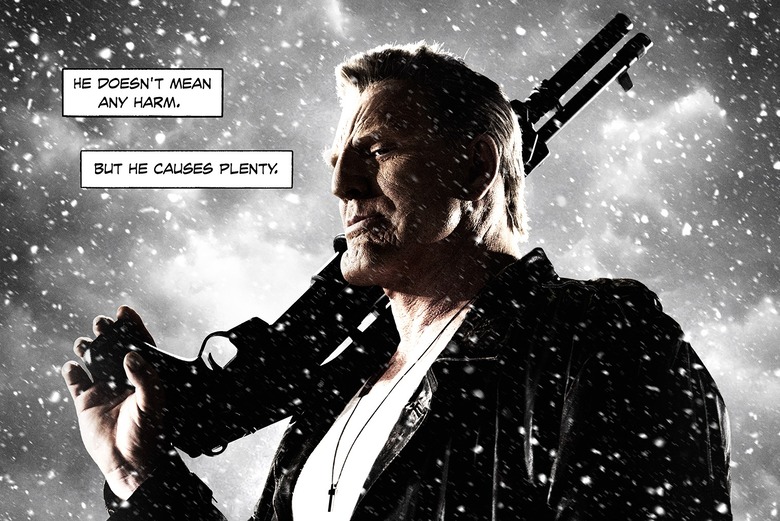 In previous years, Saturday is the biggest at San Diego Comic-Con. That's because while many people have 4-day passes, lots work during the week and can only come down for one day. Saturday. So that's the day studios generally fight over to show their latest films. When the biggest stars sign autographs and the coolest collectibles are released. Saturday at Comic-Con is the best. This year though, the schedule is surprisingly – maybe even shockingly – light.
Hall H stars off strong with Warner Bros. featuring The Hobbit: The Battle of the Fire Armies, Jupiter Ascending and Mad Max: Fury Road but, as we discussed before, no Batman v Superman. From there Legendary has a panel (definitely Warcraft, maybe Jurassic World?), there's a Boxtrolls panel, Sin City: A Dame to Kill For, and later all those new superhero TV shows. Marvel Studios, of course, is the highlight.
Actually, outside of Hall H seems to be even cooler this year. Brian K. Vaughan will be on hand for Saga, Chuck Palahniuk is doing a Fight Club panel (with David Fincher ?!?!), Phil Tippett has a panel, even the new Lego documentary is on display.
Below, check out some of the highlights of the San Diego Comic Con 2014 Saturday Schedule.
View the full San Diego Comic Con 2014 Saturday Schedule here. Below are some highlights.
The Simpsons  - 10am - Ballroom 20
Celebrate the 25th anniversary of The Simpsons-no gifts please-with creator Matt Groening, executive producer Al Jean, supervising director Mike Anderson, and director for life David Silverman. Topics include the new Treehouse of Horror, Simpsorama, a visit from Homer Simpson and much, much more.
The Production Designer: Architect of Imagination - 10am - Room 23ABC
The production designer opens the script, reads, and literally dreams up the most perfect of all possible worlds in which to tell the tale-whether the story is set in the mythic past, the here and now, or any imaginable future. And then the designer must gather and lead the army of artists who, over months or years, in plaster or in pixels, will actually make the design real. Four top production designers-Patrick Tatopoulos (Batman v. Superman: Dawn of Justice, 300: Rise of an Empire), Philip Messina (The Hunger Games franchise), Oliver Scholl (Edge of Tomorrow, Independence Day ), and John Myhre (X-Men: Days of Future Past, Pirates of the Caribbean: On Stranger Tides)-discuss their art, the business, and their careers. Moderated by John Muto (Species, Terminator 2-3D).
Warner Bros. Pictures - 10am - Hall H
Warner Bros. returns to Hall H with a look at three upcoming movies:
Jupiter Ascending – The first original science fiction film from filmmakers Lana and Andy Wachowski since their game-changing "Matrix" trilogy is an action adventure starring Channing Tatum and Mila Kunis. The story will take audiences from the streets of Chicago to the furthest galaxies of space, as Caine (Tatum), a genetically engineered ex-military hunter, arrives on Earth to track down Jupiter Jones (Kunis), a young woman whose genetic signature marks her for an extraordinary inheritance that could alter the balance of the cosmos. Written, directed and produced by the Wachowskis, with producer Grant Hill and many of their longstanding creative collaborators, the film also stars Sean Bean, Eddie Redmayne, Douglas Booth, and Tuppence Middleton.Mad Max: Fury Road – Seminal director George Miller returns to the post-apocalyptic universe he created three decades ago with the cultural phenomenon Mad Max. Tom Hardy reinvents Max Rockatansky in Mad Max: Fury Road, Miller's extraordinary new take on the legendary character for a new generation of fans. The film also stars Charlize Theron, Nicholas Hoult, Zoe Kravitz, Riley Keough, Hugh Keays-Byrne, and Rosie Huntington-Whiteley.The Hobbit: The Battle Of The Five Armies – This December, Oscar-winning filmmaker Peter Jackson will unleash the epic final film in The Hobbit Trilogy, based on the timeless masterpiece by J. R. R. Tolkien, from New Line Cinema and Metro-Goldwyn-Mayer Pictures. Bilbo's journey culminates in a desperate and dangerous choice as darkness converges on the Lonely Mountain, and the races of Dwarves, Elves, and Men must decide: unite or be destroyed. Ian McKellen returns as Gandalf the Grey, with Martin Freeman as Bilbo Baggins and Richard Armitage as Thorin Oakenshield. The ensemble cast is led by Evangeline Lilly, Lee Pace, Luke Evans, Benedict Cumberbatch, Ken Stott, and James Nesbitt, with Cate Blanchett, Ian Holm, Christopher Lee, Hugo Weaving, and Orlando Bloom.
Marvel Animation Presents! - 10:30am Room 6BCF
Jeph Loeb (Marvel's head of television; Hydra Agent) returns for what's become one of the most popular television panels at San Diego. Join Jeph, Stephen Wacker (VP -animation & writing panel blurbs), Cort Lane (huge nerd, VP), and Eric Radomski(giant dork, SVP) for the latest news on the House of Ideas' hit animated shows:Marvel's Avengers Assemble and Marvel's Hulk & The Agents of S.M.A.S.H. Plus: See the eye-popping world premiere of Marvel's Ultimate Spider-Man: Web Warriors' history-making epic: "Spider-Verse"! Double plus: A special exclusive surprise for Marvel fans that you will all be talking about for the rest of the convention!
Legendary Pictures - 12:25pm - Hall H
Legendary Pictures presents a panel featuring their upcoming slate of highly anticipated films.
Family Guy - 1pm - Ballroom 20
The Griffins are back at Comic-Con with an exclusive sneak peek at the historicFamily Guy/The Simpsons crossover episode in which Peter and clan hit Springfield! Celebrate season 13 with Seth Green (Robot Chicken), Mike Henry (The Cleveland Show), and executive producers Rich Appel (The Simpsons, The Cleveland Show), Steve Callaghan (American Dad), Danny Smith, and co-executive producer Peter Shin, plus other surprise guests.
Saga - 1pm - Room 7AB
You know Saga. You love Saga. You can't get enough of Saga. Luckily, this year, series creators Brian K. Vaughan and Fiona Staples are ready, rested, and eager to talk to you about Saga. What's coming up next on you-know-what? How could they do that thing to you-know-who? Whether you're coming in your finest cosplay or street clothes, you need to come to this panel..
The Boxtrolls - 1:30pm - Hall H
Focus Features presents The Boxtrolls, a new family event movie from LAIKA, the creators of Coraline and ParaNorman, that introduces audiences to a new breed of family- The Boxtrolls, a community of quirky, mischievous creatures who have lovingly raised an orphaned human boy named Eggs (voiced by Isaac Hempstead Wright of Game of Thrones) in the amazing cavernous home they've built beneath the streets of Cheesebridge. When the town's villain, Archibald Snatcher (Academy Award winner Ben Kingsley), comes up with a plot to get rid of the Boxtrolls, Eggs decides to venture above ground, "into the light," where he meets and teams up with fabulously feisty Winnie (Elle Fanning). Together, they devise a daring plan to save Eggs' family. Appearing in person are actors Ben Kingsley, Isaac Hempstead Wright, and Elle Fanning; producer and lead animator, LAIKA president and CEO Travis Knight; and directors Anthony Stacchi and Graham Annable.
Teenage Mutant Ninja Turtles 30th Anniversary - 2pm - 23ABC
In 1984, Kevin Eastman and Peter Laird published the first issue of Teenage Mutant Ninja Turtles. The comic book was an overnight success, and three decades later, the Turtles are more popular than ever, starring in a hit Nickelodeon television series, an award-winning toy line, monthly comic books from IDW, and a new live-action movie later this summer. Join TMNT co-creator Kevin Eastman for a 30th anniversary celebration featuring a who's who of talented people who have contributed to the Turtles' enduring history. Guests include Karl Aaronian (Playmates Toys), Townsend Coleman (voice of Michelangelo in the original TMNT animated series), Lloyd Goldfine (4kids TMNT, Turtles Forever), Ciro Nieli (executive producer, NickelodeonTMNT), Ernie Reyes Jr. (Keno inTMNT II: The Secret of the Ooze), and Tom Waltz(writer, IDW TMNT comics), and panel moderator Andrew Farago (curator, Cartoon Art Museum; author of TMNT: The Ultimate Visual History).
Frank Miller's Sin City: A Dame to Kill For - 2:50pm - Hall H
Dimension Films in association with Aldamisa Entertainment present exclusive footage from the highly anticipated sequel Frank Miller's Sin City: A Dame To Kill Forfrom acclaimed co-directors Robert Rodriguez and Frank Miller. Fans will get to experience the Sin City universe and take part in a special discussion with Rodriguez, Miller, and cast.
The World of Indiana Jones - 3pm - Room 29A
The Indyfans gather for another year of globetrotting adventure as they discuss all things Indiana Jones. From "Hollywood Costume" to the 30th Anniversary of theTemple of Doom, this panel has something for everyone. So grab your fedora and joinBrandon Kleyla (Indyfans) and other panelists.
Inside the Making of Twin Peaks - The Entire Mystery Blu-ray - 3:30pm - Room 5AB
Go behind the scenes of the unprecedented collection of the groundbreaking cult phenomenon from David Lynch and Mark Frost, Twin Peaks-The Entire Mystery. Join actress Kimmy Robertson ("Lucy Moran"), Blu-ray producer Charles de Lauzirika, Blu-ray co-producer Brian Kursar, and restoration and remastering executive project managers David Grant and Ryan Adams. Get an advance look at not only the staggering results of the high-definition upgrade of both the series and feature film, but also an exclusive sneak peek at the Blu-ray's massive array of bonus features, including the "holy grail" of Twin Peaks fandom, The Missing Pieces, the long-awaited deleted and extended scenes from Twin Peaks: Fire Walk With Me, directed and edited by David Lynch himself! Moderated by Robert Meyer Burnett.
DC Entertainment: Batman 75th Anniversary - 4pm - Room 6BCF
Throughout his 75-year history, the Dark Knight has become one of the most popular and widely recognized superheroes in the world. From comics to TV to movies to video games, the World's Greatest Detective has permeated all entertainment mediums and beyond. Get a look at Batman's rich history and what the future holds for this pop culture icon with industry titans Kevin Conroy, Paul Dini,Bruce Timm, Ralph Garman, Geoff Johns, Jim Lee, Peter Girardi, and some surprise guests!
Entertainment Weekly: Women Who Kick Ass - 4:10pm - Hall H
A discussion among Maisie Williams (Game of Thrones), Katey Sagal (Sons of Anarchy),Tatiana Maslany (Orphan Black), Natalie Dormer (Game of Thrones), and other fierce, fearless, and flat-out fantastic female actors who open up about the power and privilege of playing women who redefine the rules and refuse to yield.
A Look at Beyond the Brick: A LEGO Brickumentary - 5pm - Room 23ABC
TwoMorrows Publishing and BrickJournal magazine present a behind the scenes look at a new LEGO documentary released at the Tribeca Film Festival earlier this year. Moderated by Joe Meno (editor of LEGO fan magazine BrickJournal), this panel will include one of the film's directors, Oscar-nominated Kief Davidson, producerBrendan Kiernan, and stop-motion filmmaker Tommy Williamson(www.Bricknerd.com).
Marvel Studios - 5:30 p.m. - Hall H
Marvel Studios president and producer Kevin Feige and special guests provide an inside look at the ever-expanding Marvel Cinematic Universe.
Fight Club: From Page to Screen and Beyond - 7pm - Room 25ABC
Chuck Palahniuk (Fight Club, Choke, Haunted), director David Fincher (Fight Club, Seven, The Social Network, and Gone Girl), Gerald Howard (Doubleday executive editor), and special guests discuss the seminal novel's journey from book to film and beyond. Moderated by Rick Kleffel (TheAgonyColumn.com).
Phil Tippett: Analog and Digital Effects - 7:30pm - Room 24ABC
Academy Award-winning stop-motion and CGI master Phil Tippett (Star Wars, Jurassic Park, Robocop) presents a talk spanning the history of his career in visual effects, including clips and insights on inspirations, experiences, and relationships that have inspired his creative perceptions and contributions to the world of film and animation. Joining Phil will be Corey Rosen (Lost World: Jurassic Park, The Host,Grindhouse), VP of creative development for Tippett Studio, showcasing Tippett's new mobile effects app, Efexio.
Warner Bros. Television and DC Entertainment: The Flash, Constantine, Arrow, and the World Premiere of Gotham with Special Appearances by Casts and Producers, Hosted by Arrow's Stephen Amell - 8pm - Hall H
DC fans-get ready for a superhero Saturday night, designed specifically for you! For the first time ever at Comic-Con, Warner Bros. Television and DC Entertainment will present a three-hour event in Hall H featuring some of DC Comics's greatest characters. Kicking off the exclusive evening is the world premiere public screening of the highly anticipated new drama seriesGotham, allowing fans their first trip into the dangerous and compelling world of the iconic city. This will be the only screening of Gotham at Comic-Con, and it will be followed by a screening of the complete pilot episode of new action-drama The Flash, as well as exclusive video presentations of returning hit Arrow and new thriller Constantine. Cast and producers from all four series will make special appearances on stage throughout the night, with the festivities to be hosted by Oliver Queen himself — Arrow star Stephen Amell.
Gotham- Before there was Batman, there was Gotham. With a reputation synonymous with law and order, Commissioner James Gordon is one of the crime world's greatest foes. Everyone knows the name. But what is known of Gordon's rise from rookie detective to police commissioner? And what did it take to navigate the layers of corruption that secretly ruled Gotham City, the spawning ground of the world's most iconic villains-the larger-than-life personas who would become Catwoman, The Penguin, The Riddler, Two-Face and The Joker? Gotham is the origin story of the great DC Comics supervillains and vigilantes, revealing a new chapter that has never been told. From executive producer/writer Bruno Heller (The Mentalist, Rome), this one-hour drama follows one cop's rise through a dangerously corrupt city teetering on the edge of evil and chronicles the genesis of one of the most popular superheroes of our time. The series stars Ben McKenzie (Southland, The O.C.), Donal Logue (Sons of Anarchy, Vikings), Sean Pertwee (Elementary), Robin Lord Taylor (The Walking Dead), Erin Richards (Being Human), David Mazouz (Touch),Camren Bicondova, Zabryna Guevara (Burn Notice), Cory Michael Smith (Carol), Victoria Cartagena (The Good Wife), Andrew Stewart-Jones (Person of Interest), and Jada Pinkett Smith (The Matrix films), and is executive produced by Heller, Danny Cannon(Nikita), and John Stephens (Gossip Girl). From Warner Bros. Television, Gothampremieres this fall, Mondays at 8/7c on FOX.The Flash- From the Arrow creative team of executive producers Greg Berlanti and Andrew Kreisberg and director David Nutter, The Flash is a fast-paced superhero drama that follows the high-speed adventures of the Fastest Man Alive. Written by Berlanti, Kreisberg, and DC Entertainment's chief creative officer Geoff Johns, the action drama follows Central City police scientist Barry Allen, an everyday guy with the heart of a hero and the genuine desire to help others. Standing still emotionally since the day his mother was murdered (and his father unjustly jailed for the crime), Barry was taken in as a child by the investigating Detective West and raised in a cop's home alongside West's super-smart daughter (and Barry's dream girl), Iris. But when an unexpected and devastating accident at the S.T.A.R. Labs Particle Accelerator facility strikes Barry, he finds himself suddenly charged with the incredible power to move at super speeds. While Barry has always been a hero in his soul, his newfound powers have finally given him the ability to act like one. With a winning personality and a smile on his face, Barry Allen-aka The Flash-is finally moving forward in life...very, very fast! The series stars Grant Gustin (Arrow), Candice Patton (The Game),Rick Cosnett (The Vampire Diaries), Danielle Panabaker (Necessary Roughness), Carolos Valdes (on Broadway: Once), with Tom Cavanagh (Ed), and Jesse L. Martin (Law & Order). From Bonanza Productions Inc. in association with Berlanti Productions and Warner Bros. Television, The Flash premieres this fall on Tuesdays at 8/7c on The CW.Constantine- John Constantine is a man waging war against the forces of darkness -from both within himself and the outside world. An irreverent, working-class con man and occult expert, he's an experienced exorcist and demonologist with an extensive list of supernatural contacts, each with their own paranormal talents and abilities. Following the aftermath of a tragic incident, Constantine has voluntarily checked himself into an asylum and sworn off investigating matters of the supernatural, but when a cryptic message calls him out to reluctantly resume his old life, he finds himself saving the life of a young woman whom he's never met but is connected to in a very important way. With dark forces gathering power in the world, Constantine allies himself with Manny, a rogue warrior angel, and his giant childhood protector, Chas-the only friend who's managed to stay alive. Based on characters published by DC Entertainment, Constantine reflects the lore of the fan-favorite comic, combining noirish storytelling with the evolving mythology of John Constantine, a morally challenged character who doesn't come down on the side of either good or evil...but ultimately might be the only thing defending us against the dark forces from beyond. The series stars Matt Ryan (Criminal Minds: Suspect Behavior),Harold Perrineau (Lost), and Charles Halford (True Detective) and is executive produced by Daniel Cerone (Dexter) and David S. Goyer (The Dark Knight trilogy). From Bonanza Productions Inc. in association with Warner Bros. Television,Constantine will air Fridays at 10/9c on NBC, premiering October 24.Arrow- Arrow series stars Stephen Amell (Private Practice), Katie Cassidy(Supernatural), David Ramsey (Dexter), Emily Bett Rickards (Flicka: Country Pride),Colton Haynes (Teen Wolf), Willa Holland (The O.C.), Paul Blackthorne (The River), andJohn Barrowman (Torchwood — with executive producers Greg Berlanti (The Flash),Marc Guggenheim (Green Lantern), and Andrew Kreisberg (Fringe) — will take aim at San Diego with a special video presentation and discussion previewing the show's highly anticipated third season. Based upon characters appearing in comic books and graphic novels published by DC Comics, Arrow is from Bonanza Productions Inc. in association with Berlanti Productions and Warner Bros. Television. The series returns for a third season this fall, airing Wednesdays at 8/7c on The CW.