'Welcome To New York' International Trailer: Gerard Depardiu Parties His Way Into Trouble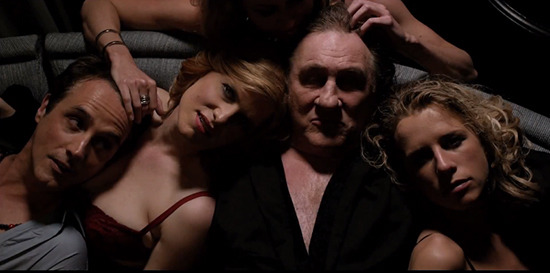 Could it be career rehab time for Gerard Depardieu? Abel Ferrara, who made audiences see Harvey Keitel in a harsh new light when he made the original Bad Lieutenant, has cast Depardieu as a vague analogue of embattled IMF chief Dominique Strauss-Kahn. Ferrara scripted with Christ Zois, and Jacqueline Bisset co-stars. While it's difficult to pull too much story out of this Welcome to New York trailer, the edit is definitely not safe for work as it is a parade of partying, partial nudity, and shadowy dealings. Watch after the jump.
Welcome to New York is open in France now; it hits UK and Irish cinemas (and related On Demand services) on August 8.
Mr. Devereaux (Gerard Depardieu) is a powerful man. A man who handles billions of dollars every day. A man who controls the economic fate of nations. A man driven by a frenzied and unbridled sexual hunger. A man who dreams of saving the world and who cannot save himself. A terrified man. A lost man. Watch him fall.