Rumor: Doomsday To Appear In 'Batman V Superman: Dawn Of Justice'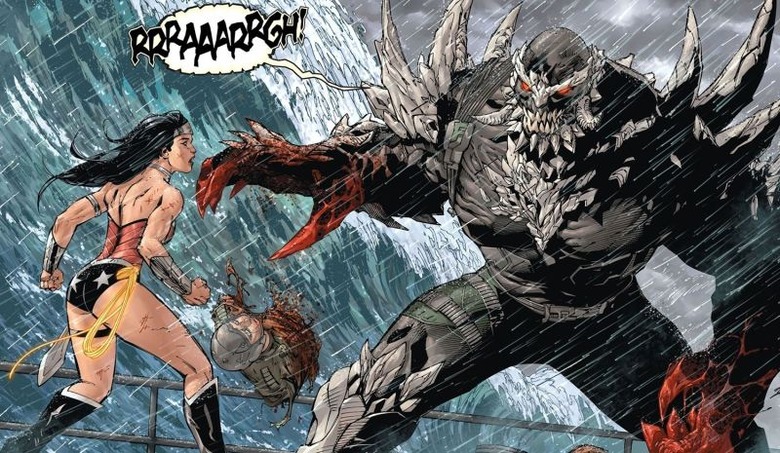 The latest rumor to spring up in relation to Batman V Superman: Dawn of Justice says that Doomsday will make an appearance. Whether he would simply pop up in a cameo role (similar to the shot of Thanos in The Avengers) or play a more crucial story role is unknown. What little info we have on the Batman V Superman Doomsday rumor is below.
Bleeding Cool reports that a reliable source has seen character designs for the big guy, linking him to the new film.
The appropriately-named Doomsday was originally created in the early '90s specifically to kill Superman. (And to fill a void created by a different, discarded story plan, and to boost sales.) That story, The Death of Superman, was published in 1992 as the culmination of an "event series" that left both characters apparently dead. Superman eventually returned, of course, and Doomsday has also been resurrected in both comics and other media. (He played a big role in Smallville at one point, for instance.)
So what about the chance he'll be in Batman V Superman, which already features Lex Luthor and a host of smaller bad guys? We know there's one big mystery character who hasn't been announced, and it could be him.
I had heard from a reliable source at one point that Doomsday was definitely planned for the film, but that was before some significant changes turned the project into more of a Justice League introduction than a Man of Steel sequel. So that info is out of date, and could be completely different now.
And so the designs for Doomsday being seen now could have been created for that iteration of the film. There's no good info to concretely link them to the version of the movie that is shooting now. But WB seems hell-bent on cramming as much into this film as possible, so it doesn't come off as the most unlikely rumor we've heard.
Directed by Zack Snyder from a script by Chris Terrio, Batman v Superman: Dawn of Justice stars Henry Cavill, Ben Affleck, Gal Gadot, Amy Adams, Laurence Fishburne, Diane Lane, Jesse Eisenberg, Jeremy Irons, Holly Hunter and Scoot McNairy. It opens on May 6, 2016.