'Teenage Mutant Ninja Turtles' Motion Posters: Meet The Heroes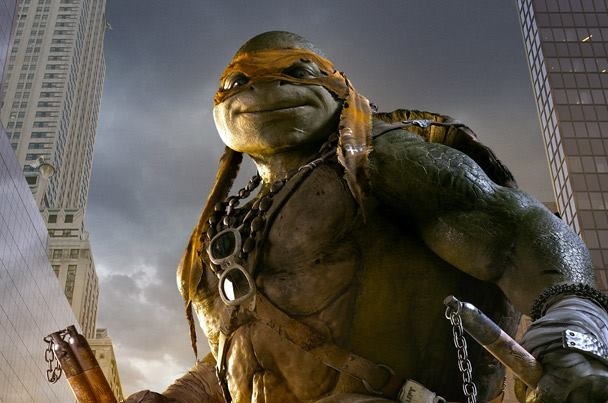 Whether New York City wants it or not, it's getting a visit from four very unusual heroes this summer. So we might as well get to know them before they arrive.
Jonathan Liebesman's Teenage Mutant Ninja Turtles has revealed four new motion posters for each of the four heroes in a half-shell. The emphasis here is really on "motion" — they're jam-packed with explosive stunts and daring rescues. Check 'em all out after the jump.
Here's Leonardo (mo-capped by Pete Ploszek, voiced by Johnny Knoxville):
And Michelangelo (Noel Fisher):
And Raphael (Alan Ritchson):
And last but not least, Donatello (Jeremy Howard):
They're not too bad, at least if you've enjoyed the other promos so far. It's just too bad we don't get a better sense of the Turtles' personalities here. Normally they fit into four distinct and familiar archetypes, a la the four Houses of Hogwarts or the four ladies of Sex and the City, but in these posters they seem more or less interchangeable.
Teenage Mutant Ninja Turtles lands in theaters August 8. Megan Fox, Will Arnett, Whoopi Goldberg, William Fichtner, Danny Woodburn, and the voice of Tony Shalhoub also star.
The city needs heroes. Darkness has settled over New York City as Shredder and his evil Foot Clan have an iron grip on everything from the police to the politicians. The future is grim until four unlikely outcast brothers rise from the sewers and discover their destiny as Teenage Mutant Ninja Turtles. The Turtles must work with fearless reporter April and her wise-cracking cameraman Vern Fenwick to save the city and unravel Shredder's diabolical plan.