'Unbroken' Trailer: Angelina Jolie Chronicles Louis Zamperini's Dramatic Journey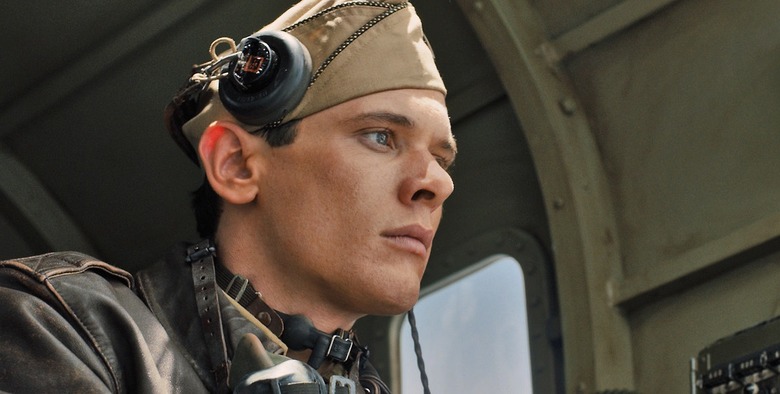 Angelina Jolie's feature directing debut In the Land of Blood and Honey didn't get a ton of attention. But her follow-up Unbroken is already looking like an early contender for the Oscar race, with an uplifting fact-based plot and a plum Christmas release date.
Based on the book by Laura Hillenbrand (Seabiscuit), Unbroken follows Louis Zamperini (Jack O'Connell) from his humble roots to his Olympic stardom, World War II service, and stay in a Japanese POW camp. Domhnall Gleeson, Takamasa Ishihara, Garrett Hedlund, and Finn Wittrock also star. Watch the trailer after the jump.
Zamperini's life really has enough drama for about three different movies. There's the sports drama about the scrappy rebel turned disciplined champion, the survival drama about soldiers stranded in the middle of the ocean, and the World War II drama about life in a POW camp. That all of this is based on a true story makes it even crazier.
And the fact that the real-life Zamperini got a happy ending makes his story seem inspiring rather than horribly depressing. He survived his ordeal and lived to the ripe old age of 97 before passing away last week in Los Angeles, California.
Unbroken opens December 25. William Nicholson, Richard LaGravenese, and Joel and Ethan Coen worked on the script.
Academy Award® winner Angelina Jolie directs and produces Unbroken, an epic drama that follows the incredible life of Olympian and war hero Louis "Louie" Zamperini (Jack O'Connell) who, along with two other crewmen, survived in a raft for 47 days after a near-fatal plane crash in WWII—only to be caught by the Japanese Navy and sent to a prisoner-of-war camp. Adapted from Laura Hillenbrand's ("Seabiscuit: An American Legend") enormously popular book, Unbroken brings to the big screen Zamperini's unbelievable and inspiring true story about the resilient power of the human spirit.