Scott C's The Great, Great Showdowns Hunt – Day 5 [Updated With Winner]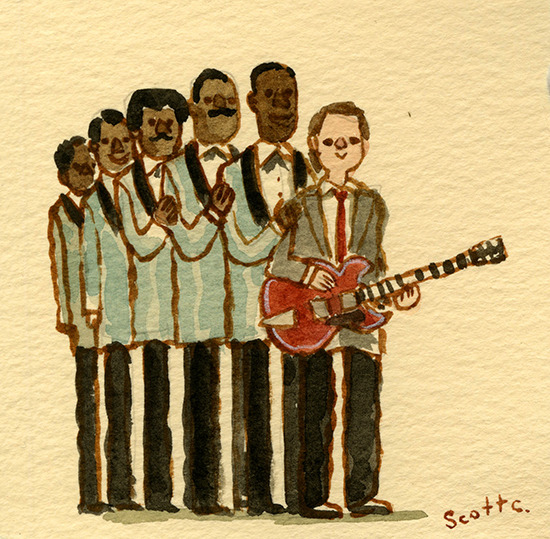 Los Angeles, the hunt is on for free, original paintings like the one above by the one and only Scott Campbell. In fact, exactly like the one above. But you're going to have to be quick, smart and pop culture savvy.
Starting right now, and repeating each day until the Friday opening of his latest exhibit at Gallery 1988, Campbell is hiding an original painting from a famous film at the location where the scene was shot. Figure out the location, head there, find it and it's yours. Then, see hundreds more paintings July 11 at the Revenge of the Great Showdowns exhibition at Gallery 1988 West.
Below, read Campbell's clues about the fifth and final painting (seen above) and see a small selection of pieces that'll be in this week's show.
Here's how Campbell describes The Great, Great Showdowns Hunt – Day 5.
Here's what's happening: I will post a little painting from a popular little film once every day this week leading up to the Revenge of the Great Showdowns exhibition on Friday, July 11th at Gallery 1988.  These paintings shall be placed into envelopes and hidden somewhere at the location in which that scene happened. The first person to find this painting shall keep this painting as a gift from me to you!  I only ask that you post a picture of the found painting in your possession, so I can congratulate you in front of the world. Tweet it or whatever you like. #GreatGreatShowdownsHuntThis particular painting is from a film about the future and getting the heck back to it.  There is a very important school dance that everything hinges upon.  The little fellow goes onstage and helps out with some rock guitar antics. Where was this school dance??The hunt is on, you guys.
We'll update this post once the above painting is found and then check back every day this week for the others. If you happen to find it, send a photo via Twitter to @scottlava and @galleries1988. Throw on the hashtag #GreatGreatShowdownsHunt.
The Revenge of the Great Showdowns opens July 11 at 7 p.m. at Gallery 1988 West, 7308 Melrose Avenue Los Angeles, CA. It'll then be on display through August 2. Here are just a few of the pieces that'll be in the show. We'll show more each day as we continue The Great, Great Showdowns Hunt.
Update: And there's a winner:
@scottlava @Galleries1988 @GermainLussier And with that...the Great Showdown Scavenger hunt is over! Congrats Dan!!! pic.twitter.com/arITIwwvsp

— Jeff Morreale (@MovieManJeff) July 11, 2014