Comic Con 2014 Thursday Schedule Includes Hannibal, Batman '66, And Goonies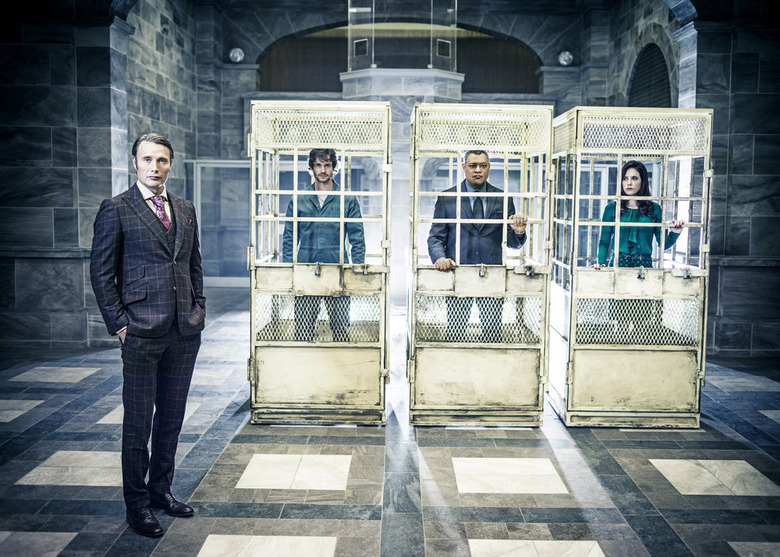 The full schedule is out for the first day of Comic Con 2014 in San Diego. The Thursday lineup features a few big TV and movie panels, and sees events starting to scatter out of the San Diego Convention Center in a more aggressive way, as Comic Con continues to outgrow its long-time home.
Ballroom 20, as is often the case, is filled with TV offerings, from 24 to Hannibal. And Hall H begins the con with panels from DreamWorks and Paramount, culminating with the celebration of the 1966 Batman TV series. And some events have moved over to the big ballroom at the nearby Hilton Bayfront — that's where you'll find Sony's Pixels, the Key & Peele panel (which could be one of the comedy highlights of the week) and the Goonies retrospective Q&A.
Get the full Thursday schedule here. Film-related highlights are below.
24 - 10am- Ballroom 20
Jack is back at Comic-Con, damn it! Kiefer Sutherland takes the stage to celebrate24's most iconic moments and highlights of Jack Bauer's triumphant return in 24: Live Another Day. Catch the exclusive sneak peek at highly anticipated Blu-ray and DVD featurette, Worlds Collide, illustrating how the pulse-pounding storytelling was created for this thrilling new season. Screening and discussion moderated by executive producer Jon Cassar to be followed by Q&A.
Under the Done - 11:15am - Ballroom 20
The hit summer series is back for its second season, bigger than ever with higher stakes and catastrophic developments that leave no one safe under the dome. The inhabitants of Chester's Mill must decide who to rally behind as Big Jim continues to fight for the town's trust and allegiance, all while resources dwindle and the post-apocalyptic conditions continue to intensify. There are new faces, bigger mysteries, betrayal of alliances, and monumental revelations about the dome, which will lead to a shocking discovery of what is behind it. Journey back under the dome, where you can't always believe what you see and nothing is impossible. An exclusive sneak preview at what's to come in season 2 will be followed by a panel discussion with the cast: Mike Vogel (Bates Motel), Dean Norris (Breaking Bad), Rachelle Lefevre (Twilight), Alexander Koch, Colin Ford, andMackenzie Lintz, along with executive producer Neal Baer.
Spotlight on Bill Finger, Co-Creator of Batman - 11:30am - Room 4
2014 marks the 25th anniversary of the movie Batman, the 50th anniversary of Batman's "New Look," the 75th anniversary of Batman's debut, and the 100th anniversary of the birth of Bill Finger, the Caped Crusader's uncredited co-creator. Not only did Bill Finger breathe life into Batman, Robin, Alfred, Commissioner Gordon, Gotham City, and one fantastic villain after another, he co-created bat-free icons such as Green Lantern, Wildcat, and Lana Lang. Bill's only living descendants Athena Finger (The Cape Creator: A Tribute to Bill Finger) and her son Benjamin invite you to celebrate the life and achievements of the man who first put the dark in the Dark Knight. Dr. Travis Langley (Batman and Psychology: A Dark and Stormy Knight) moderates a bat-tastic panel, featuring Bob Kane's biographer Tom Andrae (Batman and Me), writer Mark Evanier (Bill Finger Awards), actress Lee Meriwether (Batman: The Movie's Catwoman), author Marc Tyler Nobleman (Bill the Boy Wonder: The Secret Co-Creator of Batman), Cartoons Arts' Jens Robinson (son of Joker co-creator Jerry Robinson), and executive producer Michael Uslan (Batman, The Dark Knight film trilogy), plus special messages from legends like DC's last surviving Golden Age artist, Wildcat co-creator Irwin Hasen.
DreamWorks Animation - 11:30am - Hall H
Halo: Nightfall First Look - 11:45am - Room 6BCF
Prepare for your next step in the Halo Journey with a deep dive into Halo: Nightfall, the upcoming live-action digital series from 343 Industries and Scott Free Productions. Panelists include 343's Kiki Wolfkill (executive producer) and Frank O'Connor (franchise development director) along with key Halo: Nightfall cast and crew. Be among the first to get the details of the story and production. They'll also share a groundbreaking new experience that will play a big part in how stories are told in the Halo Universe.
Scorpion World Premiere Screening and Panel - 12:05pm - Ballroom 20
Discover the new CBS drama coming this fall, based on the true story of Walter O'Brien, an eccentric genius with the world's fourth highest IQ who has created a company of brilliant misfits who use their mental muscle to defend the planet against complex high-tech threats of the modern age. In this high-octane thrill ride from the makers of Star Trek, Transformers, The Amazing Spider-Man 2, and The Fast and the Furious, O'Brien's team uses their exceptional brainpower to solve the nation's crises, while also helping each other learn how to fit in. The world premiere screening of the pilot episode will be followed by a panel discussion with the real-life Walter O'Brien, along with series stars Elyes Gabel (World War Z), Robert Patrick (Terminator 2), and Katharine McPhee (Smash),and executive producers Nick Santora, Nicholas Wootton, Alex Kurtzman, Roberto Orci, andJustin Lin.
Sony Pictures - 12:30 - San Diego Bayfront
Get your first look at two of next summer's most anticipated films. First, Scholastic's iconic book series Goosebumps, written by R. L. Stine, has already captured the world's imagination-selling over 400 million books worldwide. Now it's coming to the big screen, with Jack Black starring as the author himself and Rob Letterman directing. Jack and Rob will tell you all about how Stine's monsters are coming to life on the big screen. The film hits theaters on August 7, 2015. Then, stay tuned as director Chris Columbus has a special video announcement about his upcoming film Pixels, starring Adam Sandler (in theaters May 15, 2015)-you'll find out how one lucky Comic-Con badge-holder might win a chance to be a part of the movie.
Reign - 1:15 - Ballroom 20
The saga of Mary, Queen of Scots continues when Reign returns for its second season this fall. Mary and Francis will rule a nation burning with plague, famine, and religious strife. Powerful lords will rise from the ashes, fears and superstitions will take terrifying forms, marriages deemed sacred will be violated; all as Mary tries to save herself and her friends, and Francis learns his true enemy might be his own family. An exclusive sneak preview at what's to come in season 2 will be followed by a panel discussion with the cast Adelaide Kane (Teen Wolf), Megan Follows (Anne of Green Gables) and Toby Regbo (Mr. Nobody), along with executive producer Laurie McCarthy.
Key & Peele - 1:30pm - Hilton Bayfront
Key & Peele stars Keegan-Michael Key and Jordan Peele, who are best known for their impressive ability for improv, celebrity impressions, and conjuring up original characters including "Obama and Luther," "The Valet Guys," "Mr. Garvey, the Substitute Teacher" and the players from the annual "East/West College Bowl." Whether it's satirizing the President, spoofing musical acts, or taking on religion, Key & Peele showcases their chemistry, camaraderie and unique point of view, born from their shared background and experiences growing up biracial in a not quite post-racial world. Join the stars of Comedy Central's Key & Peeleas they go behind the scenes, reveal details on their upcoming new season, and more! Panel to be moderated by actor and comedian, Tom Lennon. - The party continues with a FIRST EVER look at Comedy Central's newest animated series Moonbeam City. Moonbeam City is an absurdist take on the gritty, sex-drenched crime dramas from the 1980s. The series follows undercover detective Dazzle Novak (voiced by Rob Lowe), a handsome idiot who commits more crimes than most criminals. His tyrannical chief, Pizzaz Miller (Elizabeth Banks), won't get off his back, and hotshot rookie Rad Cunningham (Will Forte) is dying to see him fail. With the world against him, Dazzle is thrust into a living nightmare: having to do actual police work. Join series creator and executive producer, Scott Gairdner and the voice of Dazzle, Rob Lowe, as they reveal details for the first time on Comedy Central's next big animated series! Panel to be moderated by Moonbeam City head-writer, Tommy Blacha.
The Giver - 1:30pm Hall H
Twenty years in the making, fans of the novel can rejoice: The Giver is coming to the big screen. The Weinstein Company and Walden Media will premiere exclusive footage from the upcoming film with stars Jeff Bridges, Brenton Thwaites, Odeya Rush, director Phillip Noyce, and bestselling author Lois Lowry.
Greendale Forever: A Tribute to Community - 2:15pm - Ballroom 20
Will "six seasons and a movie" come true? Has Greendale Community College been saved? What happens next to Jeff Winger and the study group? Moderator Michael Schneider, TV Guide magazine's executive editor, joins Community creator Dan Harmon and members of the cast and producers as they recap last season (including Dan's heralded return to the show) and discuss what the future holds for this fan-favorite comedy.
Paramount Pictures - 3pm - Hall H
Paramount Pictures will provide an inside look at their upcoming films. Attendees will view exclusive footage presented by special guests and hear the latest news for some of the year's most anticipated movies!
Teen Wolf - 3:30pm - Ballroom 20
MTV's hit drama Teen Wolf returns to Comic-Con for the fifth consecutive year. The pack of Tyler Posey, Dylan O'Brien, Tyler Hoechlin, Holland Roden, and new cast members Shelley Hennig and Dylan Sprayberry, along with executive producer Jeff Davis, share secrets, debut a new mid-season trailer, and answer fan questions. Moderated by Buzzfeed senior editor Jarett Wieselman.
Entertainment Weekly: The Visionaries - 4:30 - Hall H
A discussion between a couple of blockbuster directors on the art of filmmaking and a wide-ranging discussion about the future of film.
Hannibal - 4:45pm - Ballroom 20
Join the creative minds behind the award-winning TV seriesHannibal. The menu will include executive producer/creator Bryan Fuller, executive producer/writer Steven Lightfoot, director David Slade, executive producer Martha DeLaurentiis, and starsCaroline Dhavernas (Dr. Alana Bloom), Scott Thompson, and Aaron Abrams (Special Agents Jimmy Price and Brian Zeller), in a panel moderated by Jonathan Ross. They'll serve behind-the-scenes discussion from the second season, paired with sneak previews of what's to come in season 3, not to mention a few surprises along the way. Bon appétit, Fannibals!
Penny Dreadful - 6pm - Ballroom 20
Creator and showrunner John Logan is joined by spellbinding stars Josh Hartnett (Ethan Chandler), Reeve Carney (Dorian Gray), and Harry Treadaway (Victor Frankenstein), as the monstrous new series possesses Ballroom 20. Enter the demimonde to find out what moments haunt the writer and cast from the first season and view a sneak peek to see what the cards reveal about the season ahead. The panel will be moderated by Emmy Award-nominated actress and host Aisha Tyler (Archer, The Talk), followed by a Q&A session with the "Dreadfuls." Penny Dreadful returns to Showtime in 2015.
Batman '66 - 6pm - Hall H
Holy Bat Panels! Get all the details on the most anticipated home entertainment release in fanboy history when Warner Bros. Home Entertainment reunites pop icons Adam West, Burt Ward, and Julie Newmar on the Hall H stage for a Bat-tastic look atBatman: The Complete TV Series. The actors behind Batman, Robin. and Catwoman, along with moderator Ralph Garman, will give you an inside sneak peek at all the exclusive content within this blockbuster home entertainment release, as well as exhibiting dazzling HD remastered footage from the landmark series. Batman: The Complete TV Series will be released in November 2014.
Goonies - 6pm - Hilton Bayfront
With Richard Donner's announcement that a sequel to his beloved 1985 classic The Goonies is on the way, join Goonies cast members to explore how it became an iconic movie for an entire generation, why the film has stood the test of time, and possible insights into the much anticipated sequel. Clare Kramer (Buffy the Vampire Slayer) moderates a panel of cast members and special surprise guests, including a Q&A session.