First Look: Don Cheadle As Miles Davis In 'Miles Ahead'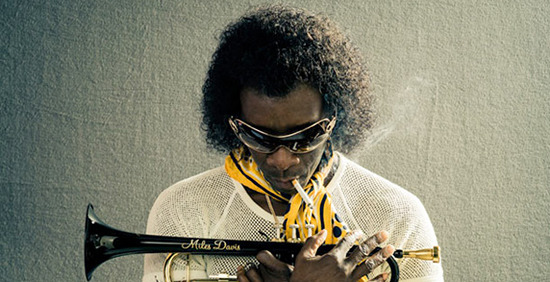 Don Cheadle has been working to crowdfund a film about Miles Davis, in which Cheadle himself would play the famed musician. Miles Ahead also counts Cheadle as a co-writer, and has Ewan McGregor, Michael Stuhlbarg and Emayatzy Corinealdi set to co-star when the film begins shooting this week in Cincinnati. Now the first look of Don Cheadle as Miles Davis is out, and the hair, makeup, and costume departments have certainly done their job well.
The film will follow Davis in his so-called "silent period," when he withdrew from public life. Set in 1979, the film will flash back to previous years in his life, and in particular touch on his tumultuous (and often outright violent) marriage with Frances Taylor Davis. Miles didn't return to performing and releasing music until 1981 — not coincidentally as far as the film is concerned, that's the first year Don Cheadle saw Davis on stage.
In an interview accompanying the photo, Cheadle talks about playing the trumpet (he learned to play for the film, but the music you hear will be Davis') and explained his take on the biopic form, and went into some detail about the reasons for using IndieGogo to partially finance the movie. See the shot and get more info below.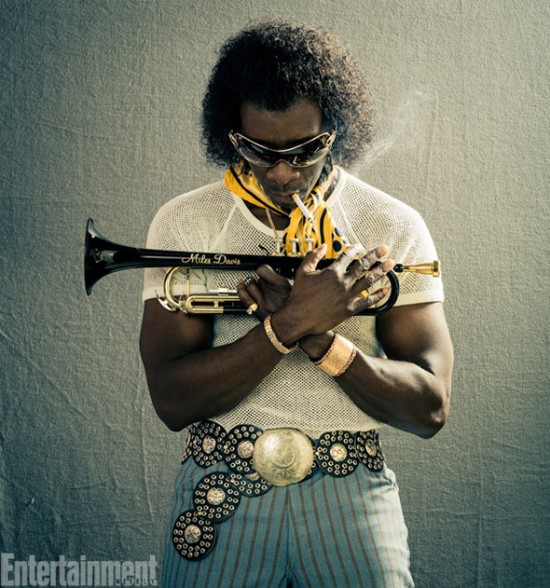 EW has the shot, and shared credit for the look: "It's a great shot; it's kinda cool, huh? I attribute that to my department to more than anything I'm doing: That's hair, makeup, wardrobe, and props. But it's cool to be sitting on it and have it all begin."
But, wait, if the film starts shooting this week, what's the IndieGogo campaign about? Cheadle says,
This is an independently produced film. There is no studio element. We're still in the process locking down all the financing so it was a component of funds needed to cover a gap , including my own personal money I've put into the movie and a consortium of others. It's to cover what it takes to put together a period movie, that has to have different looks and ways you're trying to authenticate the time period you're dealing with. And the music rights—all of that stuff costs money. But it also felt like a good way to open him up back to the public and try to raise that awareness and use the social mediums to make this a social event. To make it social, like the music Miles talked about. It just made sense on multiple levels to do it this way.
He also talked about the biopic form, and his own entry to the project:
This was something that had been a periphery for me. I never thought about portraying him, really. I had done several other quote-unquote biopics and was always struck by the limitations they presented, because they were trying to be historically accurate. Let's be honest, any biopic is a series of omissions and conflations of events and amalgamations of characters. And you're trying to have a movie experience under three hours, so in the process you condense people's lives from cradle to grave, so things tend to feel episodic and event-oriented as opposed to a story about people and relationships and a character.
So I didn't want to do another biopic. So when I heard the idea, from various people who had played with him, producers, writers, that this could potentially be something, I thought, 'if the script is great, I would be open to it since he's always been a fascinating figure to me.'
And then, in 2008, when Miles was inducted into the Rock and Roll Hall of Fame, his nephew was interviewed and was asked, 'Would you ever do a movie on his life?" He said yes, and that Don Cheadle is going to play him. And I was like 'I am?'