'Gone Girl' Trailer: David Fincher's Latest Thriller Starring Ben Affleck And Rosamund Pike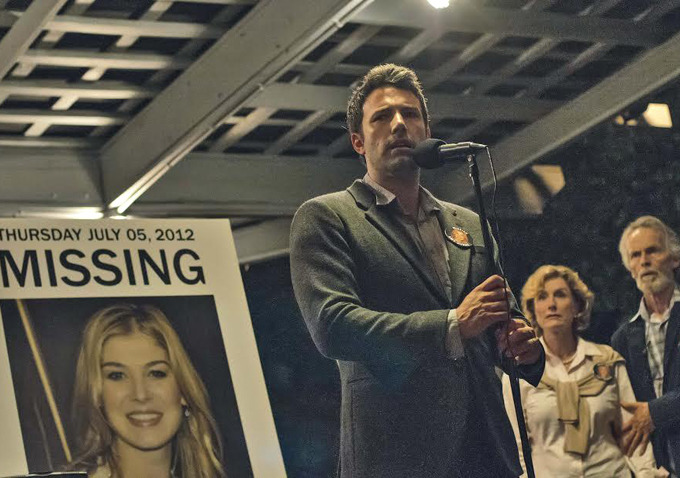 The first full Gone Girl trailer is now online. Directed by David Fincher, the film stars Ben Affleck and Rosamund Pike in the story of a perfect couple who find themselves on opposite sides of a massive mystery. When Amy (Pike) goes missing, Nick (Affleck) is accused of killing her. Nick, however, swears he's innocent. As the story gets bigger and bigger, more clues reveal that all is not what it seems.
Co-starring Neil Patrick Harris, Tyler Perry, Kim Dickens, Patrick Fugit, Emily Ratajkowski, Casey Wilson, Boyd Holbrook and Scoot McNairy, it opens October 3. Check out the second Gone Girl trailer below.
Here's the trailer thanks to Apple.
Gone Girl trailer
Having read the book by Gillian Flynn – who also adapted the screenplay – I can safely say while this trailer may look like it reveals a lot, it really doesn't. There are shots in here that would probably make you throw up your arms and think, "That must be the end of the movie!" But I'm telling you, "No." This is David Fincher we're talking about. The guy markets the crap out of his movies, creating a campaign that totally makes you want to see the movie. Then, when you see the film, it's a different experience altogether. That's what this Gone Girl trailer does.
The trailer also has that signature saturated Fincher look and a pacing that teases at your nerves. Everything on the screen almost hurts its so tense. Did this guy kill his wife? How is she commenting on it? What is the lawyer going to do? Are the cops on his side? Why is he the most hated man in America? All these questions are infused with tension and anticipation. I really can't wait for this one.
The film opens October 3. What did you think of the second Gone Girl trailer?
GONE GIRL – directed by David Fincher and based upon the global bestseller by Gillian Flynn – unearths the secrets at the heart of a modern marriage. On the occasion of his fifth wedding anniversary, Nick Dunne (Ben Affleck) reports that his beautiful wife, Amy (Rosamund Pike), has gone missing. Under pressure from the police and a growing media frenzy, Nick's portrait of a blissful union begins to crumble. Soon his lies, deceits and strange behavior have everyone asking the same dark question: Did Nick Dunne kill his wife?