Kevin Smith Says Weinsteins Passed On 'Clerks 3,' Plans 'Tusk' Spinoff Called 'Yoga Hosers'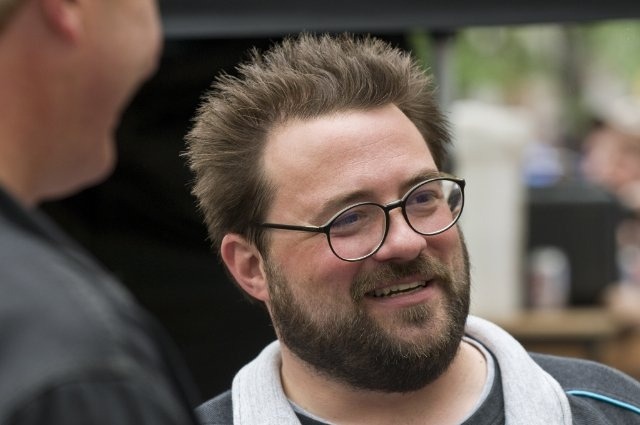 In a new interview, Kevin Smith offered updates on his upcoming projects. He's currently in post-production on Tusk, a creepy tale based on a real-life news story, and that film has reportedly inspired a spin-off. Smith said two characters who appear in the film briefly will star in a new movie called Yoga Hosers, which is based on another story he discussed on his Smodcast.
Also, Smith said he took the script for Clerks 3 to Bob and Harvey Weinstein, but they passed on making the movie. The Weinsteins distributed the first two Clerks films but felt the proposed $6 million budget was too much. They'd distribute, though, if Smith raises the funds himself.
Read the Clerks 3 news and Yoga Hosers plot below.
Smith spoke to Screen Daily (via The Playlist) about the projects, and here are the quotes.
On Clerks 3:
[The Weinsteins] passed. I went in with a $6m budget and they were, like, 'Oh no Kevin, this is too high'. Bob offered us distribution but they weren't going to finance it.
That's probably a significant blow to the film, which Smith had long envisioned as a studio project. He's incredibly resourceful, however, so it's still likely we'll see the film at some point. And possibly under the Weinstein banner.
On Yoga Hosers:
Like Tusk, ['Yoga-Hosers'] sprang out of a podcast. There are two characters in a convenience store in 'Tusk' that you see for five minutes, very much Ronsencrantz and Guildenstern. I've built a whole movie around them and I have brought one of the other characters from Tusk back.
So what exactly is Yoga Hosers? The story was talked about in-depth on episode 288 of his Smodcast and the potential for a movie was covered in the Edmonton Journal in May. Smith also mentioned potentially turning this into a movie at the time, so this is more an update as opposed to new news. Basically, the story follows a yoga enthusiast accused of stealing a $1.2 million Persian artifact. The film would probably not be exactly about that, though. More likely it would be a story of people who love yoga stealing things. But that's speculative. You can read more about the story at the Journal link.
Smith also has the Krampus film, Anti-Claus, in the works and who knows how many other projects. When we'll see either Clerks 3 or Yoga Hosers is, then, a mystery, but one thing is for certain. Smith hasn't retired as once thought. He said the following about his career:  "I am definitely not going to retire. I am only going to make films that only I could ever make or would ever make."