'Jimi: All Is By My Side' Trailer: André Benjamin Brings Hendrix To Life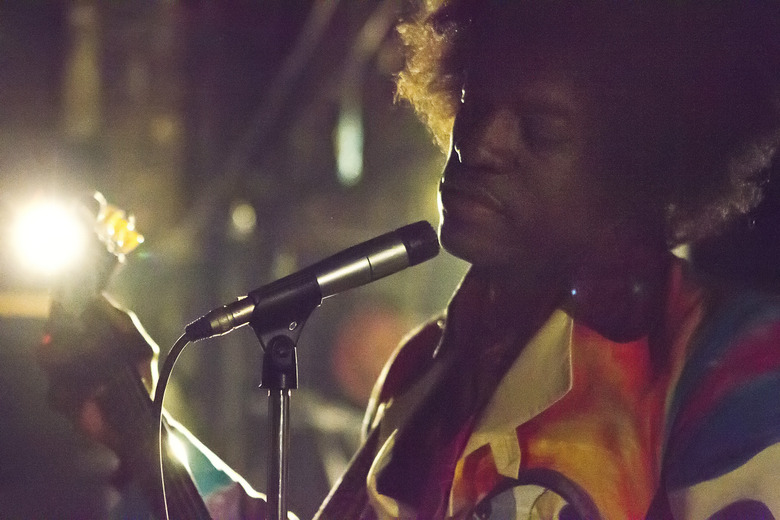 André Benjamin, aka André 3000 of Outkast, does a solid job of playing Jimi Hendrix in the movie Jimi: All Is By My Side. The film isn't your typical biopic, as it veers away from providing a top to bottom account of the guitarist's life. Instead, it focuses on the year of Hendix's life in which he went from being an unknown supporting player to a guy on the brink of stardom.
During that year, he meets Linda Keith (Imogen Poots), who dates Keith Richards and consequently has the connections to get Jimi's career started. The film wanders through this strange, intense year in the man's life with an odd rhythm that gives it a unique feel. Some of that is captured in the new Jimi: All Is By My Side trailer, which you can see below.
Written and directed by 12 Years a Slave Oscar-winner John Ridley, this movie is more about Hendrix evolving as a person than it is an account of his life as a performer. It isn't entirely satisfying, but it is different, and Benjamin's performance is definitely worth a look. You won't hear any Hendrix music in the film, but Ridley sidesteps that by using tunes that Hendrix played as he was starting up his own band.
Jimi: All Is By My Side will open on September 26. Trailer via XLrator Media.
OutKast's André Benjamin stars as Jimi Hendrix in this revealing biopic from Academy Award-winning writer-director John Ridley (12 Years A Slave). Covering a year in Hendrix's life from 1966-67 as an unknown backup guitarist playing New York's Cheetah Club to making his mark in London's music scene up until his Monterey Pop triumph, the film presents an intimate portrait of the sensitive young musician on the verge of becoming a rock legend.