New Info On Developing 'Nightbreed' TV Series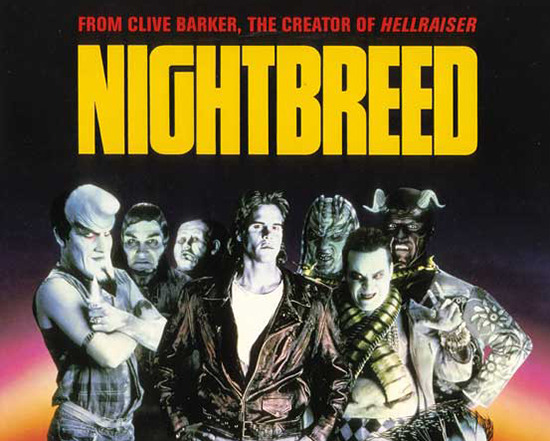 Morgan Creek backed the 1990 film Nightbreed, written and directed by Clive Barker based on his own novella Cabal. The company didn't entirely support the film at that point, but is starting to see the value in the story of an underground city populated by freaks and outcasts. Now, just as the extended Nightbreed director's cut is about to hit Blu-ray for the first time, Morgan Creek is taking additional steps to develop a Nightbreed TV series.
News of a possible series isn't new; Barker has mentioned it a few times in the past. But now we know a lot more, as the guy who has written the first few episodes of the new show is dishing out details.
First up: a couple years back, Barker said a TV version was being discussed:
I don't wish to be immodest, but our culture has sort of caught up with Nightbreed and we're actively in conversation about doing it for television. The general sense is that the movie failed because people didn't want to associate with the monster. I think our culture is now more ready to embrace that ambiguity...
Now, Michael Plumides of Morgan Creek has revealed much more, saying that the series has been actively developed since Barker's statement. Via Empire,
We've been actively developing the Nightbreed TV series at Morgan Creek with Clive Barker for two years. We hope the newly restored Director's Cut will help us illustrate how wildly popular the series could be to potential buyers. I recently penned four episodes including the pilot, with material all approved by Clive and Mark Miller at Seraphim Films. We have also been developing new Nightbreed creature concepts and I've been collaborating with Tate Steinsiek (SyFy's Face Off) for some months now, to create all-new designs for old characters and a few new ones, as well. We think the fans will be very pleased – by staying true to the source material but also modernizing the concepts, we hope Nightbreed will appeal to this millennium's viewer.
There's no broadcast home for the show yet, so it's not like the thing is ready to cast up and shoot. But it seems like it is getting closer.
It's too early to say regarding a pilot, but there is significant interest in the Nightbreed property – and we have the Occupy Midian movement to thank for that. But in writing the scripts, I made every effort to stay true to Barker's vision for the purists without deviating wholly from the source material – even consulting not just Clive and Mark but Barker experts and aficionados – people that live and breathe Barker's work. Also, I will say, it feels American, but the British accent shines through, occasionally. We hope to partner with a network that understands and appreciates the "monsters of Midian" as we do, but also recognizes the viability of the Nightbreed property.
Here's the original Nightbreed trailer: