'GI Joe 3' Hires A New Screenwriter For Dwayne Johnson-Focused Sequel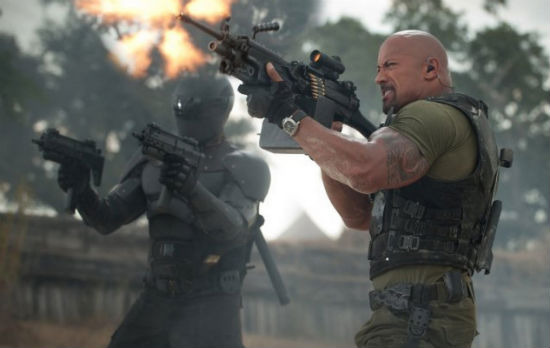 The two G.I. Joe films have been moneymakers for Paramount, and the studio is moving forward with the third installment. Hit the jump to find out who has been hired as the new GI Joe 3 screenwriter.
Screenwriter Jonathan Lemkin has inked a deal to write the threequel. According to Variety, most of the cast are expected to return, and the story is likely to revolve around Dwayne Johnson's character Roadblock. Not much else about the story is known, but Roadblock is a favorite character among fans and having The Rock front and center is almost always a good idea. The plan is to get the film into production by April 2015 so that it can be in theaters for a 2016 release.
GI Joe: Retaliation director Jon Chu is currently busy adapting Jem and the Holograms for the big screen, and it is now believed he might not return for the third Joe film. Its sad to see the franchise potentially lose Jon, as I feel like the ninja action sequence in Retaliation was one of the best parts of the film, and that sequence had his fingerprints all over (you know how these studio pictures can get).
Screenwriter Jonathan Lemkin started in television as a writer on Hill Street Blues, later working on the 21 Jump Street tv series and also an episode of the original Beverly Hills 90210. He is credited with the story for Lethal Weapon 4, and worked on The Devil's Advocate, Red Planet and The Shooter. Lemkin recently signed with the studio to pen The Longest Night based on a GQ article, with producer Frank Marshall on board to direct.
Last September, Evan Daugherty, who kickstarted his studio career with the sale of Snow White and the Huntsman to Universal, was hired to write the third Joe film.