Horrible Bosses 2 Teaser Trailer: More Of The Same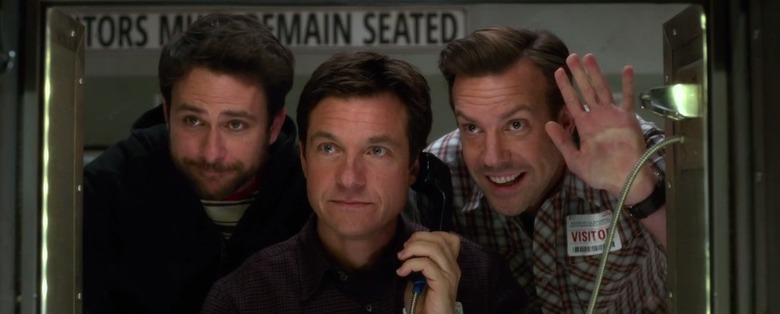 Warner Bros has released a trailer for Horrible Bosses 2, the comedy sequel reuniting Jason Bateman, Charlie Day, Jason Sudeikis, Jennifer Aniston, Jamie Foxx, and Kevin Spacey. Basically, more of the same. Hit the jump to watch the Horrible Bosses 2 teaser trailer.
Horrible Bosses 2 Teaser Trailer
Chris Pine and Christoph Waltz join in on the fun this time around, but we only see glimpses of them in this early teaser. Instead we're given a bunch of retread of jokes and characters from the first film, none of which is particularly funny. I must admit, I wasn't a huge fan of the first film so maybe I'm just the wrong audience — the character callbacks felt obvious and somewhat desperate. I did chuckle during the walking in slow-motion gag, but that joke has been done a hundred times before in different ways.
The official plot synopsis follows:
Fed up with answering to higher-ups, Nick, Dale and Kurt decide to become their own bosses by launching their own business in "Horrible Bosses 2." But a slick investor soon pulls the rug out from under them. Outplayed and desperate, and with no legal recourse, the three would-be entrepreneurs hatch a misguided plan to kidnap the investor's adult son and ransom him to regain control of their company.
The sequel is directed by Sean Anders who scripted the story alongside John Morris (We're the Millers) and John Francis Daley & Jonathan Goldstein (Cloudy with a Chance of Meatballs 2), the latter pair having written the first film. Horrible Bosses 2 is set to hit theaters on November 26th 2014.