'Sherlock' Returning For 2015 Special Followed By Season 4 [UPDATED]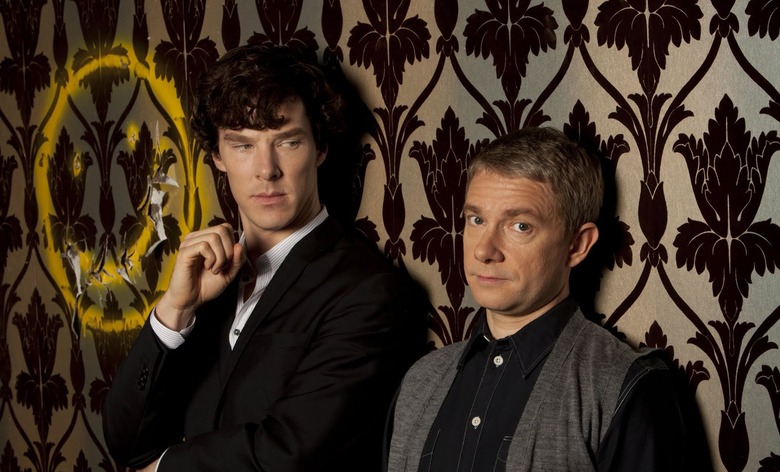 UPDATE: Martin Freeman was right. Deadline is reporting Sherlock will be back in 2015, starting with a special that'll film early in January. Later, they'll get to work on season four for a probable 2016 premiere. Head there for more details. Original article follows.
Sherlock season three came and went all too fast. Each of the show's tightly-scripted seasons is so easy to devour in a day or two. The 90-minute episodes merit multiple views, but the four and a half hours of story we saw in January of this year only made us want a fourth season even more.
Trouble is, scheduling a new season is difficult. It is essentially like shooting three films, and stars Benedict Cumberbatch and Martin Freeman are wildly busy. (Due in no small part to the popularity of this very show.) So while a fourth season could happen, we don't know when cameras could roll.
We've heard, however, that a one-off special was possible, to bridge the gap between seasons. Now Martin Freeman says a Sherlock Christmas special is looking likely... but not until 2015. 
Martin Freeman discussed Sherlock with The Telegraph, saying that a Christmas special for 2015 "looks pretty likely." He explained a bit further:
If that's going to be a special – I'm speaking off-message here; if this was New Labour I'd get fired – I think that might be for next Christmas. A Christmas special. That's what I understand.
Freeman also says that Amanda Abbington, who plays Watson's wife Mary (and is Freeman's partner in real life) will be part of the show "for the foreseeable future." Which also means there is more foreseeable future for the show.
Sherlock showrunner Steven Moffat has already done the Christmas Special thing with Doctor Who, and at this point we'll take new Sherlock stories in whatever form Moffat & Co. want to deliver them. And while Shane Black is (a) busy and (b) not British, the idea of a Christmas special for the ultimate investigative buddy team has me wondering what his version of a Sherlock special would look like...