Yahoo Resurrects 'Community' For A Sixth Season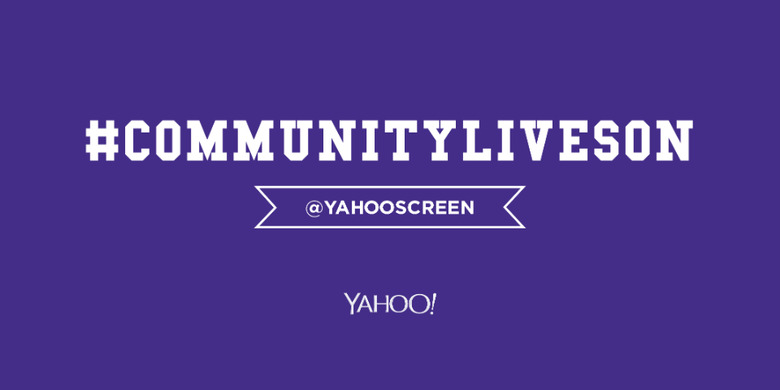 #SixSeasonsandaMovie isn't yet a dead idea. NBC canceled Dan Harmon's show Community earlier this year, but it seemed like there was still a chance that it would end up with a new home. Talks with Hulu didn't go anywhere, but Yahoo wants a show — and now Yahoo has the sixth (and last?) season of Community. The deal was announced today just hours before the cast's contract collectively expires. More details of the Community Yahoo deal are below.
Earlier, Dan Harmon tweeted something that was interpreted by some as a death for the show:
But now we have this:
Yahoo has made a deal with producer Sony Pictures Television to stream a 13-episode sixth season of the show. Harmon will return as showrunner, and took a little swipe at NBC in his packaged statement about the Yahoo deal:
I am very pleased that 

Community

 will be returning for its predestined sixth season on Yahoo. I look forward to bringing our beloved NBC sitcom to a larger audience by moving it online. I vow to dominate our new competition. Rest easy,

 Big Bang Theory

. Look out, 

Bang Bus

!
Vulture suggests that the move to Yahoo won't dramatically reduce the budget for this upcoming season. And Chris McKenna is in talks to return as exec producer.
And so the wild tale of Community continues — three solid seasons, followed by Harmon's ouster, and the limp fourth season, then Harmon's return for the fifth season. With this move, Community goes to a home with little experience running a show of this size, but which certainly has a long reach. Now we'll see if any previously departed cast members return, and where talk of a movie goes.
Update: THR talked to Sony Pictures Television president of programming and production Zack Van Amburg, who said the entire cast is returning, and explained, "We try so hard and have a pretty decent record now of saving and/or rescuing some of our favorite shows, whether it's Damages or Unforgettable." He went on to say,
We had a series of conversations with NBC and finally Bob, as nicely as he could, said, "Stop f—ing calling me about Community!" [Laughs.] We pushed that one too much and we started to reach out to some of our other partners and networks. I saw it speculated in the press that there was decent interest from Hulu. That was true. We had a pretty advanced conversation. They have been an amazing partner; the show has done great things for them and their support has been beyond appreciated. It made sense that between Hulu and Comedy Central — who both currently carry the show — that maybe that was going to be our savior. We were in pretty advanced conversations with Hulu and we had made a half-dozen or so phone calls to other places. Then out of the blue — and this never happens — I got the best phone call in the world from Yahoo selling us on why Yahoo would be great destination [forCommunity]. To be honest, we were so far down the path with Hulu that, hopefully not arrogant but [we were], maybe a little bit dismissive of their overture, which made them that much more committed to explaining to us and to Joel McHale and Dan Harmon why this was going to be a cornerstone of the new Yahoo that they're about to unveil to the world.
Finally, the exec joked "there's no way we're not making the movie now!" before going on to say,
I'd be lying if I told you that we have not had some very early and preliminary conversations that are very exciting about what a potential movie could be and who might direct it. It's early but it's completely in our thought process.
If the film happens, will it be a digital stream, or a theatrical release? That's a question we can't answer just yet.