English-Language 'Audition' Remake In The Works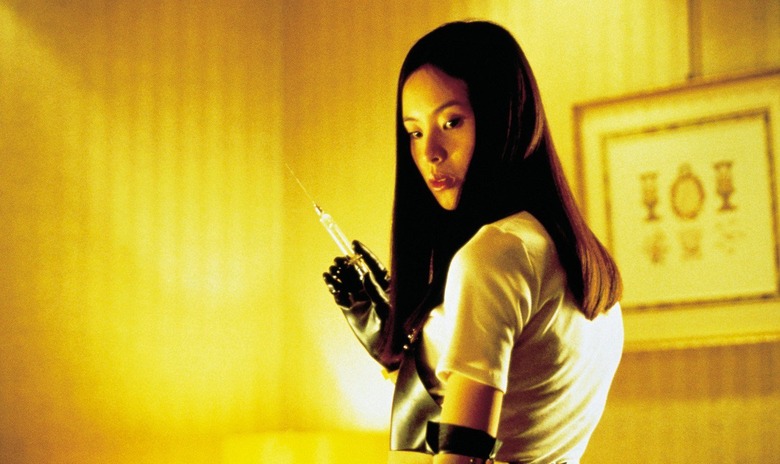 Someone wants to produce an English-language Audition remake. The 1997 Ryu Murakami novel was turned into a 1999 thriller by director Takashi Miike. The film became notorious at festivals, and quickly aroused the interest of cult audiences in the US. In the story, a widower uses a staged audition process — ostensibly for a television show — to find a new girlfriend. The woman he chooses, however, has some really serious problems, and things get weird.
No, really. Things get really weird. Audition has two or three impossible-to-forget sequences, at least one of which stands among the more messed-up things I've seen in a movie. How will the US version fare? Read more below.
Deadline reports info on the remake, which is being pulled together by producer Mario Kassar (Terminator, Rambo, Basic Instinct). The new film is reportedly based more on the original novel than the Miike film (we've heard that sort of thing before) and will be set in the US.
Richard Gray (The Lookalike) scripted and will direct. Despite a few name changes, the story details are more or less what you'd expect, as Deadline explains:
Audition's unlucky protagonist is Sam Davis, who lives alone with his son following the death of his wife seven years prior and is convinced by a filmmaker friend to stage the fake auditions. The former ballerina with a mysterious past he falls for is now named Evie Lawrence, but otherwise details fall closely in line with Murakami's best-seller.
Is there a new movie to be made from the novel? Sure. It's a story with a couple of big hooks (ahem) and could be pushed in a couple different directions, from a thematic perspective.
Going in hoping to replicate the effect of Miike's movie, however, is a fool's errand. Because that film, for all its commendable qualities and obvious shock value, became a sensation in part because it arrived at just the right time. J-horror was surging in popularity, in part thanks to The Ring, and was just about to hit the US in force. The internet had made informations on films such as Audition easier to come by, and it was one of a handful of movies that quickly developed a cult-like interest online. There's an aura around Audition that was pure "lightning in a bottle" circumstance. Best of luck to those working to capture that spirit once more.
Here's the trailer for the original film: