The Sound Of 'How To Train Your Dragon 2'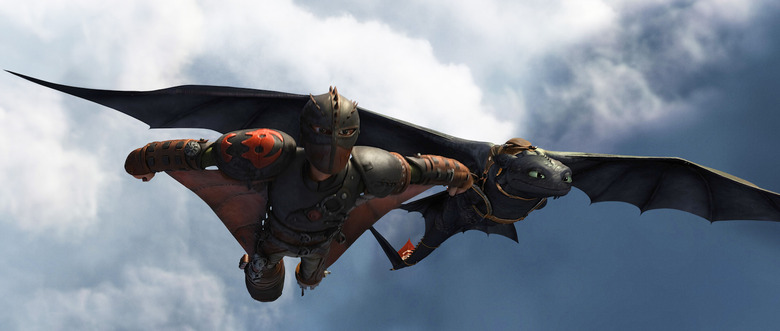 How to Train Your Dragon 2 is so awesome. It's everything you want in a big summer blockbuster. Action, romance, surprises, suspense, yet for some reason it hasn't struck a cultural chord like many people expected it to. However, it's not over yet for Hiccup and Toothless.
In its second week at the box office, the film crossed $100 million domestic and will pass $200 worldwide later in its third week. Plus, it was the number one movie on a daily basis in its second week. That indicates staying power. Sure that'll change thanks to Optimus Prime and the gang but there's still plenty of time for film goers looking for a dynamite time at the movies to find How to Train Your Dragon 2, a beautiful and rewarding movie in every way.
And when I say "in every way" I mean that. The Soundworks Collection has done a video detailing the sound work in the film. It's great watch to see some of the small details that can regularly go unnoticed in a film of this size and scope.
Thanks to the Soundworks Collection for this great video.
For more on the sound of How to Train your Dragon 2, head over to the Soundworks Website for a complete list of the main names responsible for the fine work. Sound really is an essential, but thankless, part of the filmmaking process.
Want more How to Train your Dragon 2? We're happy to deliver. We've got a video review here, a full podcast on the film here, and a spot here for you to share your thoughts.
How to Train Your Dragon 2 is now in theaters.
The son of a Viking chief must capture a dragon in order to mark his passage into manhood and prove his worthiness to the tribe in directors Chris Sanders and Dean DeBlois' adaptation of Cressida Cowell's popular children's book. Gerard Butler, America Ferrera, Jonah Hill, Jay Baruchel, and Christopher Mintz-Plasse provide voices for the DreamWorks Animation production.