'The Disappearance Of Eleanor Rigby' Trailer: Jessica Chastain And James McAvoy Struggle With Life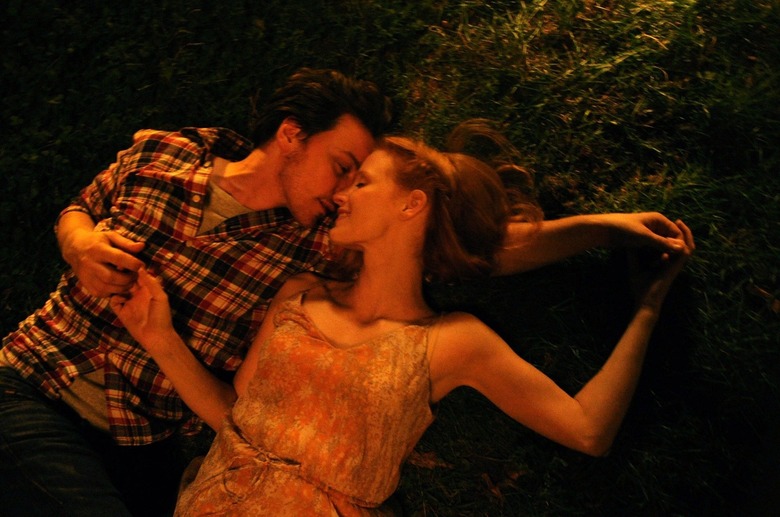 The Disappearance of Eleanor Rigby may look like a pretty standard romantic drama, but it has an unusual origin. The film, which is the debut of writer/director Ned Benson, originally played the Toronto Film Festival in very different form. There, it was two films, "Him" and "Her," which together told the story of the difficult relationship between Conor (James McAvoy) and Eleanor (Jessica Chastain), and the aftermath of a particularly difficult time in their lives.
At Cannes, the project showed up as one film, sub-titled "Them", which picks and chooses footage from both of the original halves to merge the distinct viewpoints of the original films to create a single film that is a bit more mainstream. This first Disappearance of Eleanor Rigby trailer gives a glimmer of Chastain's performance, which won acclaim at the festivals, but hides the core trauma that threatens to destroy the relationship between the two characters.
While we're getting the single film version first, later in the year the two original halves should end up in a limited theatrical run. Here's the trailer for the "unified" single film.
The film also features a top-notch supporting cast that includes William Hurt, Isabelle Huppert, Viola Davis, and Bill Hader. The Disappearance Of Eleanor Rigby opens on September 26. Trailer via Yahoo.
Once happily married, Conor (McAvoy) and Eleanor (Chastain) suddenly find themselves as strangers longing to understand each other in the wake of tragedy. The film explores the couple's story as they try to reclaim the life and love they once knew and pick up the pieces of a past that may be too far gone.