POTD: Roger Ebert's Seat At The 'Life Itself' Premiere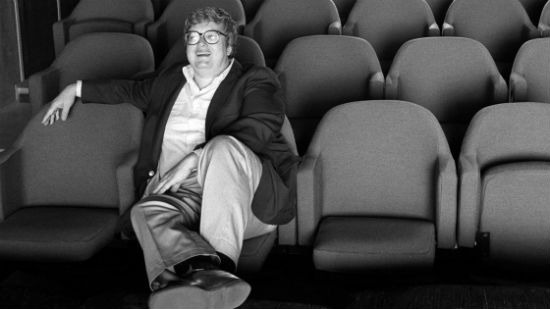 Thursday night in Hollywood, Magnolia Pictures hosted the premiere of the incredible documentary Life Itself. Directed by Steve James, the film tells the story of legendary film critic Roger Ebert. Along the way, it helps us think about not only Ebert's legacy, but our own love of movies and ultimately our own lives. It's a beautiful film that opens in theaters and on demand July 4.
Scrolling through Twitter, I noticed something at the Life Itself premiere that touched my heart. Someone at the premiere had left a seat open for Ebert, who passed away in April of 2013, just four months after James started filming. The simple gesture brought a tear to my eye because of just how much Ebert meant to myself and fellow film critics, fans and audiences all over the world. If it had that effect on me, we thought it might have a similar effect on you.
Here's the tweet in question, from the film's official Twitter account.
A seat saved for Roger Ebert at @ArcLightCinemas tonight's LA premiere of #LifeItself: pic.twitter.com/dBOsFg07EP

— Life Itself (@EbertMovie) June 27, 2014
The premiere was at Arclight Cinemas in Hollywood. Being a frequent patron there, I can tell you that seat is on the floor of the stadium seating, right next to the aisle so everyone who walked in could see it. I'm sure there wasn't a dry eye in the house even before the movie started.
Ultimately, all of this is just another reminder that James' Life Itself opens July 4 and you should seek it out. See it on the big screen if possible, or on demand if not. If you love movies, reading about movies and being inspired by movies, you'll adore it. Read my full review from the Sundance premiere at this link.
And here's the trailer:
More from the Life Itself premiere:
Saw Steve James incredible film of Roger Ebert's 'Life Itself'. Beautiful and affecting. Do see it. A celebration of a great man and life.

— edgarwright (@edgarwright) June 27, 2014
Chaz Ebert and Director Steve James enjoy the Los Angeles premiere of #LifeItself pic.twitter.com/YMi9k6I2KO

— Magnolia Pictures (@MagnoliaPics) June 27, 2014
Same Day As Theaters. Acclaimed director Steve James (Hoop Dreams) along with executive producers Martin Scorsese (The Departed) and Steven Zaillian (Moneyball) present LIFE ITSELF, a film that recounts the inspiring, entertaining and colorful life of world-renowned film critic Roger Ebert–a story that is by turns personal, funny, moving and transcendent. Based on his bestselling memoir of the same name, LIFE ITSELF, explores Roger Ebert's legacy–his Pulitzer Prize-winning film criticism at the Chicago Sun-Times, his turn as screenwriter of BEYOND THE VALLEY OF THE DOLLS, his on and off screen relationship with Gene Siskel, all culminating in his ascension as one of the most influential cultural voices in America.