Sequel Bits: 'Beverly Hills Cop', 'Mission: Impossible 5', 'Ted 2', 'Better Call Saul'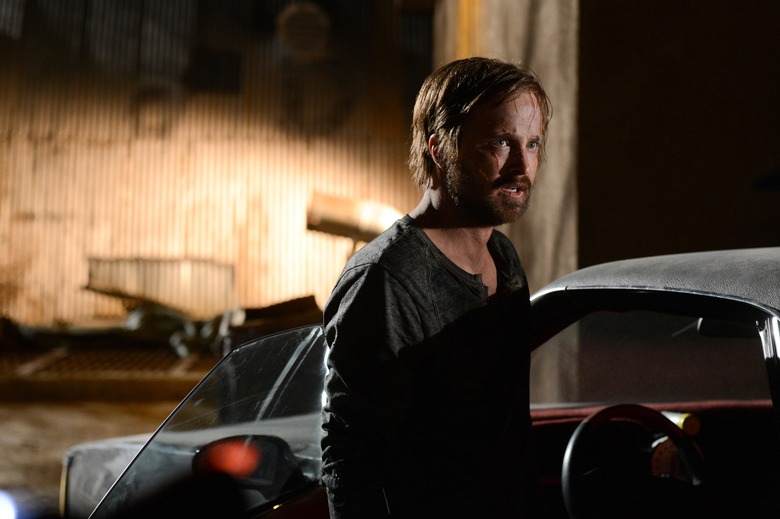 Sorry, Breaking Bad fans: Aaron Paul says he won't appear in Better Call Saul after all. Also after the jump:
The next Beverly Hills Cop will head to Michigan
Mission: Impossible 5 might film in the Houses of Parliament
Benjamin Bratt hops on for Ride Along 2
Pitch Perfect 2 adds Birgitte Hjort Sørensen
A top GM designer has a cameo in Transformers 4
Mark Wahlberg
promises
Ted
is as lovably awful as ever
Stanley Tucci is glad Mockingjay was split in two
David Duchovny wants more X-Files movies
Watch another Dawn of the Planet of the Apes clip
The plot follows Eddie Murphy's Axel Foley as he leaves behind his cushy California life and heads to Detroit during the coldest winter on record. Brett Ratner is directing the comedy sequel, which is set for release on March 25, 2016. [Coming Soon]
Mission: Impossible 5 is set to shoot in London, and it may have its eye on a very specific, very special location. The actioner is rumored to be shooting in Britain's House of Parliament, becoming only the second film ever to do so. (Meryl Streep's Suffragette, which shot earlier this year, was the first.)
If true, we should be in for quite the eye-catching sequence when Mission: Impossible 5 opens December 25, 2015. The Shard and the Olympic Stadium are also reportedly being considered for shooting. [Metro via JoBlo]
Benjamin Bratt will be tagging along for Ride Along 2. He joins Ice Cube and Kevin Hart, who starred in the first film. The new movie sees the mismatched duo heading to Miami for heroics and hijinks. Ride Along 2 opens January 15, 2016. [Variety]Pitch Perfect 2 may be going international. At the very least, its cast is. Danish actress Birgitte Hjort Sørensen has just boarded the musical comedy sequel. She'll play a member of a rival a cappella group, alongside German YouTube personality Flula Borg. Pitch Perfect 2 drops May 15, 2015. [Deadline]
It's not just GM's cars that'll be appearing in Transformers: Age of Extinction. Some fifty GM employees will be seen in the movie, along with GM's design center.
Most of those GM folks will be in non-speaking extra roles, but the company's head of global design Edward T. Welburn has a line or two as "head of design for the Autobots." Look out for the guy who barks at Mark Wahlberg to get into his office. Transformers: Age of Extinction opens this weekend. [Jalopnik]
Don't hold your breath for a Jesse Pinkman cameo in Better Call Saul. Aaron Paul says he won't reprise his Breaking Bad role for the spinoff series, contrary to earlier reports. "To be honest, it's not gonna happen," he said. "There's rumors floating around that I'm going to be doing it, but that's simply not the case."
He continued: "[Vince Gilligan and I] haven't talked about it. I mean, we've joked around about it, but it's a prequel. I have no idea how [Jesse] would show up. I'm much older now. But I don't look older, I look kinda younger, which is strange." [HuffPo]
Ted and his human pal John Bennett seemed to learn a few lessons at the last film. Apparently, though, they didn't stick. "That wouldn't be any fun. No, no, no, they're crazier than ever," said actor Mark Wahlberg of Ted 2.
As with the first movie, the sequel will see Ted at odds with John's lady love (played this time by Amanda Seyfried). "It's a problem," Wahlberg acknowledged. "But Ted's got bigger issues, bigger fish to fry." Ted 2 lands June 26, 2015. [IGN]
Fans may be divided over whether The Hunger Games: Mockingjay should've been one film or two, but star Stanley Tucci knows exactly where he stands on the issue.
I think it does make sense to split it into two movies. You don't want to cram a lot of information into one. You'd either have one sort of very long movie or... We know those characters so well that we want to take the time to see their progression.
The Hunger Games: Mockingjay – Part 1 opens November 21, followed by The Hunger Games: Mockingjay – Part 2 on November 20, 2015. [IGN]
There are plenty of reasons we haven't had a third X-Files movie, but an unwillingness on David Duchovny's part isn't one of them.
"I would always want to do it," he responded when asked about the possibility of another X-Files. "I wish we'd done more already. I wish the second one did better business. I think it did OK business, but not the kind of business where you get to do another one right away." [Rolling Stone]
Much of the Dawn of the Planet of the Apes marketing so far have shown Caesar (Andy Serkis) and his ape brethren ready for battle. However, as he explains in a new clip, they don't actually want to start a war.
Yeah, somehow I don't think that half-assed truce is going to hold. Dawn of the Planet of the Apes opens July 11. [Fox]