Star Wars Bits: Potential Plot Revealed; Plus John Boyega And Daisy Ridley Character Rumors, Lucas Museum Update And Rebels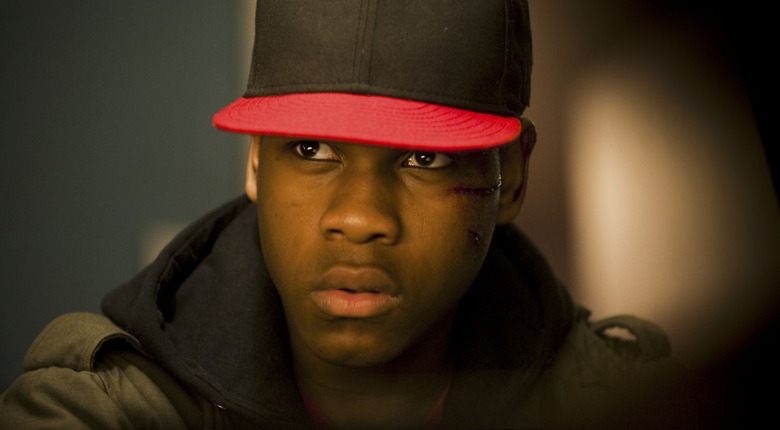 Some very intriguing, potentially revealing Star Wars Episode VII rumors have just surfaced about the plot and character. Read about those, and a bunch of other cool stuff, in this edition of Star Wars Bits:
The Lucas Cultural Arts Museum will be built in Chicago.
A general plot overview of Star Wars Episode VII may have been revealed.
New rumors about John Boyega and Daisy Ridley's roles in Episode VII have surfaced.
Are there a lot more roles to be cast in Episode VII?
Watch Andy Serkis talk about the secrecy surrounding Episode VII.
Home of Star Wars Episode VII, Pinewood Studios is set to expand.
Obi-Wan Kenobi appears in a new teaser for Star Wars Rebels.
Check out a cool new fan made poster for Star Wars Episode VII.
Wil Wheaton poked fun at J.J. Abrams' dual allegiance to Star Trek and Star Wars.
See an amazing Star Wars exclusive available at San Diego Comic-Con.
Note: The plot and character stuff is whited out for anyone scared of spoilers. Feel free to proceed.
For a few years now, George Lucas has been trying to build a museum based on his films and legacy in the San Francisco Bay area. It's a long story but, it just never worked out. So the Lucas Cultural Arts Museum was pitched to multiple other cities and earlier this week it was revealed the mecca to Star Wars and George Lucas will be built in Chicago. It should open by 2018. You can read much more over on the Chicago Tribune.
Unless you're working on or paying for Star Wars Episode VII, very few people know the actual plot of the movie. However, over the past few weeks a few places – the latest being Ain't It Cool News, but also Latino Review – have suggested the same overall plot line. This is something that would certainly be revealed pretty early by Lucasfilm but, in case you are still avoiding all spoilers, we'll leave it in white. Highlight to read:
Begin minor spoilers:Both sites mention that Episode VII could be a search for Luke Skywalker, almost like the structure of A New Hope. Just imagine Luke in the Leia role.End minor spoilers.
Is that true? We don't know for sure. But it might tie into another potential spoiler that's floating around on the exact nature of John Boyega and Daisy Ridley's role in Episode VII. Up until now, we've all just sort of assumed he's a Jedi and she's a Solo sibling but, MakingStarWars has a few others ideas they classify as "speculatory, but informed." Again if true, this could be a spoiler so I'll highlight it.
Begin minor spoilers:The article surmises that Boyega's character is at first a bad guy who is shot down over Tatooine. There he meets Ridley's character and begins to realize he's on the wrong side of things and starts to train as a Jedi. The two develop a friendship and maybe, later, a romance.End minor spoilers, but you should head to the link to read many more possible details if interested.JediNews pointed out a quote in the Daily Star that Domhnall Gleeson told an actress friend of his "there are still plenty of parts yet to be cast." Does he mean lead roles or just background extras? Who knows but, interesting to file away.Andy Serkis is promoting Dawn of the Planet of the Apes and appeared on Conan recently. Conan is a huge Star Wars fan and of course asked about Episode VII. Here's the result.
Right now, Star Wars Episode VII is shooting at Pinewood Studios in South Buckinghamshire, UK. With more Star Wars films to follow, as well as the new James Bond film, the local government just made a decision that will allow the facility to double in size over the coming years. Read more at Deadline.
We're pretty sure Obi-Wan Kenobi is in Star Wars Rebels but it has yet to be officially confirmed...until now. Rebels Report (via SW Underground) found this French teaser for the show which clearly shows the Jedi Master.
@HudDesign on Twitter sent us this cool, fan made poster for Star Wars Episode VII.
@slashfilm hey!! look the movie poster ive done for "STAR WARS 7" pic.twitter.com/p9I9k3IjMl art by @husdesign @starwars

— HUSDESIGN (@HUSDESIGN) June 25, 2014
On a recent episode of The Wil Wheaton Project, the former Star Trek: The Next Generation star poked fun at the fact J.J. Abrams is directing Star Wars Episode VII and producing Star Trek 3, directed by Roberto Orci. Here's the clip thanks to Trek Movie:
Finally, Funko has revealed this super awesome San Diego Comic-Con exclusive.