'Into The Storm' Trailer 2: Tornadoes! "They're Everywhere!"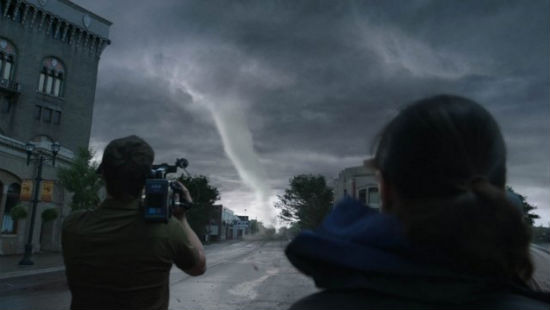 I don't know about you, but I've been craving a good tornado movie. Not something dumb with sharks or whatever, but something that at least tries to be realistic and scary. That craving is so bad, I get legitimately excited when Twister is on TV. Well, thank the clouds, New Line's upcoming tornado film Into the Storm is almost here.
Directed by Steven Quale (Avatar), it stars Richard Armitage (The Hobbit) and Sarah Wayne Callies (The Walking Dead) in the story of what happens to a small town when one of the worst storms ever hits. It opens August 8 and you can get a great look at the scope of the carnage in this new trailer. Watch the latest Into the Storm trailer below.
Thanks to Warner Bros. for the Into the Storm trailer. See it in HD over on Apple. Here's the embed:
Lots of this footage was screened at WonderCon a few months back, and you can listen to what myself, Peter and Russ thought of it here. Basically, we were cautiously encouraged and this trailer certainly bolsters that.
Here's the official plot description:
In the span of a single day, the town of Silverton is ravaged by an unprecedented onslaught of the most furious twisters they've ever seen. The entire town is at the mercy of the erratic and deadly cyclones, even as storm trackers predict the worst is yet to come. Most seek shelter; others run towards the vortex, testing how far a storm chaser will go for that once-in-a-lifetime shot. Told through the eyes and lenses of professional storm chasers, thrill-seeking amateurs and courageous townspeople, the movie throws you directly into the eye of the storm to experience Mother Nature at her most extreme.
Into the Storm stars Richard Armitage, Sarah Wayne Callies, Matt Walsh, Alycia Debnam-Carey, Arlen Escarpeta, Max Deacon, Nathan Kress, Jeremy Sumpter, Kyle Davis and Jon Reep. It opens August 8.