'Guardians Of The Galaxy' TV Spot: Criminals, Misfits, And Thugs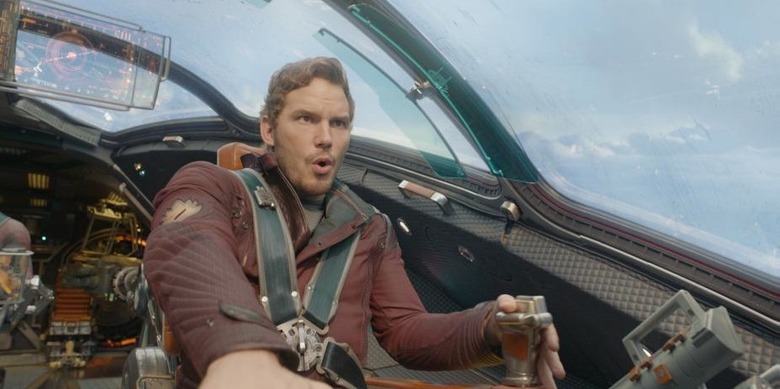 Guardians of the Galaxy definitely looks to be this year's weirdest mainstream superhero movie, which is really saying something when the others have involved time-traveling mutants and dueling 90-year-old supersoldiers. And we mean that as a sincere compliment.
The latest Guardians of the Galaxy TV spot includes new footage showing off even more of these "criminals, misfits, and thugs," including Bradley Cooper's loud, angry Rocket Raccoon. Watch it after the jump.
The Marvel marketing team continues to be spot-on with their offbeat musical choices. The Runaways' irreverent "Cherry Bomb" feels like the perfect retro anthem for these weirdos. Ironically, the use of classic rock helps make these Guardians ads feel fresh and new — it's such a fun change of pace from the modern chart-toppers and generic action movie scores we usually get in blockbuster trailers.
Guardians of the Galaxy opens August 1. Chris Pratt, Zoe Saldana, Dave Bautista, Vin Diesel, Lee Pace, Benicio del Toro, Karen Gillan, Djimon Hounsou, Michael Rooker, John C. Reilly, and Glenn Close star. James Gunn directed.
From Marvel, the studio that brought you the global blockbuster franchises of Iron Man, Thor, Captain America and The Avengers, comes a new team—the Guardians of the Galaxy. An action-packed, epic space adventure, Marvel's "Guardians of the Galaxy" expands the Marvel Cinematic Universe into the cosmos, where brash adventurer Peter Quill finds himself the object of an unrelenting bounty hunt after stealing a mysterious orb coveted by Ronan, a powerful villain with ambitions that threaten the entire universe. To evade the ever-persistent Ronan, Quill is forced into an uneasy truce with a quartet of disparate misfits—Rocket, a gun-toting raccoon, Groot, a tree-like humanoid, the deadly and enigmatic Gamora and the revenge-driven Drax the Destroyer. But when Quill discovers the true power of the orb and the menace it poses to the cosmos, he must do his best to rally his ragtag rivals for a last, desperate stand—with the galaxy's fate in the balance.