'Gotham' Character Posters: Meet Poison Ivy, The Riddler, And More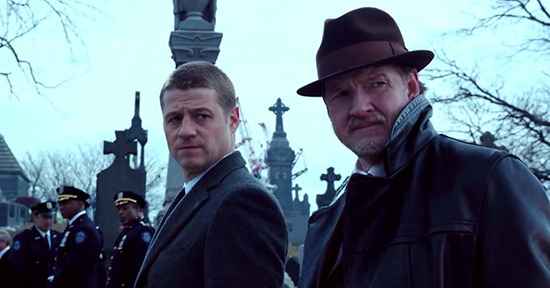 Only time will tell which shows will emerge as the best of the 2014-2015 freshman crop, but certainly one of the most highly anticipated is Fox's Gotham. The DC prequel series promises to reveal the origins of the Gotham City personalities we know and love.
That includes protagonist Jim Gordon, of course, and Bruce Wayne the future Batman — but also the troubled souls who will become Catwoman, the Penguin, the Riddler, Poison Ivy, and more. Get a better look at these not-quite-superheroes and not-quite-supervillains with a new batch of Gotham character posters after the jump.
The character designs look pretty solid, for the most part. These aren't the extreme, cartoonish villains they'll eventually become, but it's not tough to pick up the clues about their fates. Catwoman, for example, is posing with an actual cat.
The one character that's sure to have Batman fans scratching their heads is Ivy Pepper. In the books, Poison Ivy's civilian name is Pamela Isley. It's not clear why Gotham's decided to change that, or what else they've altered about her backstory, but I guess we'll just have to wait and see what they do with her tale.
Gotham airs Mondays this fall.
Before there was Batman, there was GOTHAM.
Everyone knows the name Commissioner Gordon. He is one of the crime world's greatest foes, a man whose reputation is synonymous with law and order. But what is known of Gordon's story and his rise from rookie detective to Police Commissioner? What did it take to navigate the multiple layers of corruption that secretly ruled Gotham City, the spawning ground of the world's most iconic villains? And what circumstances created them – the larger-than-life personas who would become Catwoman, The Penguin, The Riddler, Two-Face and The Joker?
GOTHAM is an origin story of the great DC Comics Super-Villains and vigilantes, revealing an entirely new chapter that has never been told. From executive producer/writer Bruno Heller ("The Mentalist," "Rome"), GOTHAM follows one cop's rise through a dangerously corrupt city teetering on the edge of evil, and chronicles the birth of one of the most popular super heroes of our time.