In Short 'The Gunfighter,' Nick Offerman Is A Sadistic Omnipotent Narrator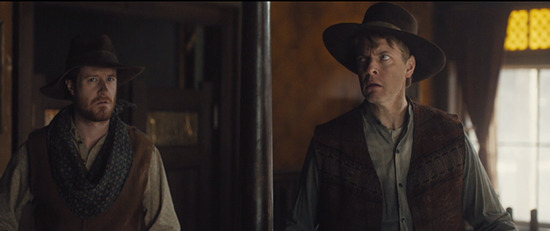 What if voice-over narration and scene-setting music could be heard by the characters in a film?
The split between diegetic and non-diegetic sound (ie, stuff characters can hear vs. stuff only the audience can hear) prevents voice-overs from intruding on the lives of the people in a story. But in The Gunfighter, a lone man walks into an old west saloon, and things get weird when everyone in the joint hears a baritone voice explaining the guy's thoughts and actions.
And because the narrator is voiced by Nick Offerman, the messed-up situation is also very funny. I laughed more in eight minutes than in all of A Million Ways to Die in the West. Director Eric Kissack and writer Kevin Tenglin really nail the script and tone here, and Offerman's performance — along with that from everyone else in the cast — is spot-on.
One caveat: because of language, this short is not safe for work.
Via Short of the Week and @katieholly.