Eli Wallach Has Died At Age 98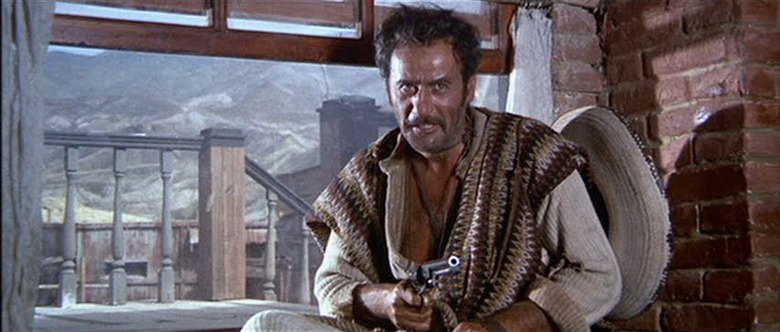 Eli Wallach will always be Tuco to me. For some actors who enjoyed a career as long and varied as Wallach, being persistently known for one role above all others would rankle. Judging by Wallach's frequent interview conversations about his role in Sergio Leone's The Good, the Bad, and the Ugly, he probably wouldn't mind. Or he would understand, at least.
And Tuco is a hell of a performance, all bluster, willpower and charisma. In that respect, the role may actually be a good representation of the actor's career. For Wallach was born to Polish Jewish parents, and grew up in an Italian neighborhood in Brooklyn. No one looking very closely would have mistaken him for an actual Mexican bandit, but Wallach's cagey energy and sardonic wit allowed him to own the role. Those were only a couple of the qualities that made him a mainstay of stage and screen for nearly sixty years. Eli Wallach died Tuesday, at age 98.
If you want to play the game of exploring deeper cuts and more obscure roles, or if you just want a highlight reel that could run to feature length, Wallach's incredible career can provide. His first big-screen role was in Baby Doll, an Elia Kazan-directed adaptation of a Tennessee Williams play, scripted by Williams himself.
Wallach played in westerns (The Magnificent Seven), literary adaptations (Lord Jim), contemporary dramas (The Misfits), total genre work (Circle of Iron), weird horror (The Sentinel), and even some high-profile sequels as in The Two Jakes, The Godfather Part III, and his final role, in Wall Street: Money Never Sleeps. He was even one of the Mr. Freeze actors in the '60s Batman show, inheriting the role from Otto Preminger and George Sanders.
Wallach has 167 credits to his name on IMDB, which means you can peruse a list of his work that features almost twice as many film and TV roles as years in Wallach's life. That doesn't take into account his many stage roles, which were often performed opposite his wife, Anne Jackson. (They were married in 1948, raised three children, and remained together until his death.) In his prime, doing movie roles was often a way to finance work on stage — take a film gig, do a couple plays, repeat.
Wallach never won an Oscar, but was awarded an honorary Oscar in 2010, for being "the quintessential chameleon, effortlessly inhabiting a wide range of characters, while putting his inimitable stamp on every role." [NYT]