'Fury' Trailer: War Is The Best Job Brad Pitt Ever Had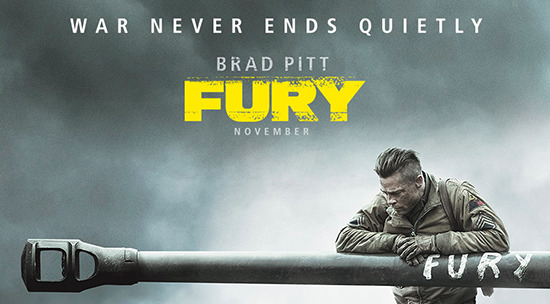 Hot on the heels of the great poster for David Ayer's WWII movie comes the first full Fury trailer. Brad Pitt stars as the leader of a tank squad that has survived much of the war. But the squad finds itself facing down incredible odds in the final days of the war, as it is saddled with a green kid who has never seen the inside of a tank.
Much of this trailer focuses on the relationship between Pitt's grizzled vet and the recruit played by Logan Lerman. And it makes the film look pretty conventional... for a minute or so. Then the trailer breaks open and we see quite a few impressionistic renderings of the battle, as the strain starts to get to the men. Watch below.
Fury opens on November 14. Apple has the trailer.
April, 1945. As the Allies make their final push in the European Theatre, a battle-hardened army sergeant named Wardaddy (Brad Pitt) commands a Sherman tank and her five-man crew on a deadly mission behind enemy lines. Outnumbered and outgunned, and with a rookie soldier thrust into their platoon, Wardaddy and his men face overwhelming odds in their heroic attempts to strike at the heart of Nazi Germany.