Diagon Alley Tour Part 4: Wiseacres, Scribbulus, Wands By Gregorovitch, Quality Quidditch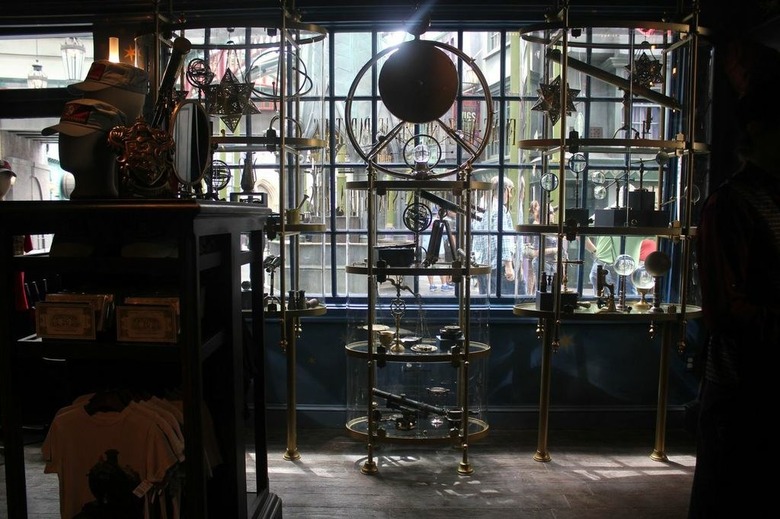 This is the fourth and final in our series of posts giving you a tour of Universal Orlando's new The Wizarding World of Harry Potter's Diagon Alley expansion. Part one took a look at the London Waterfront, Diagon Alley Entrance and Weasleys' Wizard Wheezes. Part two went into The Leaky Cauldron, Knockturn Alley and Borgin and Burkes.  Part 3 took a look at Florean Fortescue's Ice Cream Parlour, Ollivanders Wand Shop, Magical Menagerie and Gringotts Bank.
Today we circle back to the entrance to Diagon Alley and visit Wiseacres Wizarding Equipment, Scribbulus, Eternelle's Elixir of Refreshment, The Performance Stage, Gringotts Bank Notes, The Hopping Pot, Wands by Gregorovitch, Quality Quidditch, Bowman E Wright Blacksmith, Shutterbutton's Photography Studio, Quality Quidditch Supplies and other storefronts.
Wiseacres Wizarding Equipment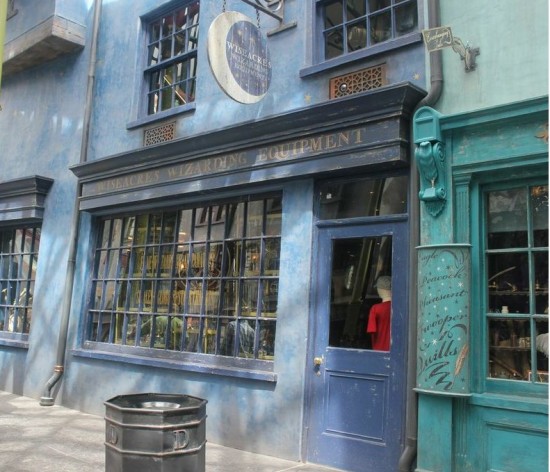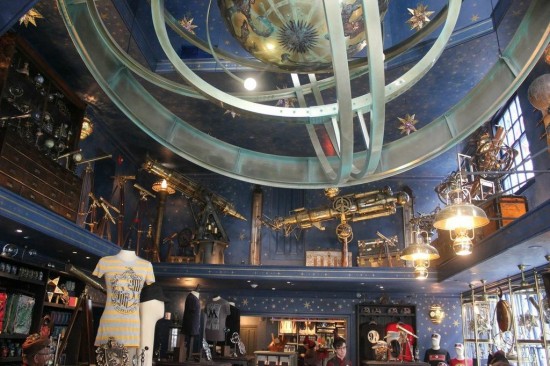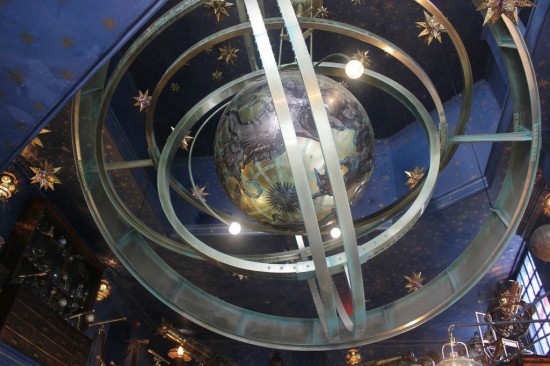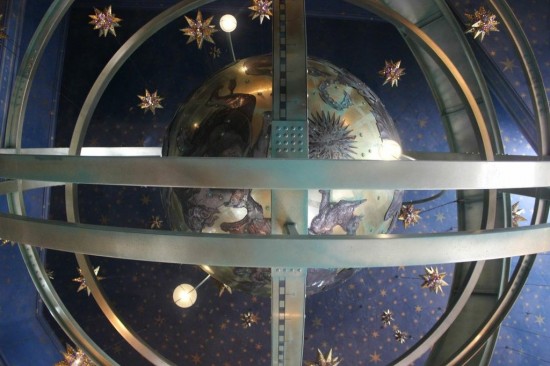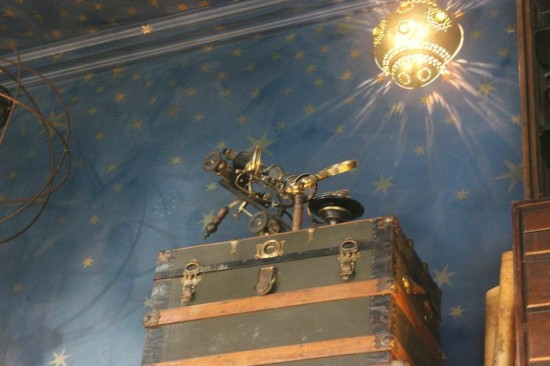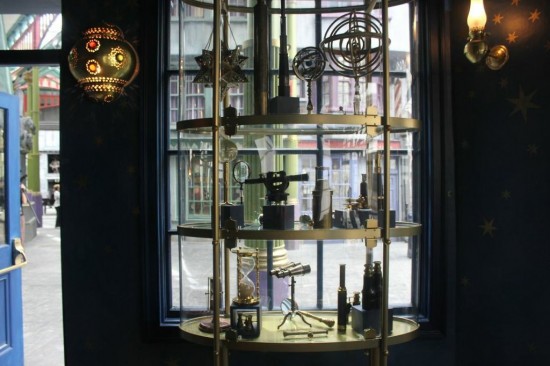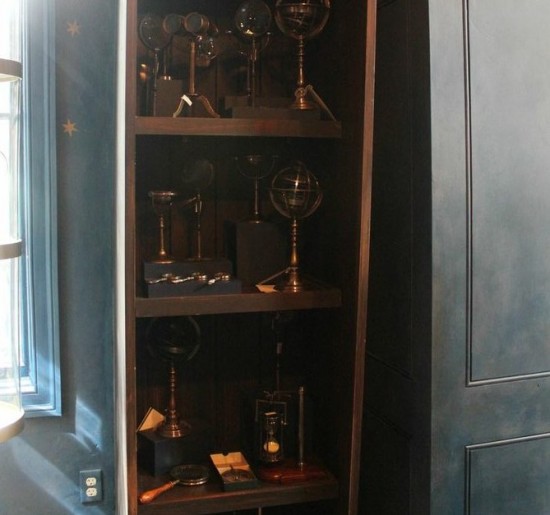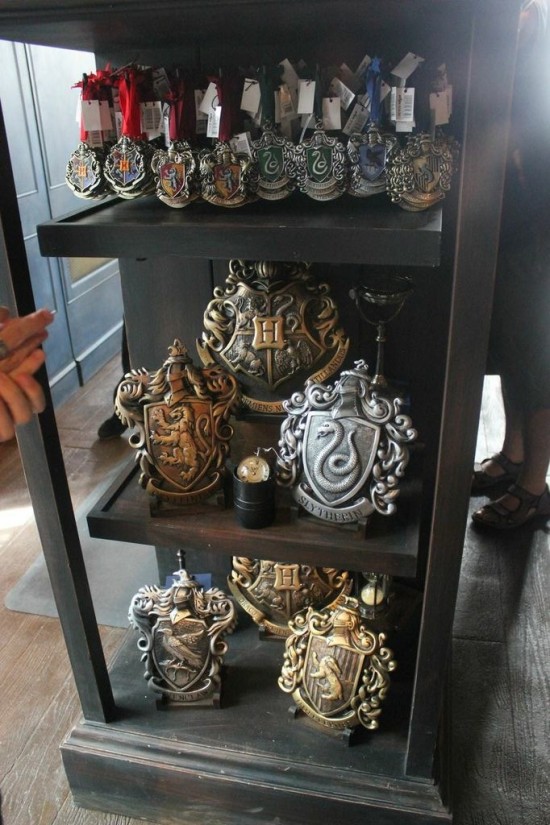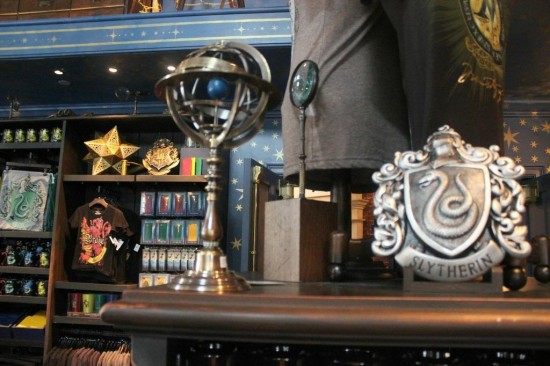 Slug & Jiggers Apothecary is a very cool looking store, with giant moving armillaries hanging from the ceiling. While the store has a small selection of vintage looking magnified glasses, compass sun dials, moving armillaries, and binoculars to fit the store's theme, most of the merchandise here is centered around Platform 9/3 and the Hogwarts Express, which doesn't seem to make much sense. And whats more disappointing, the vintage-looking armillaries and sand timers are way too expensive for a theme park, especially considering it appears they aren't items produced specifically for Harry Potter.
Harry Potter Mythology: Signs for the establishment were seen in the background in Diagon Alley in the films, but the name of the establishment was never actually mentioned in the books.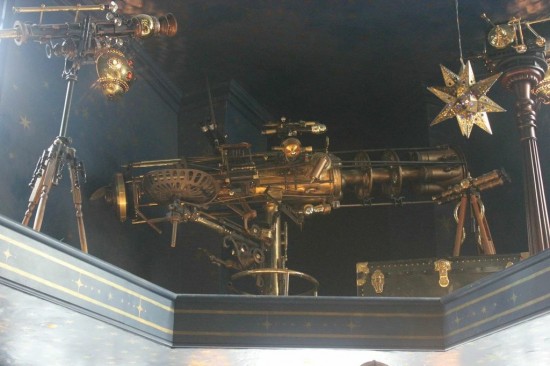 On Closer Look: Some of the telescope gear above the door was actually created using repurposed scrap parts from the former Jaws ride which occupied the space that Diagon Alley is now built. Pieces of Universal Studios Orlando history hidden in plain sight.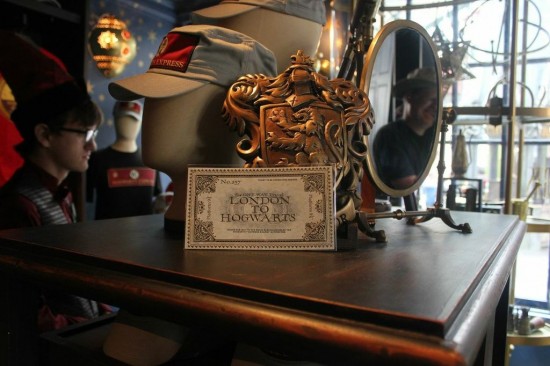 Unique Buys: One of  cool items you can find in Apothecary is a replica ticket for the Hogwarts Express for $4.95. While the ticket is not needed to ride the Hogwarts Express train at Universal Orlando, it looks and feels like a cool artifact from the wizarding world.
Scribbulus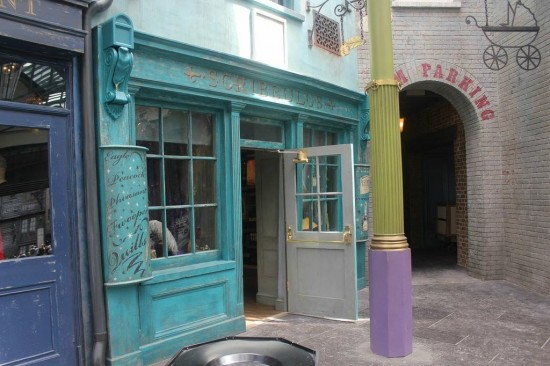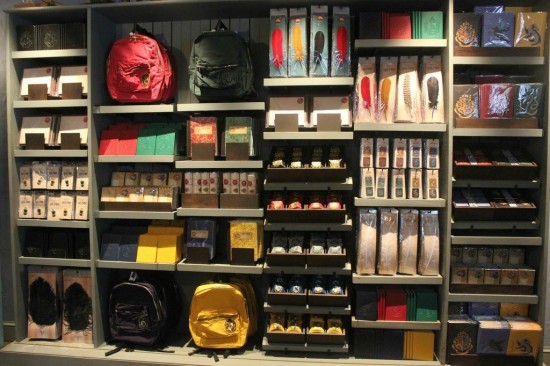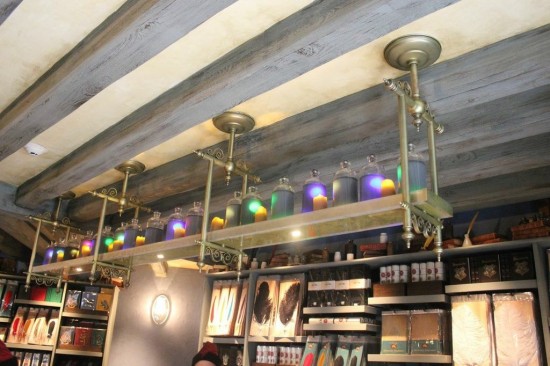 Scribbulus sells a bunch of school goods, from backpacks to pens, to notebooks and paper. Nothing too interesting here.
Harry Potter Mythology: In the films, Scribbulus Writing Implements was seen next to an archway leading into Knockturn Alley, but it has a much different location in the theme park. Hagrid took Harry Potter to this Diagon Alley shop on his first trip to the alley in preparation of his first year at Hogwarts.
Eternelle's Elixir of Refreshment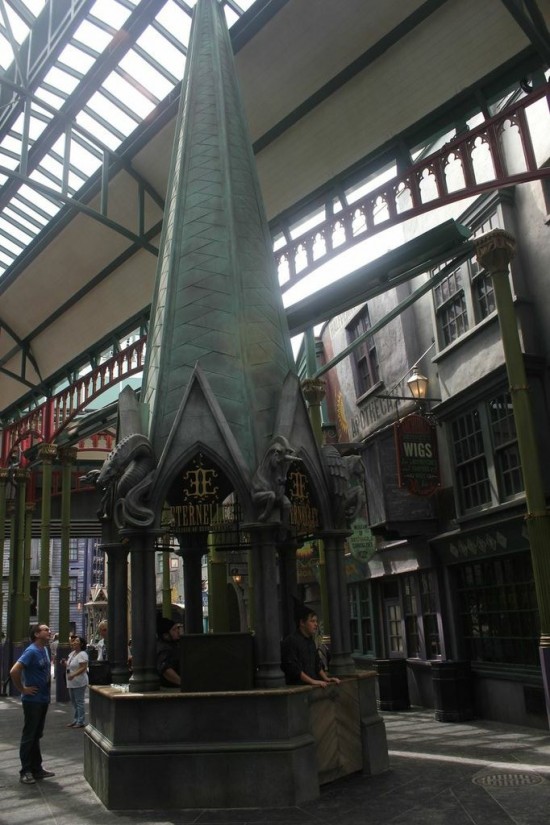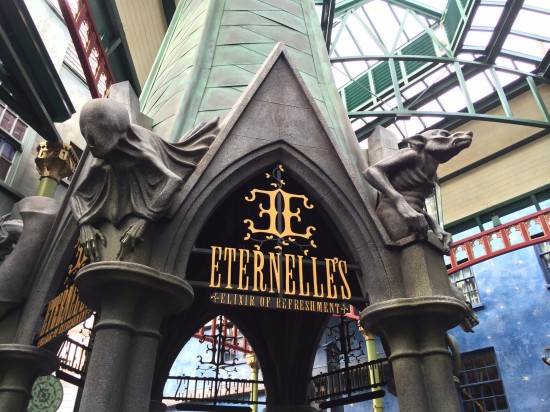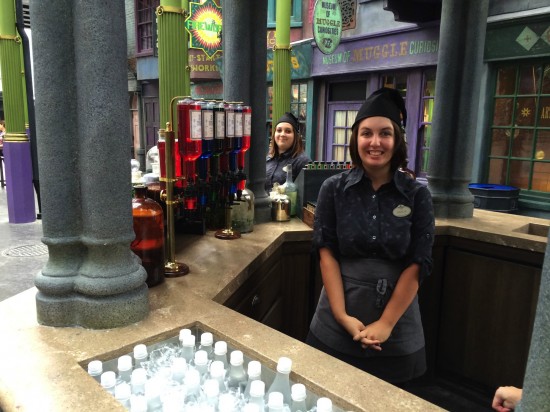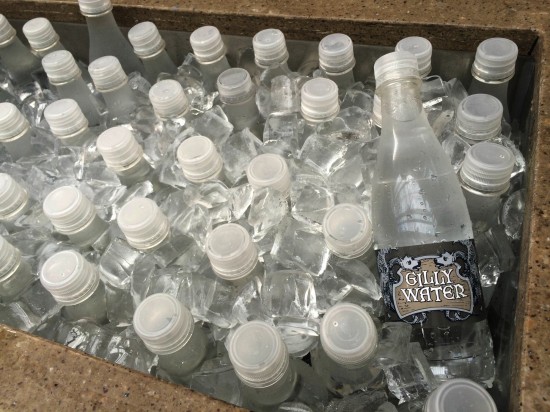 Eternelle's Elixir of Refreshment stand is where you can pay the Wizarding staff can mix a potion of your choice with a bottle of gillywater.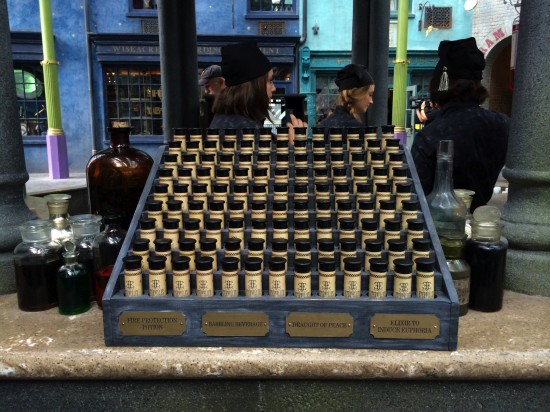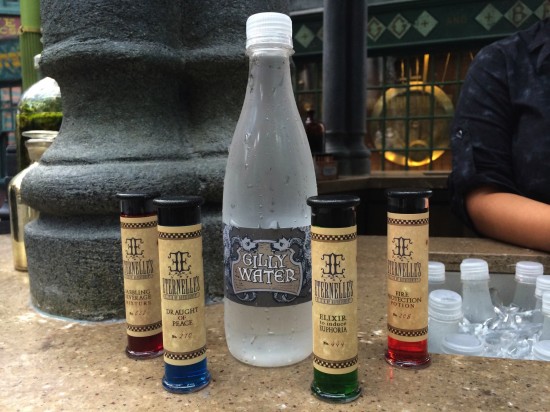 Unique Buys: A potion of your choice mixed in a bottle of gillywater. You can enjoy Fire Protection Potion, Babbling Beverage, Draught of Peace or Elixir To Induce Euphoria mixed in with your gillywater.
Harry Potter Mythology: In the books, Gillywater was a wizarding beverage made from a mixture of Gillyweed and water. You might recall that Romilda Vane once attempted to convince Harry Potter to drink some Gillyweed that she had spiked with Love Potion. And of course, Universal has turned this into a drink option at Diagon Alley.
Gringotts Money Exchange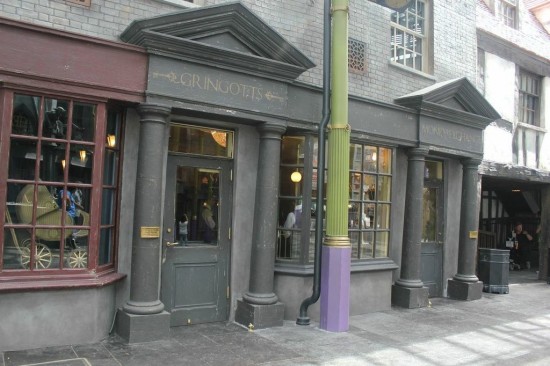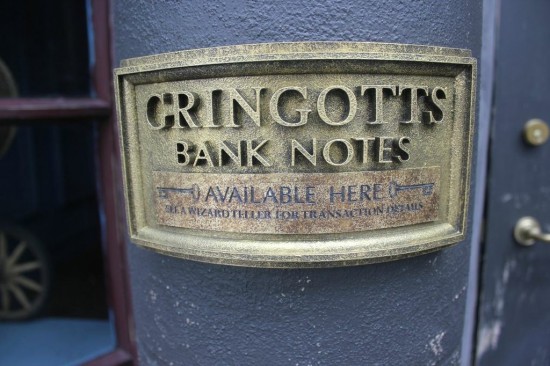 Gringotts Money Exchange is a small store where you can buy gold Gringotts coin replicas, chocolate coin candy (which comes in a Gringotts sack) and other such merchandise.
On Closer Look: The Gringotts goblin at the counter is animatronic and fully interactive. Ask him questions, but don't expect a real answer — he's very dismissive.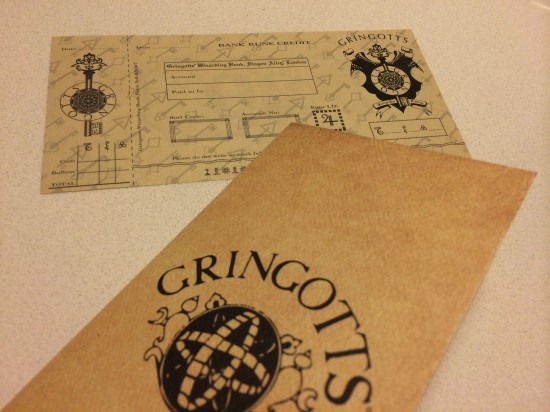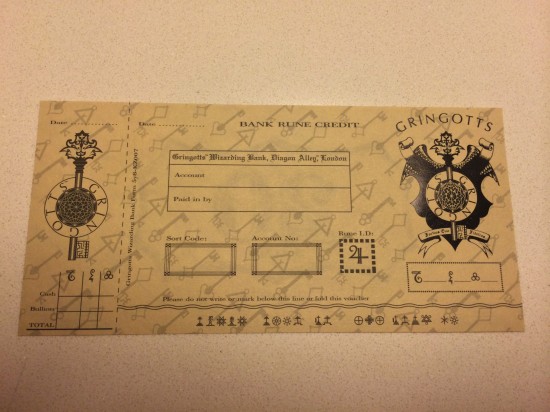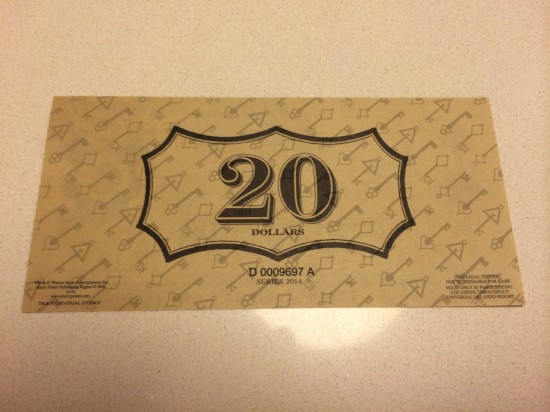 Unique Buys: Gringotts Bank Exchange is basically a store where park guests can buy Gringotts Bank Notes, a currency that only works within the Universal Orlando Resort parks. Its basically Universal's answer to Disney Dollars.
Shutterbutton's Photography Studio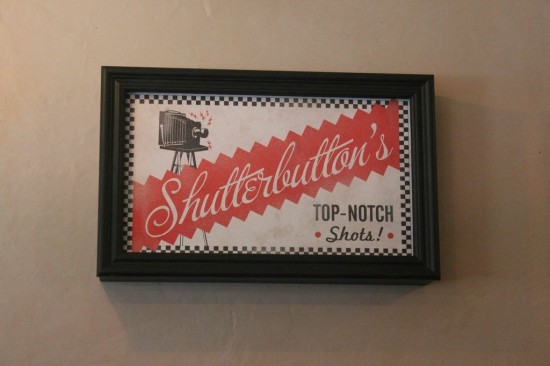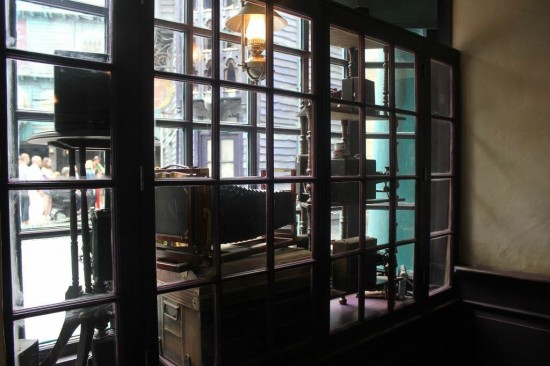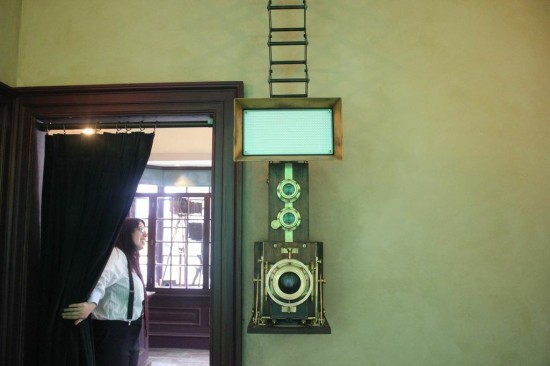 Shutterbutton's is a small shop which offers park guests a photo oppurtunity. They have a couple rooms with green screens and old looking cameras which capture your moving likeness.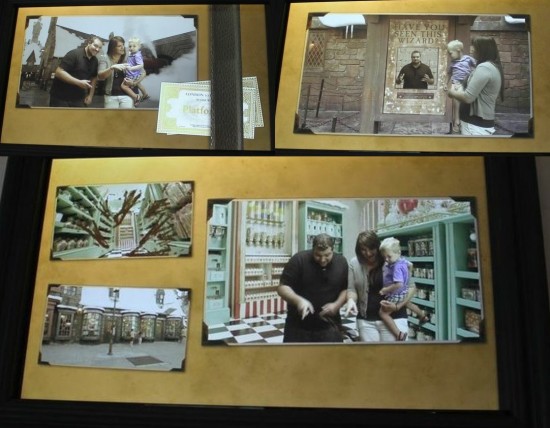 Unique Buys: While Shutterbutton's is yet another place to spend money on a photo in a theme park, its a totally unique take on this concept. Basically, they will put your family into Wizarding places in a moving picture scrapbook. Above is a bunch of photographs of a sample video they had running on a screen on the wall. The videos will range between 3-5 minutes in length and will only be available on a DVD at launch. Its a 15 minute process to complete and costs $69.95.
Quality Quidditch Supplies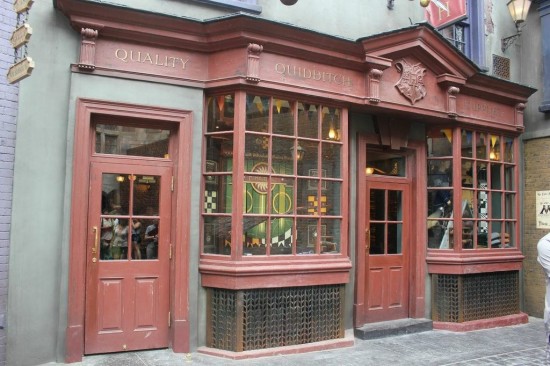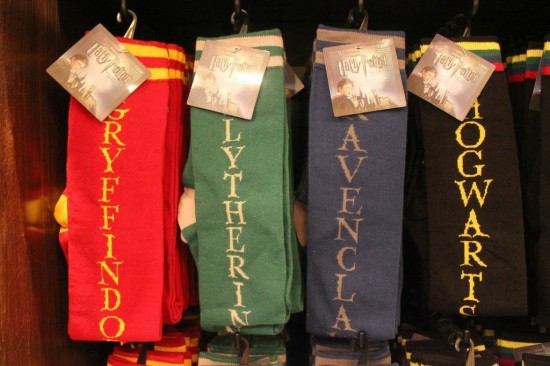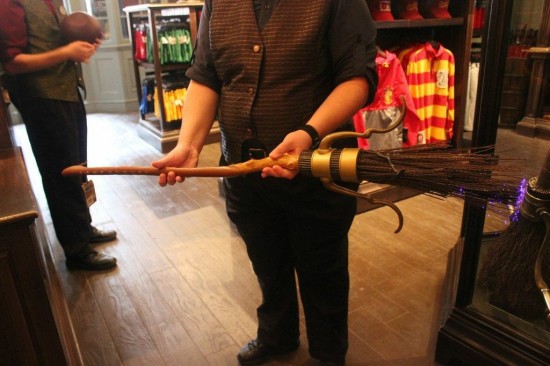 Quality Quidditch Supplies is a small shop filled with a ton of Quidditch themed merchandis: You can buy tshirts, scarfs, golden snitches, training brooms with fiber optic lights and much more.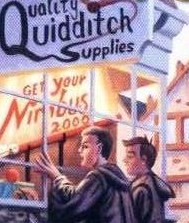 Harry Potter Mythology: Quality Quidditch Supplies was a store featured in the Harry Potter films and books. It is also the storefront where Harry Potter saw his first broomstick, the Nimbus 2000.
On Closer Look: Be sure to check out the living poster for The Chudley Cannons on the wall, and the floating wizard broom in the storefront.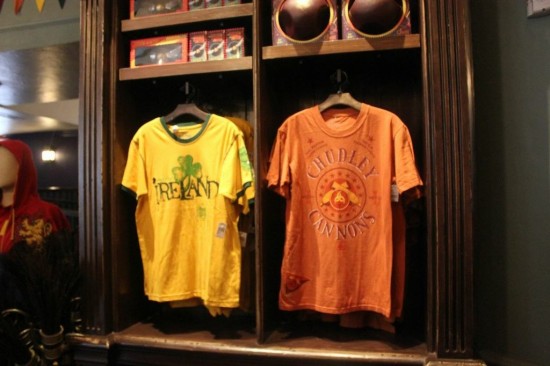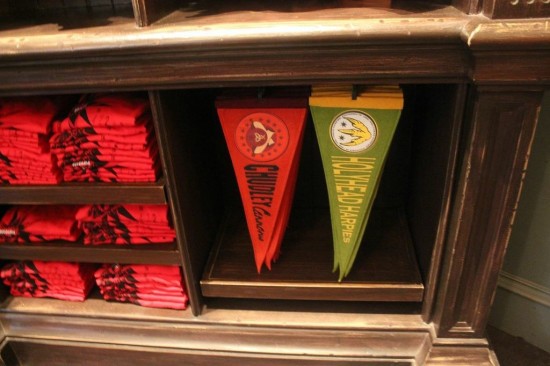 Unique Buys: Exclusive Quidditch team t-shirts and pendants that cant be found elsewhere in the Wizarding World including one for The Chudley Cannons, Rons favorite team, and The Holyhead Harpie, the all female Quidditch team that Ginny Weasley eventually played for.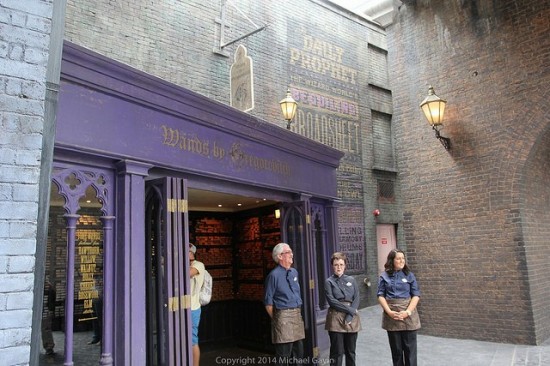 Photo thanks to InsideTheMagic, used with permission
Wands by Gregorovitch
While most aspiring wizards will want to visit Ollivanders, some might not have time to wait in the long queue. Don't frett, there is another wizarding wand shop in Diagon Alley called Wands by Gregorovitch. Of course, purchases here come without the experience and show wizards get in Ollivanders.  The shop is also much smaller than Ollivanders, but has all of the classic wand options.
Harry Potter Mythology: Mykew Gregorovitch is a famous wandmaker who appeared in the books and was played by Rade Šerbedžija in the Deathly Hallows films. Many years ago, Gregorovitch came into possession of the Elder Wand, one of the Deathly Hallows and the most powerful wizarding wand in existence, but the wand was stolen from his workshop one night. Lord Voldemort hunted Gregorovitch down and killed him when he found out he no longer had the Elder Wand. Harry Potter witnessed Gregorovitch's death through his  link to Voldemort's mind.
The Hopping Pot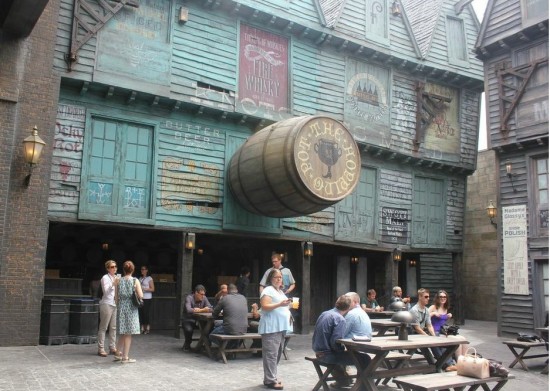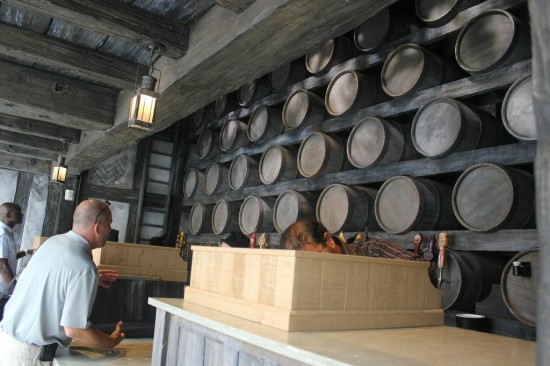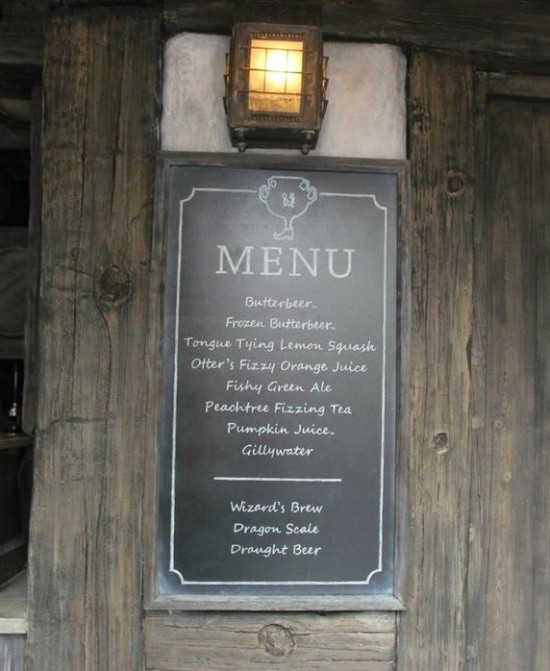 Mermaid Fountain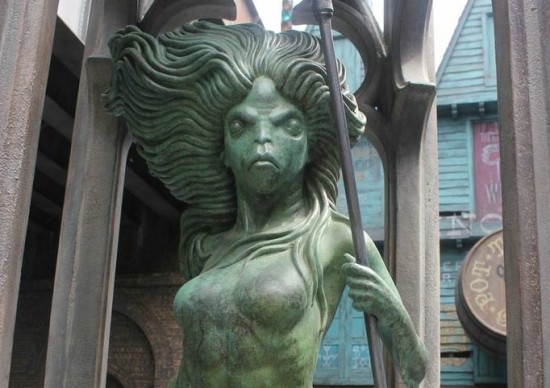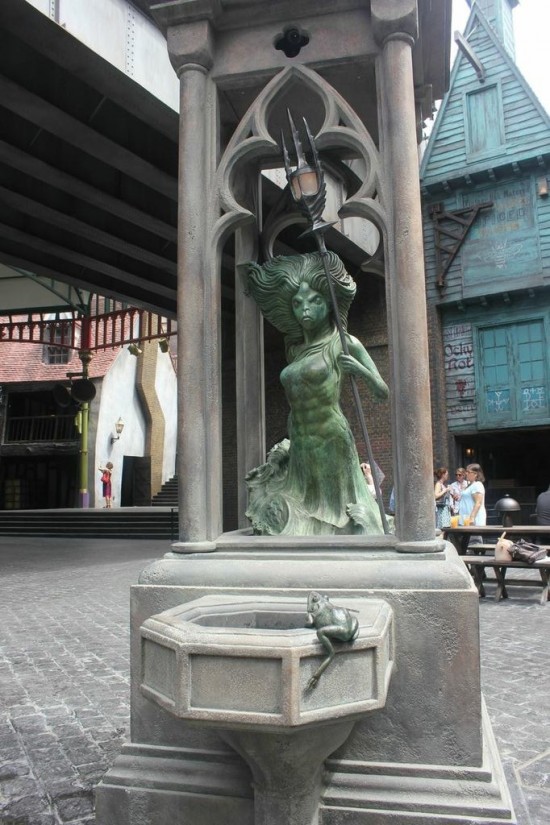 On Closer Look: The water fountain in front of the Mermaid Statue can only be turned on with wizarding skills (and the new interactive wizard wand). But watch out, if too many wizards recite the spell it might anger the the mermaid statue behind the water fountain. When the statue gets mad, it spits water at the wizard. Above is a video of one of my new friends Terri Schwartz, associate editor of Zap2it, trying the fountain for the first time.
 Other Storefronts in Carkitt Market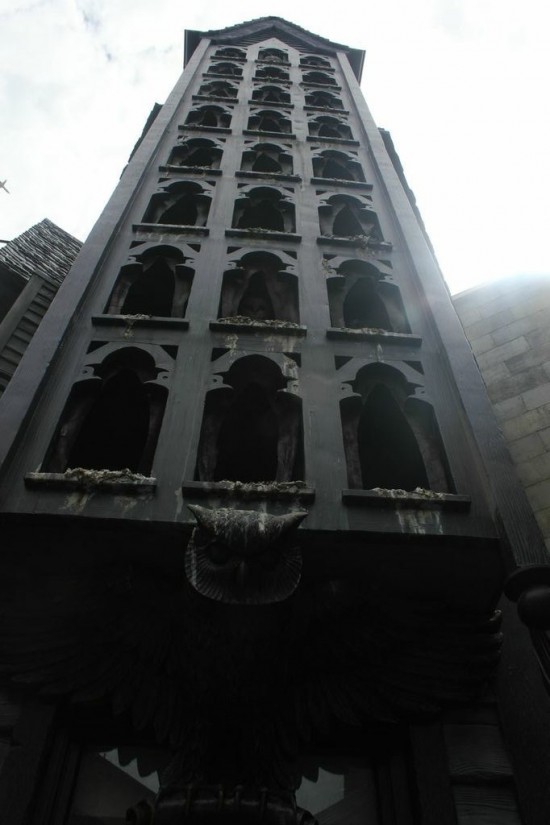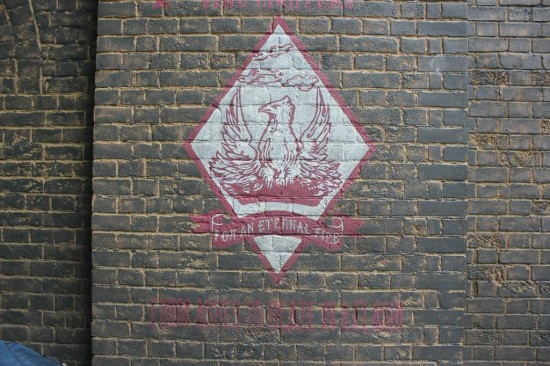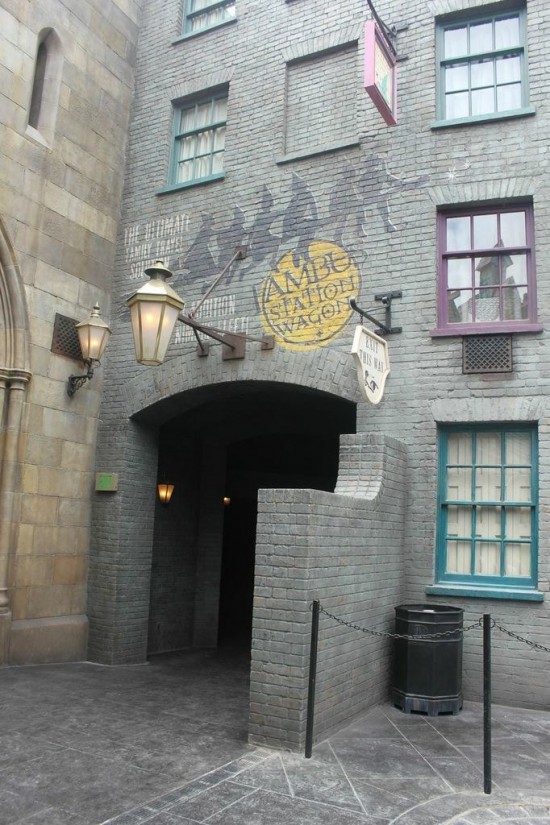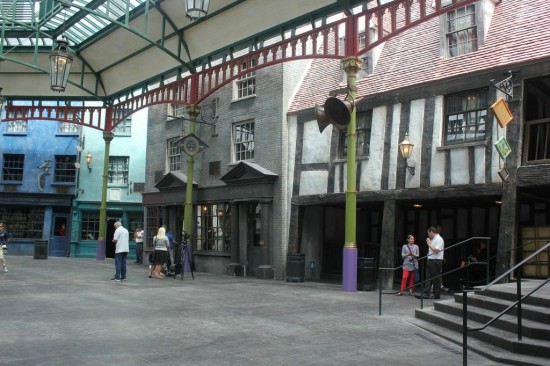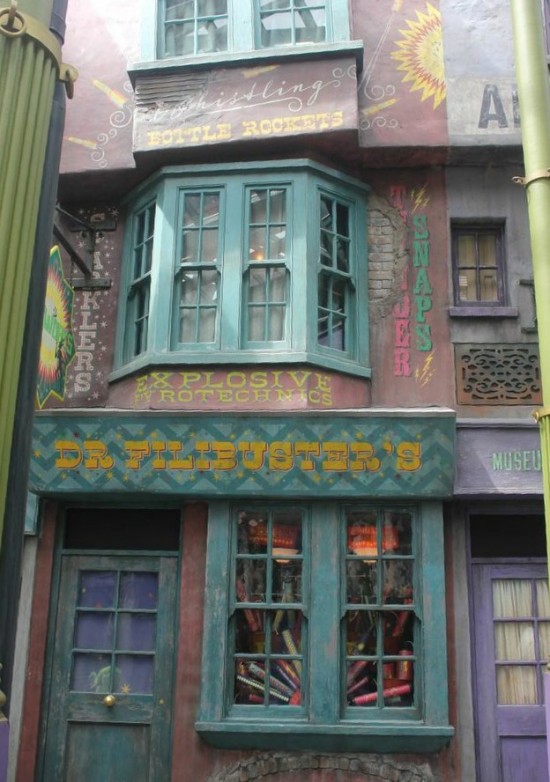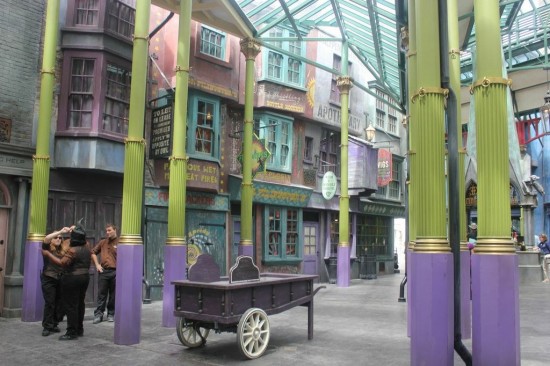 There are a bunch of storefronts in Carkitt Market for stores that don't actually exist. They contain excellent displays which you may or may not be able to interact with the new interactive wands.
Watch a video of the stars of Harry Potter getting a tour of the new Diagon Alley expansion in this official video from Universal Studios Orlando: