'The Last Of Robin Hood' Trailer: Kevin Kline Is Errol Flynn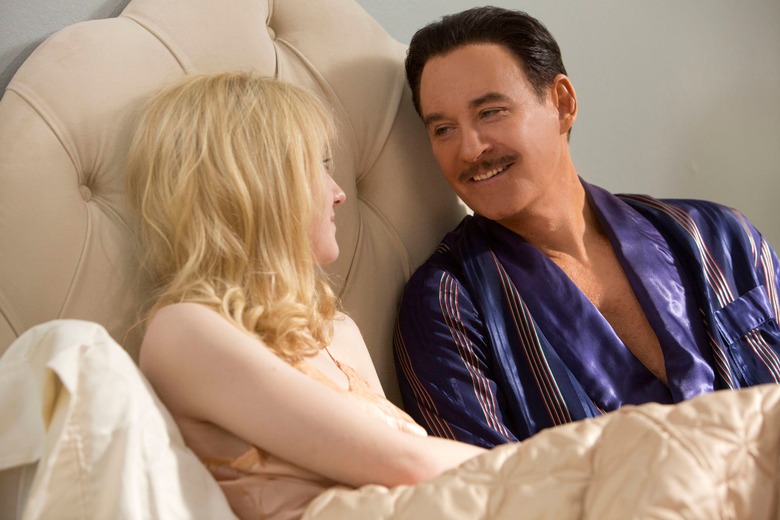 Errol Flynn will always be remembered as a silver screen icon, but the latest biopic about him is more interested in what happened after he reached the peak of his career.
Directed by Richard Glatzer and Wash Westmoreland, The Last of Robin Hood follows the roguish hero (played here by Kevin Kline) in his last years. He meets a teenaged starlet (Dakota Fanning) and embarks an affair that threatens to destroy him. Watch the first The Last of Robin Hood trailer after the jump.
The Last of Robin Hood had its world premiere at TIFF last fall but is only now making it to U.S. theaters. Perhaps that's because initial reactions were so tepid. Variety complained that the film doesn't "do justice" to either Kline or Flynn, THR called it "far too tidy," and Screen Daily shrugged that "the film simply feels too familiar to gain much dramatic traction."
Still, Kline seems to be having fun portraying the swashbuckling superstar, and fans of classic Hollywood may be intrigued by the juicy plotline. Plus, Susan Sarandon appears to be doing interesting work as Beverly's ambitious stage mom Florence, who later wrote a book detailing her daughter's affair.
The Last of Robin Hood arrives August 29. Here's the plot synopsis from TIFF.
Errol Flynn, the swashbuckling Hollywood star and notorious ladies' man, flouted convention all his life, but never more brazenly than in his last years when, swimming in vodka and unwilling to face his mortality, he undertook a liaison with underage starlet Beverly Aadland. The two had a high-flying affair that spanned the globe and was enabled by the girl's fame-obsessed mother, Florence. It all came crashing to an end in October 1959 when events forced the relationship into the open, creating an avalanche of publicity castigating Beverly and her mother. The Last of Robin Hood is a story about the desire for fame and the price it exacts.