Watch A 'Dawn Of The Planet Of The Apes' Effects Featurette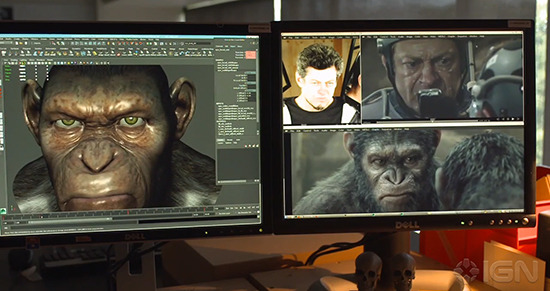 In a couple weeks we'll see what director Matt Reeves and the huge effects team at WETA pulled off in Dawn of the Planet of the Apes, but in the meantime Fox is showing off some more of their work in short form. The studio has already released one little video that gave us some side-by-side glimpses at the original actors on set and the final rendered apes. This new featurette is more about the scope of the effects as a whole. There is some info about performance capture here — specifically in how many small cameras were used in large locations, to capture all the actors' movements. But there's a lot more about other aspects of the film. Watch this new Dawn of the Planet of the Apes effects reel below.
This featurette also points out another detail that we've seen in footage, but which many people probably never even think about: the challenge of creating wet ape fur. Digitally rendering proper hair and fur is difficult enough, but adding water changes things significantly.
Dawn of the Planet of the Apes opens on July 11. Featurette via IGN.
A growing nation of genetically evolved apes led by Caesar is threatened by a band of human survivors of the devastating virus unleashed a decade earlier.  They reach a fragile peace, but it proves short-lived, as both sides are brought to the brink of a war that will determine who will emerge as Earth's dominant species.