Marvel Spoilers: Possible 'Ant-Man' Villain, 'Guardians Of The Galaxy' Cameo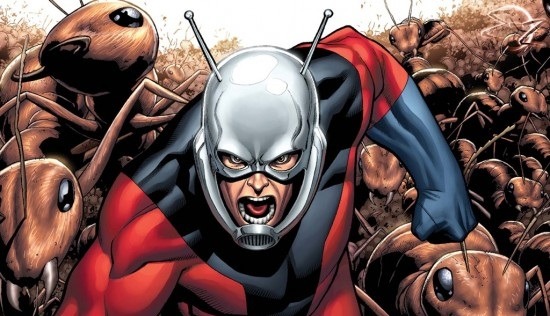 Guardians of the Galaxy won't be out for another six weeks, and Ant-Man isn't coming for over a year. But films these big inevitably leak spoilers before they make it to theaters. Today, we have two juicy ones for you. One concerns the villain of Ant-Man, and the other a special Guardians of the Galaxy cameo.
Hit the jump at your own risk; possible spoilers lie ahead.
Let's start with the Ant-Man news. While we know there'll be at least two versions of the titular superhero in the film — Michael Douglas's Hank Pym and Paul Rudd's Scott Lang — we haven't heard much about who the supervillain will be. That is, until now.
Badass Digest reports that Yellowjacket will be the bad guy in the movie. However, he will not be the villainous alter ego of Douglas's Hank Pym, as he is in the comics. The site speculates that Darren Cross, a Tony Stark-like industrialist, could be the one to take the mantle instead.
If true, that'd be a major deviation from the Ant-Man comics. But the MCU has already demonstrated that it's not afraid to switch things up, as it did with the Mandarin storyline in Iron Man 3. Keep in mind, too, that none of this has actually been confirmed yet. We're sure to know more as Ant-Man's July 17, 2015 release date inches closer.
As for Guardians of the Galaxy, word has it that Gunn's pal Nathan Fillion will be making an appearance — though not as Nova, as previously rumored. Gunn himself has confirmed as much on Twitter.
The rumors of my pal @NathanFillion playing Nova in #guardiansofthegalaxy have been greatly (and entirely) exaggerated. Sorry, humans.

— James Gunn (@JamesGunn) June 21, 2014
"@burnettski92: @NathanFillion Just what you'd say if you wanted to keep his appearance a surprise." I would never & have never lied to fans

— James Gunn (@JamesGunn) June 21, 2014
"@STARS_TyranT: Are the rumours true that he has some part in the film?" @nathanfillion has a very small fun cameo he did as a favor to me.

— James Gunn (@JamesGunn) June 21, 2014
It's not clear whom Fillion will be playing. Nor do we know for certain that Nova will appear at all. But Fillion's fans would do well to keep their eyes peeled for any tall, square-jawed humans, aliens, or robots floating around in the movie. Guardians of the Galaxy opens August 1.