'The Purge: Anarchy' Trailer #2: The Most Dangerous Game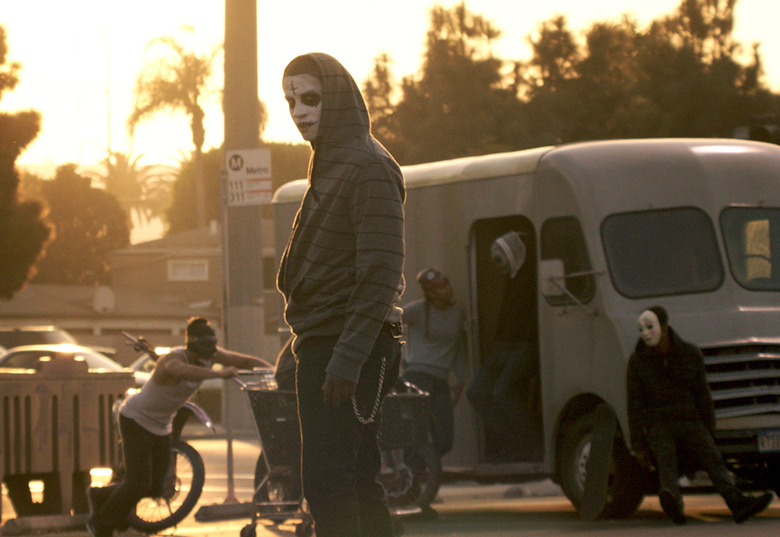 For those who felt the first The Purge was too limited and too familiar, The Purge: Anarchy takes the same basic premise but goes in a bolder, more extreme direction. Once again, the story is set in a dystopian America where, in a ghastly effort to weed out the weak and let the strong blow off steam, all crime has been legalized for one twelve-hour period per year.
But this time, the action spills out onto the streets as Frank Grillo plays a man who heads out in search of revenge. Unfortunately for him (and the others with him), it's not long before the tables are turned on them. Watch the new The Purge: Anarchy trailer after the jump.
[via Facebook]
The whole idea of a Purge is horrifying enough, but the trailer gets really disturbing once the rich people show up. Then it starts to feel like an even more awful version of The Hunger Games, right down to the garishly decorated emcee. From here, it looks like The Purge: Anarchy deserves kudos for taking fuller advantage of this sickening premise.
The Purge: Anarchy opens July 18. Zach Gilford, Kiele Sanchez, Carmen Ejogo, and Michael K. Williams also star.
The New Founders of America invite you to celebrate your annual right to Purge. THE PURGE: ANARCHY, the sequel to summer 2013¹s sleeper hit that opened to No. 1 at the box-office, sees the return of writer/director/producer James DeMonaco to craft the next terrifying chapter of dutiful citizens preparing for their country¹s yearly 12 hours of anarchy. Returning alongside DeMonaco to produce the sequel to 2013¹s sleeper hit are Blumhouse Productions¹ Jason Blum (Paranormal Activity and Insidious series), alongside Sébastien K. Lemercier (Assault on Precinct 13, Four Lovers) and Platinum Dunes partners Michael Bay (Pain & Gain, Transformers franchise), Brad Fuller (The Amityville Horror, A Nightmare on Elm Street) and Andrew Form (The Texas Chainsaw Massacre, Friday the 13th).