Star Wars Bits: Will Harrison Ford's Injury Delay Episode VII? Plus Tom Cruise, Rebels, David Cronenberg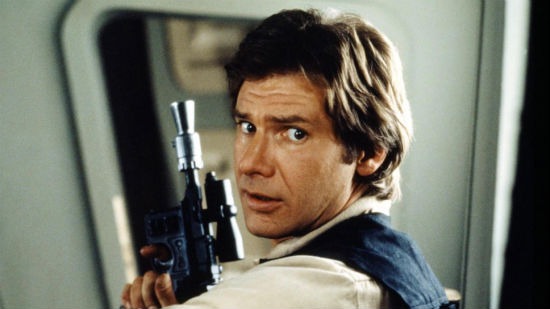 The rumors about Harrison Ford's injury continue to snowball and threaten to delay production Star Wars Episode VII. How are filmmakers dealing with the injury and could it impact the release date? Read about that, and all the items below, in this edition of Star Wars Bits.
Several Episode VII action scenes are potentially detailed.
A rumored premiere date, and details, are leaked for Star Wars Rebels.
Tom Cruise is rumored to have a role in Star Wars Episode VII.
David Cronenberg was offered a Star Wars sequel, thirty years ago.
Star Wars Scene Maker is now available.
The last official word on Harrison Ford's injury was that it was a broken leg and could keep him off his feet, and not filming Star Wars Episode VII, for two months. Over the weekend, rumors about the injury escalated. Now it is said surgery could set the actor back six months. Photos of Ford in a wheelchair hit the net, and reports speculated he might have to return to America for rehab.
Ford's health is obviously the primary concern. Since that seems to be in good hands, questions now turn to the job at hand: Star Wars Episode VII. JediNews heard there would be delays, but MakingStarWars claims to have found a note given to crew on the set of the film saying there would be rescheduling but no new script pages written. Lucasfilm then told TheForce.net there would be no change to the release date. So that's all good news. However, things could change this week as those schedules are worked out and solidified. We'll keep you informed.
Now we obviously don't know anything that's specifically being shot, but Star Wars 7 News might have a clue. They ran a probably incorrect, but still insanely cool rumor about a source who reportedly saw a bunch of action scene pre-visualizations. Several of the scenes are described in super-broad strokes ("a Jedi and Sith battle") but are fun to read nonetheless.
Before Episode VII happens, we'll see lots of Star Wars in the way of Star Wars Rebels. MakingStarWars has a bunch of cool potential details that could obviously be considered spoilers. One that isn't a spoiler is the rumored premiere date of September 30, 2014. There are also some small character bits here and a famous location.
Tom Cruise was in London recently and the rumor mill exploded that he would be contributing a cameo to J.J. Abrams' Star Wars Episode VII. Cruise famously gave Abrams his first break as a director, on Mission: Impossible III, and almost certainly would visit the director if he was in town. That's one of those perks of being Tom Cruise. You get to visit the Star Wars set. But if he did visit the set, does that it mean he's in the movie? Probably not, though anything is possible.
Speaking to Independent.ie (via JediNews), director David Cronenberg claimed he was offered the opportunity to direct a Star Wars sequel. While the source assumes it's one of the new movies, he's actually talking about The Empire Strikes Back or Return of the Jedi, as confirmed by the Hollywood Reporter.
On a fun note, Lucasfilm officially released a cool new app called Star Wars Scene Maker. With it, you can direct your very own Star Wars scene. Click the below screenshot for more information.